Devotees seek divine blessings
Biswa Ijtema's 2nd phase ends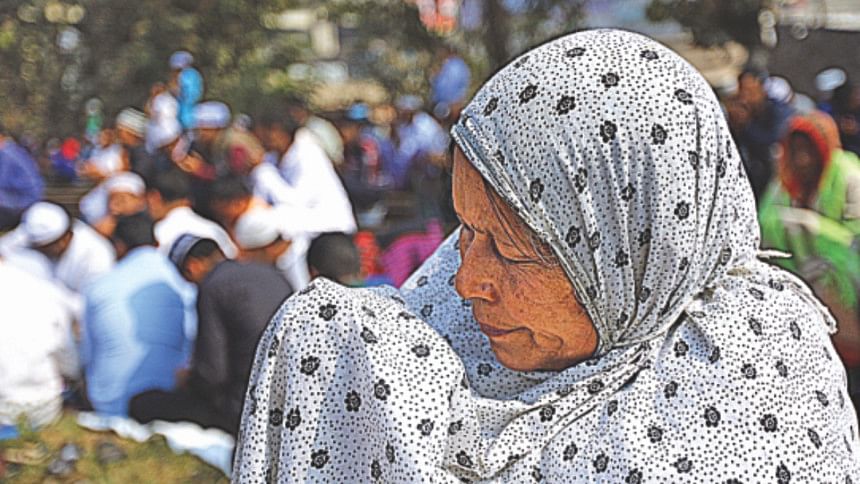 The second phase of Biswa Ijtema, the largest Muslim congregation after the Hajj, concluded yesterday with the Akheri Munajat (final prayers). 
Several lakh devotees raised their hands to seek divine blessings for mankind and the Muslim Ummah during the prayers on the Turag bank in Tongi, Gazipur.
The Akheri Munajat began at 11:04am and lasted for 29 minutes. Noted Indian Islamic scholar Mawlana Muhammad Saad led the final prayers.
Many poor and lower middle class people of the country, who do not have the financial ability to go to Saudi Arabia to perform Hajj, joined the Ijtema, considering it as the alternative to the Hajj for them.
"I am now on the verge of death. I am not financially able to perform the Hajj, for which I try to come to the Ijtema every year to beg pardon from Allah," said Lal Mia, 85, a resident of Faridpur who came to Dhaka ahead of the first phase and attended both the phases of Ijtema, staying in his relative's house at Dakkhin Khan.
"I will try to come [to the Ijtema] next year again if I stay alive though I know the Ijtema authorities have divided the [64] districts into four phases," said Lal.
Noorjahan, 65, who reached near the ground from the capital's Jatrabari on foot to take part in the final prayers, said she is not financially capable of going to the Hajj. So, she opted for the Ijtema.
Scores of people joined the final prayers from roofs of vehicles, trains and nearby houses, on boats, and roads. Those who could not reach the Ijtema ground participated in the prayers through cell phone and electronic media.
Vehicular movement towards the venue was stopped early yesterday. Many devotees walked around five to 10 kilometres to arrive at the ground.
About 10,000 foreigners of around 100 countries joined the three-day long second phase. The first phase was held on January 8 to 10 where devotees from 17 districts joined. The second phase began on January 15 with the participation of devotees from 16 other districts.
To attend the final prayers, a good number of women came near the Ijtema ground on Saturday night and stayed the night at different nearby places. Many others had been participating in the second phase of the Ijtema since Friday.