Dengue Outbreak: Three more patients die
Unofficial death toll rises to 120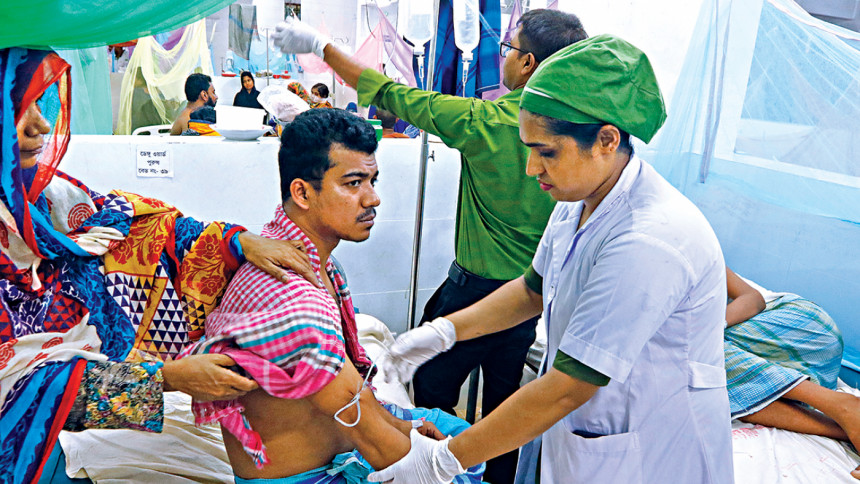 Three more people, including a garment worker, died after contracting dengue in Dhaka, Khulna and Mymensingh yesterday.
With these deaths, 120 people died this year after being infected by the mosquito-borne disease.
The Directorate General of Health Services (DGHS), however, has so far confirmed 52 deaths from dengue.
In Dhaka, Ariful Islam, 34, a resident of Kadamtali, died yesterday in Dhaka Medical College Hospital.
Hospital sources said Ariful had been suffering from fever from Saturday and was admitted to a hospital in Madaripur.
He was brought to DMCH yesterday morning and died around 2:30pm.
Nasir Uddin, assistant director (admin) of DMCH, said they heard about the death but some verification was needed before it could be declared as death from dengue.
In Khulna, Shahida Begum, 50, died at the Khulna Medical College Hospital (KMCH).
Partha Protim Debnath, assistant registrar of KMCH medicine department, said Shahida had died of dengue shock syndrome. Besides,  her diabetes was uncontrolled and she was suffering from liver disease too.
In Mymensingh, dengue patient Hafizul Islam, 34, a garment worker, died early yesterday.
Hafizul, from the district's Trishal upazila, was admitted to Mymensingh Medical College Hospital on August 14 after being diagnosed with dengue, Hafizul's neighbour Atiqul Islam said.
He was under treatment there for five days before being released.
On Tuesday night, Hafizul's condition deteriorated again and he was taken back to the hospital, where the doctors suggested that he be taken to Dhaka immediately, Atiqul said.
"He died on his way to Dhaka around 4:00am yesterday."
A total of 1,157 patients were admitted to different hospitals across the country in the 24 hours until 8:00am yesterday. Of them, 551 are in Dhaka and 606 outside the capital.
DENGUE RESEARCH IN BARISHAL
A high-level dengue research team, including seven doctors and eight senior technologists, collected blood samples and other relevant data from 1,800 households and organisations to find the reasons behind the spread of dengue in Barishal.
Omar Faruque, leader of the research team of Institute Of Epidemiology, Disease Control & Research, said they would prepare a report.
Since July 16, some 3,665 patients were hospitalised in the district. Of them, 3,372 were released and 11 died, said Shyamal Krishna Mandal, assistant director at the divisional health directorate.