Dead dolphins litter Kuakata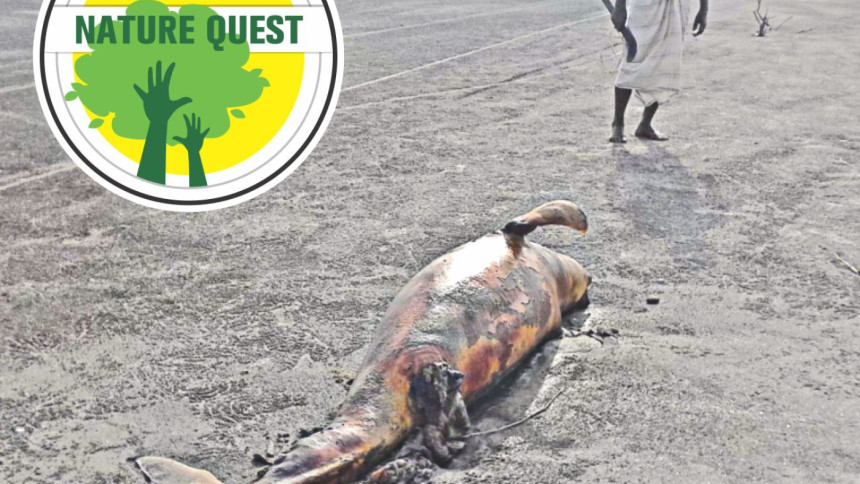 At Kuakata Beach in Patuakhali is the tragic end of a beautiful story. Along the shoreline dozens of dolphin carcasses are in various stages of decay. For locals and tourists alike the stench overpowers, makes beachfront enjoyment impossible. Beyond being an inconvenience, the dead dolphins demonstrate what can happen when wild creatures come into contact with human activity: when entangled in fishing nets, the air-breathing dolphins drown.
In Patuakhali, as in coastal areas across the country, fishing communities have inherited the knowledge of generations. They know the sea. Among them it wouldn't be easy to find one who rejoices in a dolphin's death. It's unsurprising.
Apart from the agility and grace dolphins display in the wild, dolphins, like them, have enviable fishing skills.
"I've worked as a fisherman for 20 years," says Nurul Islam, 45, from Alipur village in Patuakhali's Kalapara upazila. "It's beautiful to see dolphin pods swim and jump out of the water. On our boat, the FB Mayer Doa, we never hunt dolphins; we seek hilsa fish. But we find many dolphins that died in fishing nets."
"There can be up to 50 dolphins in a pod," says another fisherman, Sha Alam, 40. "They're really charming to watch as they chase each other and play!"
"When we see a dead dolphin floating in the Bay of Bengal, we feel really sorry," says Md Forkan 35, a fisherman from adjacent Hazipur village. "Dolphins are a wonderful part of the sea."
According to conservationist Elisabeth Fahrni Mansur, seven species of dolphin, one porpoise and two whale species have been observed thus far in Bangladesh, making the country's waterways and maritime territory of global significance for cetaceans.
 "Most fishermen consider dolphins as brethren," says Mansur, director of education and livelihoods at the Wildlife Conservation Society, Bangladesh. "With the exception of a few areas along the major rivers dolphins are not targeted. But fishermen know that dolphins indicate the presence of fish shoals which means nets are cast nearby. This practice increases the entanglement risk."
She notes that fishing nets are not the only danger. Declining freshwater flows and sea level rise, collisions with boats, water pollution and unsustainable fishing practices, especially the widespread fishing for juvenile shrimp, which depletes the dolphins' food source, are also threats. "But entanglement is by far the greatest risk to small cetaceans, worldwide," she says.
Meanwhile, back at the beach the dolphin carcasses are proving a nuisance. "We are really disturbed by the bad smell," says a tourist from Dhaka, Md Zahiduzzaman, visiting Kuakata with his family of five. "Because of the dead dolphins we can't bathe as we'd planned. The authorities concerned should take immediate steps to keep the beach clean."
According to local Abdul Hakim Fakir, at least 25 dead dolphins have washed up on the beach in the eastern Gangamoti area in the course of two weeks. Most appear to be Irrawaddy dolphins. The number increases during hilsa season and unlike when fish wash ashore, the resident jackals and dogs can't be relied upon to polish off the carcasses: they don't eat dolphin. "Tourist numbers are decreasing because of the dead dolphins," says Abdul.
"The carcasses should be buried with lime or bleaching powder mixed into the grave," says Kalapara's livestock officer Habibur Rahman. "Otherwise there is risk tourists can be infected with bacteria or disease."
Kuakata's mayor and member of the local beach management committee Abdul Bareq Mollah says he is unaware of the issue. "Nobody informed me," he says. "I will take steps to bury the dolphins to ensure the cleanliness of the beach."
Through extensive educational outreach, the Wildlife Conservation Society Bangladesh is working towards better protection for dolphins, which would mean fewer carcasses on Kuakata Beach in the first place. There are hopes a new initiative, the Citizen Science Fishermen Safety Network, can help. "The initiative aims to obtain better information on fatal dolphin entanglements by engaging gillnet fishermen to monitor nets, rescue entangled dolphins and sea turtles and collect information on fishing practices," explains Mansur. "In exchange the fishermen are given a GPS navigation device, which can help them survive storms."
"To balance the conservation needs of highly mobile, long-lived and socially complex species like dolphins with growing human demands is a major challenge," says Mansur. "This challenge is especially acute in Bangladesh where fisheries are vital to food security and livelihoods, while in the process dolphins and other marine life are killed at almost certainly unsustainable rates." She strongly believes that well-managed protected areas for dolphins are crucial.