'Crime' was rooting for freethinking
Publishers Faisal Arefin Dipan and Ahmedur Rashid Tutul came under brutal militant attacks because they both promoted freethinking.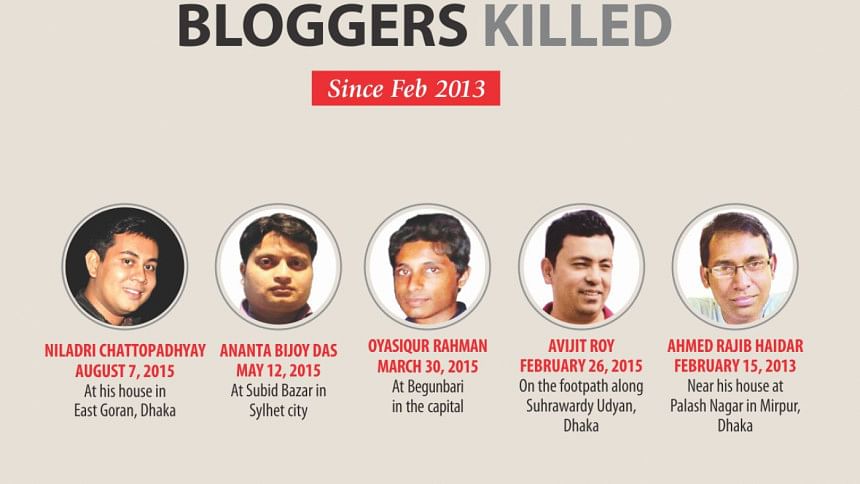 Publishers Faisal Arefin Dipan and Ahmedur Rashid Tutul came under brutal militant attacks because they both promoted freethinking.
A number of writers, bloggers and publishers shared this view with The Daily Star yesterday evening.
According to them, Dipan and Tutul were targeted as they published and promoted books written by free thinkers, especially those by Avijit Roy, a secular-humanist writer who was hacked to death by Islamist militants in February this year.
Dipan, proprietor of Jagriti Prokashani, published Avijit's magnum opus Biswaser Virus (The Virus of Faith). He also reprinted his Obishwasher Dorshon.
Tutul, proprietor of Shuddhoswar, published four of Avijit's books -- Obishwasher Dorshon (The Philosophy of Disbelief), Victoria Ocampo O Rabindranath, Shunya Theke Mohabiswa (From Zero to the Universe) and Shomokamita (Homosexuality).
Tutul published a number of books written by secular-humanist writer Humayun Azad who too was brutally attacked by militants in February 2004.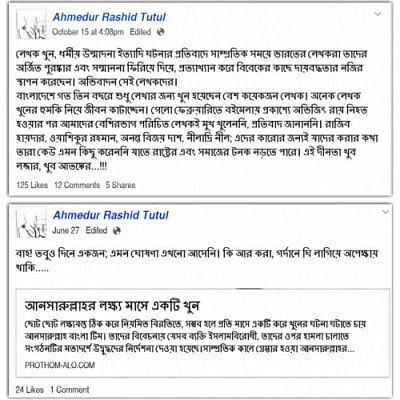 Another publisher of Avijit, who has published three of Aviit's books, told this correspondent, "They were just publishers like me. They did not write any book and, perhaps, they did not even read all the books of Avijit that they published."
On condition of anonymity, he said when the news of Dipan's death spread at Dhaka Medical College Hospital, writers and publishers gathered there forced him out of the hospital fearing he too would be attacked. He has since holed himself up.
He said threats on the lives of the two publishers were much circulated on Facebook.
According to one of Tutul's writer friends, who wished anonymity, Tutul reported being followed by some people and sought police protection.
"Wherever I go, I feel I'm being followed," he quoted Tutul as saying.
Wishing anonymity, two of Dipan's writer friends said Dipan complained of being followed by unknown men.
Both Tutul and Dipan joined protests after Avijit was murdered and were very vocal in bringing the perpetrators to book in many of their Facebook posts, their friends and families said. 
Born in Sylhet, Tutul used to blog in somewhereinblog and Sachayalatan. He formed Shuddhaswor in 2002. He is married with two daughters.
Dipan, son of Dhaka University professor Abul Quasem Fazlul Huq, was born and brought up in the university area.
Dipan had a son and a daughter. He founded Jagriti Prokashoni in December 1992. He was a good friend of Avijit.
His family sources said he was determined to be a publisher from his early life.
Two writers, Ranadipom Basu and Tareq Rahim, were also severely injured when Tutul was attacked.
Tutul published two of Ranadipom's books, including one on the atheist philosophy of Charbak.
Ranadipam, a very close friend and aide of Tutul, has his own blog on wordpress. He also blogs in mukto-mona, Sachalayatan, somewhereinblog, amarblog and nirmaan, according to his Facebook profile.