Citizenship to Rohingyas can help solve crisis
Says visiting Rakhine commission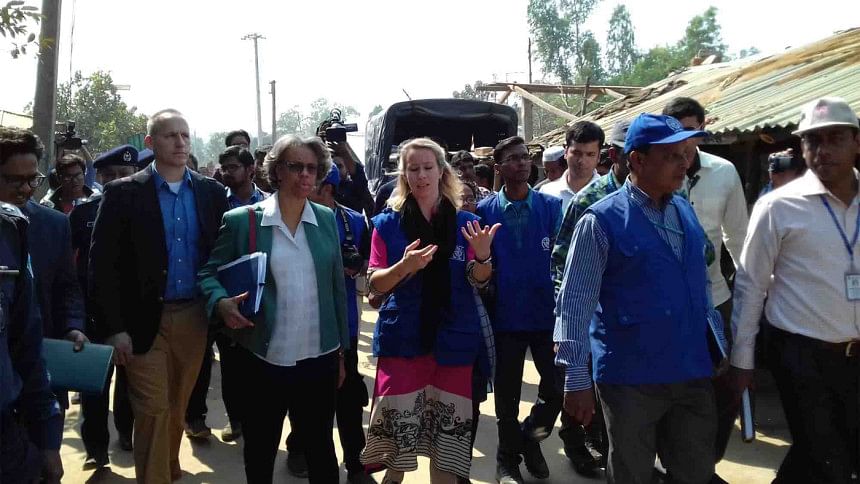 The visiting Rakhine commission yesterday stressed the need for granting citizenship to Rakhine Muslims and ensuring their dignity to find a lasting solution to the current crisis.
"Yes, this is the key to have a better situation there," said commission delegation leader Ghassan Salame.
He was talking to reporters after attending a discussion meeting in the capital's Bangladesh Institute of International and Strategic Studies (BIISS).
Salame, a former Lebanese minister for cultural affairs and also a former special adviser to the UN secretary-general, said he does not think that only religious elements compelled Rohingyas to flee their motherland.
"This is not a war of religion. There are other issues," he added.
The BIISS organised the discussion following the visit of the three-member delegation to two Rohingya refugee camps in Ukhia and Teknaf upazilas of Cox's Bazar on Sunday and Monday.
The team arrived in Dhaka on Saturday and is expected to depart today.
According to the delegation chief, the other issues include human rights, ethnicities, freedom of movement and rule of law.
He made the comments in response to a question from a journalist about whether the commission believes the problems would be over once the Rohingya Muslims are granted citizenship.
"I think there are huge opportunities for everybody in the State the moment basic human rights and the rule of law are reestablished there for everybody," Salame told journalists.
Despite many opportunities, Rakhine is the least developed state in Myanmar, both economically and technologically, he pointed out.
Meanwhile, US Ambassador in Dhaka Marcia Bernicat yesterday visited some registered and unregistered Rohingya refugee camps in Teknaf and Ukhia.
Earlier last month, ambassadors of Denmark, Norway and Sweden in Dhaka paid a three-day visit to Cox's Bazar to see the situation of Rohingya refugees.
UN human rights envoy Yanghee Lee, who recently visited Myanmar, is due to arrive in Dhaka at the end of this month to see the plight of Rohingya refugees.
According to an official estimate, around 400,000 Rohingyas are now living in Bangladesh. The UN estimates that some 66,000 Myanmar citizens entered Bangladesh since violence erupted in Rakhine on October 9 last year.
The Myanmar government formed the nine-member Advisory Commission on Rakhine State, known as Rakhine commission, headed by former UN secretary-general Kofi Annan to find a lasting solution to the complex and delicate issues in Rakhine.
It is comprised of three international and six Myanmarese personalities of eminence. The commission will submit a report to the government with recommendations in the second half of this year.
Addressing the discussion yesterdayy, the Commission members said although its recommendations were not binding, the Myanmar government recognised the Rakhine crisis through forming the Commission.
They said their recommendations would definitely carry a special significance and there might be pressure at home and abroad to implement those for a sustainable solution to the crisis.
The commission members said they will consider humanitarian and development issues, access to basic services, ensuring basic rights, and the security of Rakhine people.
They will undertake assessments and make recommendations to the Myanmar government by focusing on prevention of conflict, ensuring humanitarian assistance, human rights and reconciliation, building institutions and promoting development in Rakhine.
International relations expert Prof Imtiaz Ahmed, who attended the discussion, said the meeting discussed the citizenship issue. "We have constantly been saying for the last 20 years that they [Rohingyas] should be granted citizenship."
After the meeting, he told reporters that there was no doubt that the commission has integrity. The Rohingya issue has become a global issue, and everybody should wait until the commission's report is submitted and made public to see the outcome, Imtiaz said.
Foreign Secretary M Shahidul Haque, BIISS Chairman Munshi Faiz Ahmad, Executive Director of Regional Centre for Strategic Studies Prof Imtiaz Ahmed, Executive Director of Research Initiative Bangladesh Prof Meghna Guhathakurta, Prof Syed Anwar Hossain, Prof Mohammad Shah and Prof Rashed uz Zaman of Dhaka University, Brotee Executive Director Sharmeen Murshid, former Bangladesh ambassadors to Myanmar Maj Gen (retd) Anup Kumar Chakma and Brig Gen (retd) Chowdhury Khalequzzaman, former ambassadors Ashfaqur Rahman and Maj Gen (retd) Shahedul Haque, The Daily Star Associate Editor Brig Gen (retd) Shahedul Anam Khan, The Daily Observer Associate Editor Syed Badrul Ahsan and independent consultant Asif Munier were present, among others.
Prior to joining the discussion, delegation members Ghassan Salame; Win Mra, chair of the Myanmar National Human Rights Commission; and Aye Lwin, core member and founder of Religions for Peace, Myanmar; called on Foreign Minister AH Mahmood Ali at the state guesthouse Padma.
Later, they called on Home Minister Asaduzzaman Khan at his ministry office.