Even tougher steps against party errants
PM warns as new BCL leaders meet her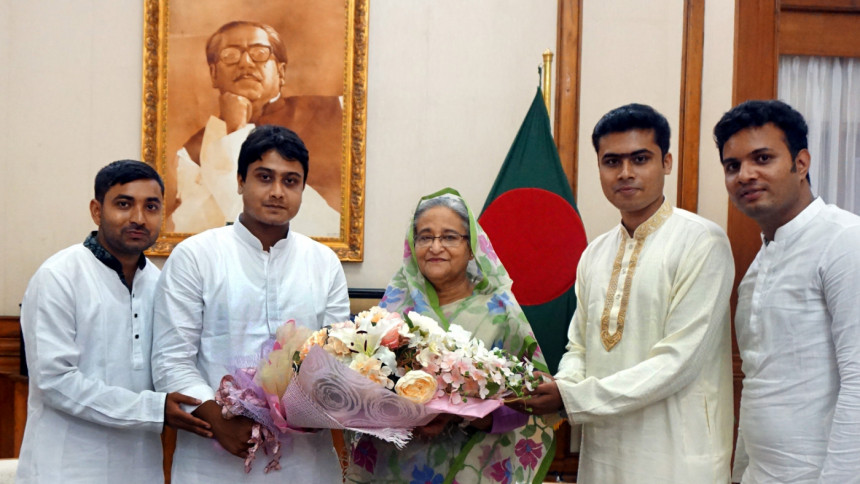 Prime Minister Sheikh Hasina has hinted at even tougher action against party men indulging in corruption and misdeeds.
"I have taken action against Chhatra League and Jubo League. I won't spare anyone," she was quoted as saying when acting Chhatra League president Al Nahian Khan Joy and general secretary Lekhak Bhattacharya met her at the Gono Bhaban last night. 
The drive against the corrupt people would continue, she said, adding that it would be difficult but she would solider on. 
Hasina cautioned leaders of the pro-AL bodies not to do anything that tarnishes its image and hampers the country's development.
Talking to The Daily Star, Nahian said, "She [Hasina] suggested we emphasise on organising educational programmes and workshops on the country's history and heritage." 
She also asked them not to bring out motorcade processions on campus unnecessarily.
She directed the BCL leaders to follow the principles of Bangabandhu Sheikh Mujibur Rahman.  
Former vice-president of central BCL Sohan Khan, incumbent Joint Secretary Shams-E-Noman, DU BCL President Sanjit Chandra Das, General Secretary Saddam Hussain, DU Sheikh Fazilatunnesa Mujib Hall unit President Benjir Hossain Nishi were present.
Last week, Rezwanul Haque Chowdhury Shovon and Golam Rabbani were removed from the posts of Chhatra League president and general secretary for their controversial activities following the direction of Awami League President Sheikh Hasina.
The AL president at the meeting of AL Central Working Committee, party's highest decision-making body, last week also expressed anger over various allegations against some Jubo League leaders.
Four days later, on Wednesday, Rab arrested Jubo League Dhaka South Organising Secretary Khalid Mahmud Bhuiyan at his Gulshan home for running a "casino" at a football club in Fakirerpool.
The prime minister said she is striving to develop the country through hard work. "But I'll not allow any blemishes on it ... I'll not spare any wrongdoers."  
She said the government would probe how some foreigners came to help run casinos and how they got visas. "If anybody tries to obstruct this probe, he or she will be dealt with an iron hand."