March 8, 1971: Wind of Change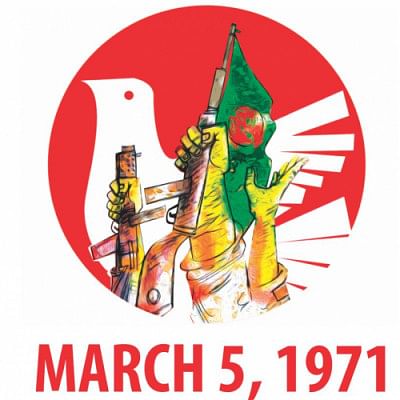 Following Bangabandhu's speech on the previous day, the air was thick with songs of self-determination. 
After the March 7 Rally, "People's rule" by Bangabandhu became the order of the day. The Bangalees were supremely obedient and dedicated. Every man, woman and child thoroughly followed the orders of Sheikh Mujibur Rahman.
Though Bangabandhu tempered his speech at Race Course Maidan (now Suhrawardy Udyan) stopping short of directly declaring independence, the statesman's words changed the trajectory of the nation going forward.
On March 8, the radio station in Dhaka began broadcast at 8:30am by airing Bangabandhu's March 7 rally's speech. Other stations in the then East Pakistan followed suit.
By now, the "civil disobedience" movement had officially launched. Bangabandhu's edicts were being fully observed. Aspiring for a freedom always dreamt of, Bangalees of all age took up the call with a passion.
From this day on, people started collecting arms and ammunition from stores all over the country. Chhatra Union began military training at the Dhaka University campus with dummy rifles. Cinema halls all around the country stopped screening Urdu cinemas. Starting from Chhatra League, different organisations obliterated the word Pakistan from their names.
Rejection of the Pakistani rule continued.
Chhatra League President Nur-e-Alam Siddiqui, General Secretary Shahjahan Shiraj, and Dhaka University Central Student's Union Vice President ASM Abdur Rob and its general secretary Abdul Quddus Makhan gave their support to Bangabandhu's speech.
In a joint statement, they said that this present fight be termed as the "Freedom Fight".
By now, Mujib's speech and its content had spread to different corners of the globe. Its impact was visible everywhere.
Bangalees working in Pakistan International Airlines marched out of Dhaka airport and started a procession towards Sheikh Mujib's Dhanmondi residence.
In Britain, seas apart, almost 10,000 Bangalees gathered in front of the Pakistani High commission in London demanding an independent Bangladesh.
Back home, in Rajshahi, the military imposed a curfew starting from 9:00pm for an indefinite period.  This decision was deemed unreasonable and the military was urged to withdraw the curfew.
In Islamabad, People Party Chairman ZA Bhutto declined to make a comment about the conditions Bangabandhu had given to join the session of the National Assembly on March 25.
Later that night, the general secretary of Awami League rubbished a press note released by the military authorities. The statement said the note gave a gross and wrong depiction of events, intentionally lowering the number of civilian casualties during the movement.
Upon Bangabandhu's orders, Bangalees had their black flags waving on their rooftops.
The winds had changed. War was coming.
They knew and they were ready.
(Source: Liberation War Museum)