Change in the air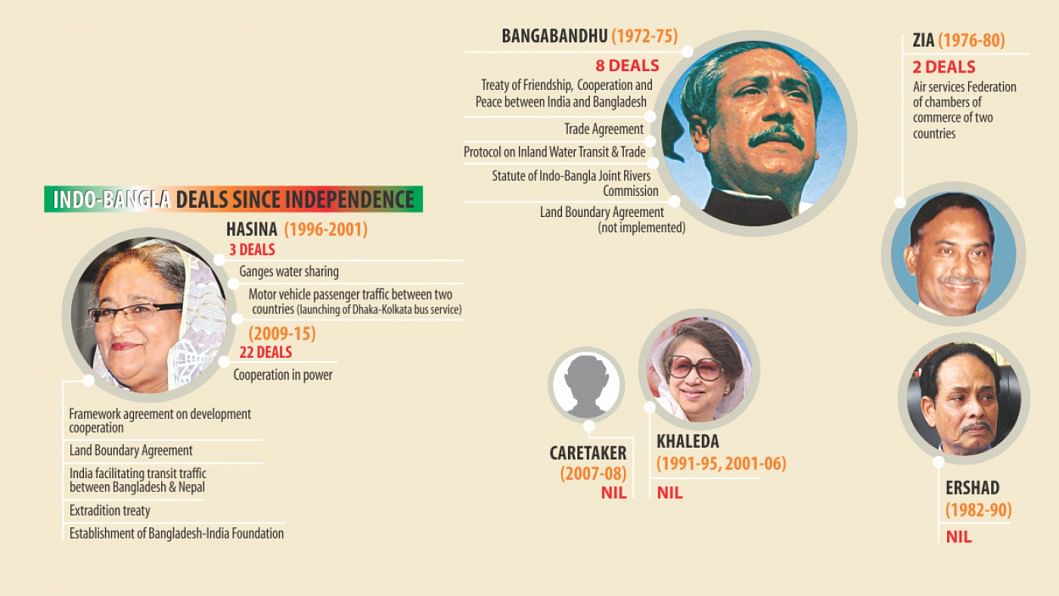 Bangladesh and India are set to redraw their maps through swapping territories and people between them amid a wind of change blowing in their politics, 41 years after the 1974 Indira Gandhi-Sheikh Mujibur Rahman historic pact.
Begun four decades ago, the official process for exchange of enclaves is likely to be completed during Indian Prime Minister Narendra Modi's Dhaka visit starting today.
Some more agreements are expected between the two governments, which will pave the way for regional connectivity and contribute to economic development.
Bangladesh, according to the Land Boundary Agreement of 1974 and protocol, will receive 111 enclaves with 17, 160 acres of land and cede 51 enclaves with a land mass of 7,110 acres to India.
The enclaves in Bangladesh have a population of around 14,000 while the Indian enclaves are home to around 37,000.
Those living in the Indian enclaves can either stay on their land as Bangladeshis or move to India while those in the Bangladeshi enclaves can live there as Indians or move to Bangladesh.
Centring on the exchange of enclaves and the visit of the Indian leader, politics has taken a new look in both countries.  
In Bangladesh, anti-Indian politics seems to have died down ahead of Modi's visit. It is because of BNP's dramatic shift from its anti-Indian stance, one of its core political philosophies.
Instead, the party now wants to build friendly relations with India. Its high command has made hectic efforts to arrange a meeting between Modi and party chief Khaleda Zia and has eventually been successful (Modi will meet Khaleda tomorrow).
The party's senior leaders have refrained from publicly criticising the Land Boundary Agreement and the recent amendment to the Indian constitution made to implement the agreement. The party rather thanked India for doing so.
Also, BNP leaders are not blasting the Hasina government's move to sign agreements with India for connectivity.
All this makes Modi a fortunate Indian leader because during his visit he will have on his side the main force in politics that usually banks on anti-India politics.
After Indira Gandhi's Dhaka visit in 1972, he is set to be the first Indian PM to draw huge attention and generate high hopes.
But politics seems to have changed in India too, particularly in Modi's own party, BJP.
While in opposition, his party strongly opposed the Congress-led government's move to amend the constitution to ratify the Land Boundary Agreement.
BJP government's External Affairs Minister Sushma Swaraj, the then leader of the opposition in the Lok Sabha, warned on August 24, 2013, against introduction of the constitution amendment bill.
Describing the land boundary agreement with Bangladesh as an emotional issue, Swaraj had said the BJP was firmly opposed to it.
Modi himself, in the run up to the general election last year, spoke against alleged migration of Bangladeshis to India and announced that they would be sent back. His remarks drew sharp criticisms.  
But things started to change after Modi led the BJP to an overwhelming victory against the Congress.
Political analysts say Modi has realised the importance of having a good relationship with Bangladesh for India's own interest. He wants to see India as an economic powerhouse and increasingly an important player in global politics.
In this direction, India needs taking steps to ensure regional peace and harmony. Modi made a bold move in this regard by inviting all the South Asian heads of states to his oath-taking ceremony.
He focused on the implementation of long-pending land boundary agreement to remove a potential bone of contention and to turn Bangladesh into a real friend who would support India in regional politics, observed political analysts.
It is his charisma that has changed dramatically the political stance of BJP on the land boundary agreement. 
And it is none but Sushma Swaraj who piloted the constitutional amendment bill in parliament. In her speech, Swaraj this time said unity on the bill sent a very positive message to Bangladesh.
When in November 1974 the Bangladesh parliament amended the constitution in order to ratify the land swap agreement, 261 MPs voted for it and seven against. Some opposition MPs even went on to describe the amendment bill as "against the country's sovereignty," according to the parliamentary proceedings.
After 41 years, the House on Tuesday unanimously passed a motion thanking India and Modi for clearing the way for the land swap.
Now it depends on the leaders of the two countries how they will work together to strengthen relations to resolve all the outstanding issues for the betterment of the two peoples.