Change Makers: Equipped with app
One call, CriticaLink volunteers rush to rescue accident victims in city; Rana Plaza disaster prompts Jennifer, Rahat to take the initiative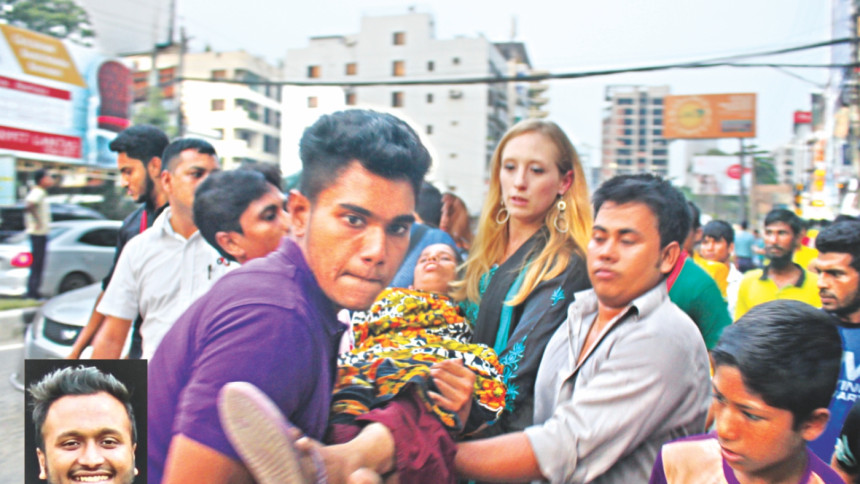 Rana Plaza disaster left scars that would take a long time to heal. It devastated the country and shook the entire world.
Right after the building collapse in 2013, we saw a volunteer laying down his life to rescue others. We saw how poorly prepared our emergency services were in dealing with a disaster of that magnitude.
But it also united some forward thinking change makers.
Overcoming the trauma following the disaster that left more than 1100 people dead and hundreds of others disabled, US citizen Jennifer Farrell and Bangladeshi Rahat Hossain took an initiative so that lives could be saved in such emergencies.
They founded CriticaLink, a non-profit enterprise, and developed a mobile app for alerting the nearest volunteer first responders who would rush to the spot to save lives. 
It has trained over 3,000 people on emergency medical services, and some 380 of them are certified and registered with CriticaLink, founded in November, 2014.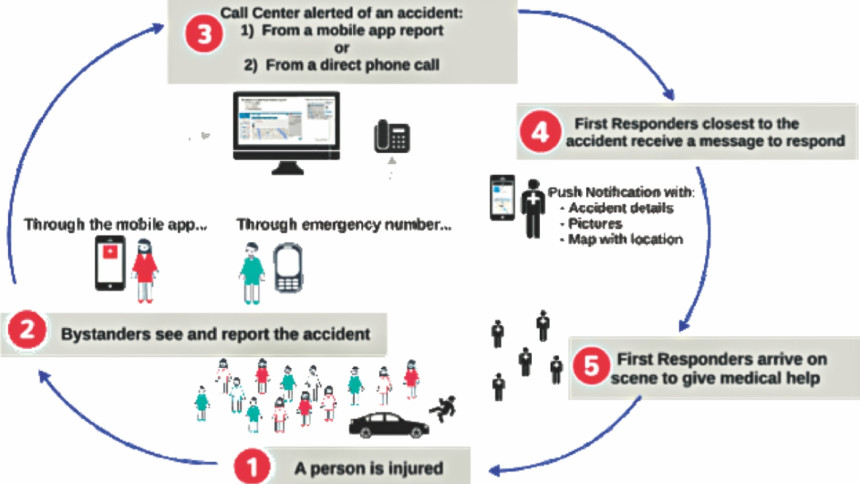 "We have treated some 600 patients last year," Farrell, CEO of CriticaLink, told this correspondent recently.
The app was one of the five winners in health and empowerment category in a global contest at the World Summit Awards Social Innovation Congress held from June 29-July 1 this year.
HOW IT BEGAN
Farrell spent four years as a volunteer emergency medical technician while in Duke University in the US. As a medic, she trained first responders in South Africa and is now a senior Doctor of Medicine candidate at the Tulane University School of Medicine.
She came to Bangladesh in 2012 and trained doctors and young volunteers on emergency medical service for two months.
During the Rana Plaza disaster, Farrell was working in Central Africa and was getting texts and Facebook messages from volunteers she had trained while in Bangladesh.
"During my stay in Bangladesh, I got an idea that mobile phones and Facebook work very well here. This is how we realised that we can actually use apps … ," she said.
Farrell also knew about the horrible statistics of roads accidents in Bangladesh. According to World Health Organisation, 21,000 people get killed on the roads of Bangladesh every year. The figure includes those who die of injuries sustained in road crashes.
"For every two people who die in the US in road accident injuries, 160 people die in Bangladesh. And, most of them are young and of working age," Farrell said. 
More than 85 percent of accident victims are estimated to die before they reach the hospital, she said.
Months after the Rana Plaza disaster, she came back to Bangladesh as a Fulbright Scholar to research on accidents and see how a project like CriticaLink could save lives.
That's when she met Rahat Hossain, then a BBA student of East West University, who along with his friends had actively taken part in rescue operations of Rana Plaza disaster.
They were trained youths on emergency medical services with a grant from the US State Department.
Rahat, engaged in volunteering since his school life, and Farrell decided to train volunteers as well as connect them through the app so that they could be dispatched immediately in emergencies and act, from giving first aid to transporting the patients to hospitals.
They then arranged a meeting attended by some 200 youths. That's how they formed the teams of volunteers and began training. A tech company, Bangla Trac-Miaki VAS, partnered with them in developing the app.
HOW IT WORKS
Anyone can download the app in their smart phones and get registered. The users can call CriticaLink call centre in Dhaka open from 8:00am to 11:00pm or simply report an accident, said CriticaLink Program Director Rahat Hossain. 
"One can also find the nearest police station, fire station, hospital and their phone numbers in the app," he said. 
CriticaLink notifies the closest first responders who are divided into eight zones -- Dhanmondi, Mohammadpur, Uttara, Banani, Gulshan, Mirpur, Lalbagh and Old Dhaka.
"The first responders provide first aid, if needed, and transport the patients to the nearest hospital by rickshaw or auto-rickshaw. They can also ask for police help," said Farrell.
Earlier CriticaLink only sent notifications via the app, but now it also sends texts.
They are currently working on road accident victims, lives of many of whom could have been saved if there was something like 999 or 911, dial codes in the UK and the US that ensure emergency services in minutes.
Until such services are available in Bangladesh, there are trained volunteers like Zakaria Alam, a BBA graduate.
He recalled a day in April 2015. Zakaria and his friend were spending free time beside the lake on the road north of the Jatiya Sangsad Bhaban.
Suddenly they heard screams and rushed to find an old tea vendor with critical injuries to his head following an accident with an auto-rickshaw.
Zakaria used his training to stop bleeding, and took him to Sher-e Bangla Medical College Hospital. The doctor there first refused to treat him and suggested the injured be taken to the Dhaka Medical College Hospital (DMCH).
They identified themselves and insisted that the man's head be at least bandaged. The doctor eventually agreed and even personally arranged an ambulance to take the man to DMCH.
"It was so gratifying. I have a deep feeling for those with head injuries because my father and uncle were killed after serious head injuries in an accident in Jhalakathi in 2013," he told this correspondent.
"It would not have been possible without the first aid training I had from CriticaLink," Zakaria said.
Farrell said they select the volunteers just based on their desire to help, and that they do not provide them any incentives. "Social recognition is something that they get. However, we are thinking how we could give them some incentives," she said. 
THE FUTURE?
"We are hoping to have a number like 911. We need support from the telecom companies and the government to expand this service throughout the country," Farrell said.
For the emergency services to improve, the government has to ensure adequate ambulances, trained paramedics on emergency services, improve hospital services on emergency situations so that none can deny treatment to patients, she added.
For now, CriticaLink is operating with the small amount of money it receives as fee for the first aid training to volunteers and corporate houses.
"We are thinking about licensing the app and allow others to use it in various cases, including stopping sexual harassment," she added.
"Our goal is to take this mobile app and location-based dispatch centre anywhere in the world where people need help," she said.