A canal on deathbed
Developers filling up Dumni canal on Dhaka's eastern fringe; appeals for saving the canal fall on deaf ears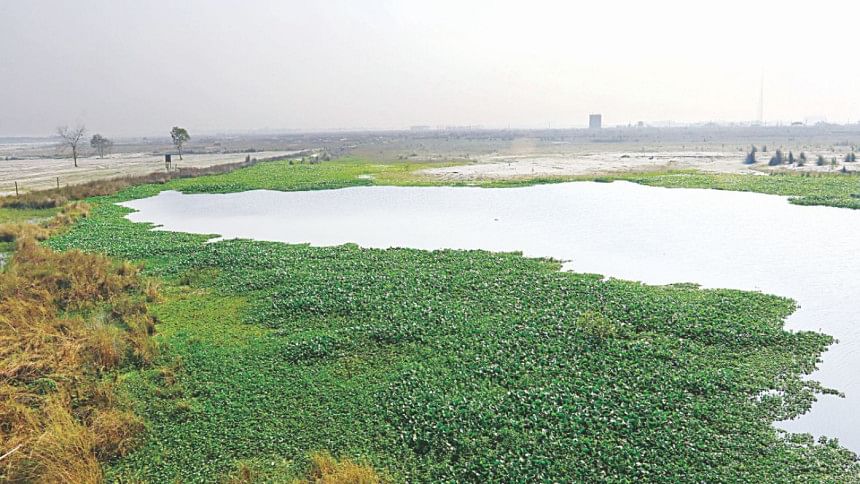 The natural Dumni canal that nourished local agriculture and ecology for decades on the city's eastern outskirts is now being filled up to make way for real estate development.
"The tragedy is that a private land claimant is filling up this canal with truckloads of soil from an excavation site for an artificial canal along the Purbachal 300-foot road," said Md Emdadul Hoque, general secretary of Pink City Home Owners Multi Purpose Cooperative Society.
The canal is being completely filled up, he said, adding that they had been pleading with different government authorities, including the Department of Environment and police, to save the canal since 2010 but to no avail.
What was supposed to be a 120 feet wide canal now stands at only 10 feet wide.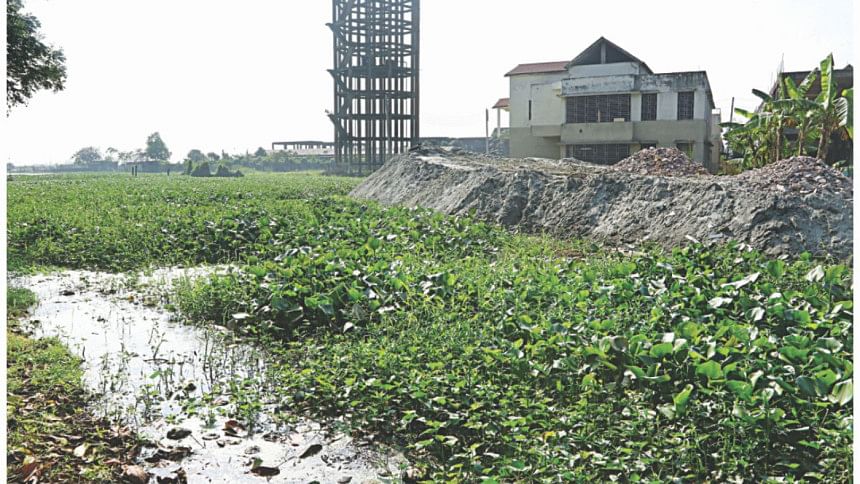 Repeated public outcry and a case with the environmental court have not resulted in any changes. Government pledges and the highest courts' directives for conservation of all city canals like Dumni apparently fell on deaf ears of powerful land developers.
Half a dozen land claimants-- three real estate developers, two private land claimants and a government organisation-- have so far either blocked and filled up parts of the canal or narrowed it down to one-twelfth of its official width since 2009, said locals.
The canal played a vital role not only for local agriculture-based livelihood but also in draining out storm water from Dhaka city, they said.
"Around 300 families of Pink City that have depended on the canal as the primary drainage system for the last decade won't be able to live without it," said Rizwan Farouq, another resident of the housing.
With the canal being filled up, several hundred residents of the nearby housing scheme suffered recurrent inundation of their houses with rain water this year and the previous year, Rizwan said.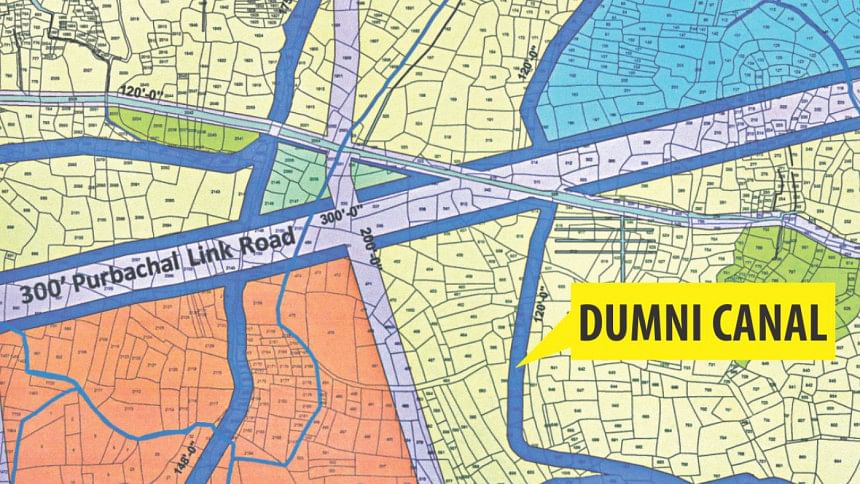 "It is not understandable how a canal identified in official records and earmarked in Dhaka's detailed area plan (DAP) could be registered as private land," said Farouq, also vice-president of Pink City Home Owners Multi Purpose Cooperative Society.
Two private land claimants have even built a concrete boundary wall on the canal near Dumni bridge.   
Rajdhani Unnyan Kartipakkha (Rajuk), custodian of the capital city's planned and environment-friendly development, further narrowed the canal's width to merely 10 feet with a box culvert over it for Purbachal highway. 
The DAP of Dhaka city, drawn up by Rajuk itself, earmarks Dumni as a 120-foot wide canal in the light of a 2006 study by British Halcrow Group on flood management in the city's eastern fringe area.
The Halcrow study recommended widening and conserving of the existing canals along with storm water retention ponds and areas as flood management measures.  
Md Anwar Hossain, a former project director of Purbachal New Town scheme and the current chief engineer of Rajuk, said the culvert on Dumni canal was built on the basis of a consultant's feasibility study.
Pointed out that with the culvert, the canal has reduced drastically to one-twelfth of the 120 feet width proposed in the DAP, he said, "It's not a problem, water will flow anyway. Width of a canal is to be reduced if a structure is built over it."        
When asked why filling of the canal was not halted as required by wetland conservation law, Chairman of Rajuk, Md Abdur Rahman, said he would assign a field enquiry to see how the canal is being filled up and why Rajuk reduced its width with a culvert.
"Then we will take some action," he said.
The canal originates from the Balu River in the north and winds its way through Dumni, Khadaldia and Gajaria villages to converge with the same river in the south, according to local inhabitants.
The DAP map shows that a 1.5-km stretch of the canal would connect water retention areas in the north-- Bhotter, Talna, Delna, Bhaturia and Palashia-- to others in Dumni, Boro Kathaldia and Boro Beraid in the south.
A committee comprised of seven ministers later altered the land use   in Kathaldia and Beraid, earmarked as water retention areas in the DAP, to accommodate extension of the private housing scheme of Bashundhara and the area is already filled up.
The affected locals wrote to the environment ministry, police and environment department time and again from 2010 till last year to save the canal. The environment department filed a case and instituted three inspections but nothing came of it.  
Masud Iqbal Md Shameem, director for Dhaka metropolitan area of the environment department, said, "Let me look into the documents and see what we can do."
Dhaka district administration in September last year identified Dumni as a five-kilometer stagnant canal filled up by Bashundhara housing authority in Kathaldia. 
Earlier this month, the High Court directed the government to prepare an action plan with a list of land grabbers and area demarcation by 1 July next year to recover 50 canals in Dhaka city.