Nasirnagar Mayhem:'Organiser' UP chairman held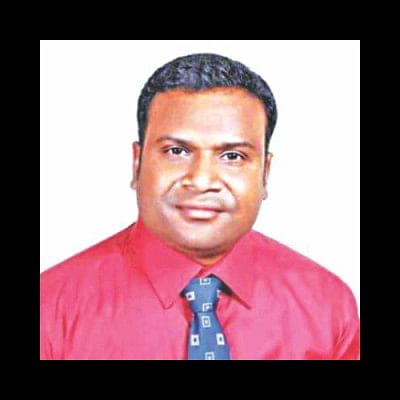 Dewan Atiqur Rahman Ankhi, allegedly an organiser of the October 30 hate attack on Hindus in Nasirnagar, was arrested in the capital's Bhatara yesterday.
A patrol team from Bhatara Police Station in the early hours detained Ankhi, chairman of Haripur Union Parishad in Brahmanbaria and also a local ruling Awami League leader.
Officials then contacted the detectives from Brahmanbaria who were already in Dhaka to detain him, said Mafidul Islam, officer-in-charge (DB) of the district police.
Iqbal Hossain, additional superintendent of police in Brahmanbaria, told this newspaper that the arrest of Ankhi is a big success as they believe the motive, masterminds and main instigators would be found through interrogating him.
According to the ASP, Ankhi is "one of the key instigators and organisers" of the attack that left more than a hundred Hindu houses and some 17 temples vandalised and looted in Nasirnagar upazila of Brahmanbaria over an anti-Islam post. 
A team led by OC Mafidul took Ankhi to Brahmanbaria later in the day.  
On November 29, police arrested Jahangir Alam, owner of Al-Amin Cyber Point and Studio at Horinber Bazar in Haripur, who allegedly played an active role in inciting locals against Hindus after the post appeared on the Facebook wall of Hindu fisherman Rasraj Das.
Police say someone else uploaded it using the account of Rasraj as part of a conspiracy.
In his confessional statement at the Senior Judicial Magistrate's Court in Brahmanbaria on December 8, Jahangir said Ankhi ordered him to gather people and hire trucks for the attack. 
On October 29, four to five trucks were hired, and people gathered through an announcement over a loudspeaker were taken from Haripur union to Nasirnagar upazila headquarters around noon.
Reaching the upazila headquarters, they burnt tyres to draw attention of people, distributed copies of the Facebook post and gave instigating speeches against the Hindu youth and his community, said local sources.
The following day, men of Ankhi and Jahangir came from Haripur on trucks and pickups and joined a rally at Ashutosh Pilot High School ground in the upazila.
A section of participants of the rally took part in the mayhem, witnesses and victims said.
In his statement, Jahangir also said Ankhi gave him Tk 10,000 for truck rents. He himself and four of his friends contributed Tk 11,000.
Police have so far arrested 109 people in the eight cases filed for the attack and six including Jahangir has so far given confessional statements in court.