BNP won't quit polls
Says Khaleda; Ashraf doubts her party's commitment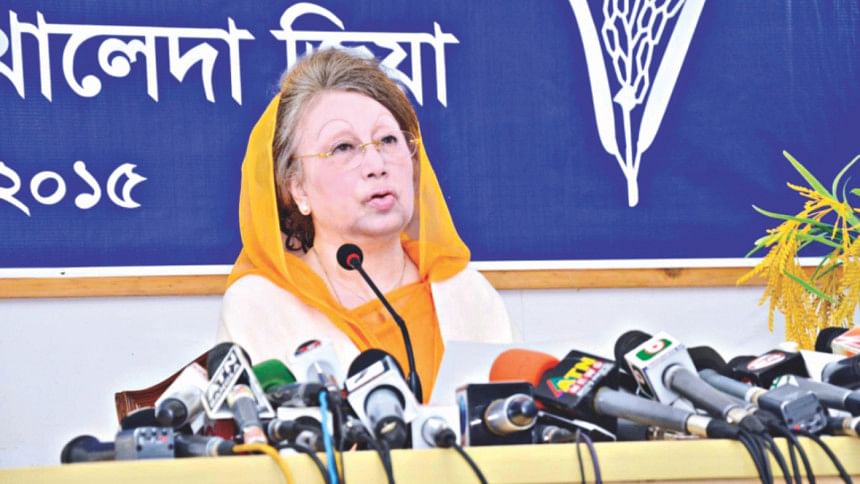 The BNP decided to stay in the battle of municipality polls until the last moment tomorrow, party chief Khaleda Zia said, reiterating her demand for army deployment for the sake of free and fair polls.
The ruling Awami League, however, is skeptical about BNP's participation in the polls. It urged its main archrival not to boycott the polls.
"We still have doubts whether BNP will be in the race…. She [Khaleda] is already making controversial statements over the polls," said AL general secretary Syed Ashraful Islam at a press conference at the party president's Dhanmondi office in the capital yesterday.
"The BNP boycotted polls at the last moment in the past," he said, referring to the city corporation polls in Narayanganj, Dhaka and Chittagong.
Tomorrow's municipality elections will be held in a free and neutral manner, he added.
At a media conference at her Gulshan office yesterday, Khaleda urged people to resist in a peaceful manner the ruling party's conspiracy to influence the municipal elections.
On the deployment of army, she said, "The deployment of army personnel has now become necessary as our administration and law enforcement agencies cannot work independently due to interference of the ruling party."
Accusing the Awami League of conspiring to rig the elections, the BNP chief urged people to go to the polling stations in groups and protect their right to voting. 
"I call upon the country's people to ensure victory of our candidates by casting votes in favour of the sheaf of paddy to restore your rights and democracy," she said reading out a written statement.
"We'll be there in the election battle firmly and till the last moment. People's united strength can foil any evil motive of the autocratic ruler."
Khaleda also alleged the Election Commission was not sincere in creating a level-playing field for all candidates.
Pointing to a minister's comment that BNP's defeat had already been ensured in the municipality polls, Khaleda said, "It's been clearly manifested that the government is heading for a farcical polls."
In her-30-miniute speech, she also spoke of the country's law and order situation.
She, however, did not take any question from journalists.
She claimed her party could not broadcast an advertisement for the municipality polls due to government's intervention.
Ruling party ministers and MPs were violating election code of conducts while terrorists were brandishing arms in the election areas to terrorise voters.
"But no action has been taken against them. The EC occasionally issues some show-cause notices as mere eyewash."