BNP desperate, AL cautious
2 parties prepare for battle of ballots in 234 municipalities tomorrow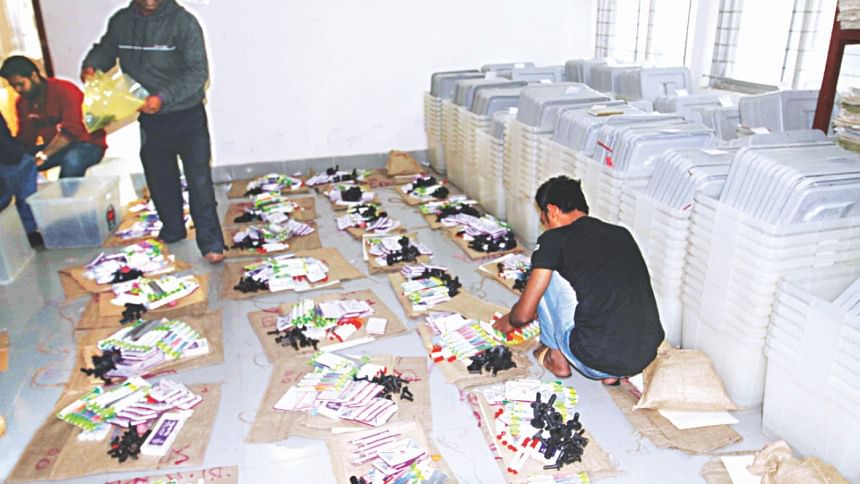 The BNP has instructed its mayoral candidates and their polling agents not to leave the election centres "under any circumstances" during the casting of ballots, and that they stay there till the announcement of election results.
The party thinks it has a strong possibility of clinching victory in more than 150 of the 234 municipalities that are going to polls tomorrow, said party insiders.
Of the incumbent mayors, 55 are contesting under BNP's banner, and the party is confident of their re-election.
Meanwhile, the ruling Awami League has asked its local leaders to refrain from flexing their muscles and not to ruin the election atmosphere, as it would benefit the BNP, according to AL sources.
The AL also instructed its grassroots leaders and activists to "assist" the local administration in conducting a peaceful election, said the sources.
The party thinks its candidates have a greater chance of winning in at least 170 municipalities. 
The two parties face each other in the battle of ballots for the first time in the last six years. They have taken the first-ever municipal polls on partisan lines as an opportunity to prove their popularity. 
In the last municipal election held five years ago, AL-backed candidates won in 131 municipalities and the BNP-endorsed ones in 117 municipalities.
Of the 131 AL-backed mayors, 65 got AL nomination for tomorrow's polls, while a good number of the remaining ones are contesting the polls as party dissidents.
And around 25 of them might pose a strong challenge to AL candidates, said the sources.
The party has taken some special measures to secure victory in some of the municipalities where it doesn't have a strong footing.
The AL has already provided election funds to around 40 party candidates, who are not solvent, said the sources.
Talking to The Daily Star yesterday, AL Presidium Member Nooh-Ul-Alam Lenin said they already directed the party men to guard the polling centres so that BNP men cannot create chaos or taint the government's image centring the local body polls.
In many places, they have formed polling centre-based election committees, which would monitor party leaders' activities on the voting day.
Besides, grassroots leaders and activists have been asked to cooperate with the local administration in holding a free, fair and peaceful election.
The AL has also issued instructions to pick trusted and devoted party men as polling agents, said the sources.
On the other hand, the BNP has asked its candidates to appoint "competent and brave" polling agents.
The party also instructed them to make sure that polling agents are present during vote counting and check the figures before signing the result sheets.
Wishing anonymity, a district BNP leader said, "We have started training the polling agents and volunteers. We are briefing them about their election duties and precautions against attempts of vote rigging by ruling party men."