Bill passed okaying underage marriage in 'special cases'
Opposition MPs' amendment plea turned down; rights groups to protest on March 8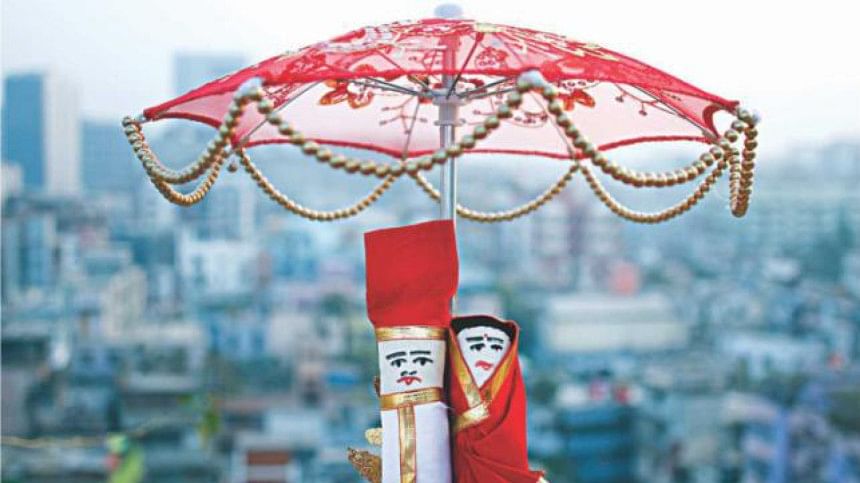 Keeping intact a provision that allows marriage of underage girls and boys in "special circumstances", the Jatiya Sangsad last night passed the Child Marriage Restraint Bill 2017 with 18 and 21 as minimum marriageable age for women and men respectively.
The development comes despite many pleas, petitions and protests by rights groups who think it is never a good idea to keep any room for marriages prior to one's adulthood in a country where one of the world's highest percentage of child marriages take place. With the exception of a few countries in sub-Saharan Africa, Bangladesh has the highest number of underage married girls. 
The "special circumstances" provision of the law would permit parents and in the absence of parents, a girl's or boy's guardians, to get a court order and marry their wards off even before they reach the minimum marriageable age in their (the children's) "best interests".
And no age limit is specified in the law for solemnising marriages under such "special circumstances". So practically it can be 16 years of age, 14 or even below.
The new law got passed in parliament despite a protracted and persistent opposition by rights groups at home and abroad.
Those working for the cause of preventing child marriages argue that such a leeway in the name of "special circumstances" would jeopardise the whole purpose of the law and people would tend to abuse the provision in getting girls married early.
In an instant reaction last night, Bangladesh Mahila Parishad President Ayesha Khanom termed the development "unfortunate and awfully miserable". 
This would only create a new "vicious cycle" for women in society and hinder women empowerment, she said.
Talking to The Daily Star, Ayesha also mentioned that on March 8 different women and civil rights platforms would hold rally and protest keeping of such a provision. 
"We engaged with the government on this particular issue many times in the last few years. We submitted memorandum to the prime minister and an alternative draft law on this to the women and children affairs ministry but to no avail."
State Minister for Women and Children Affairs Meher Afroze Chumki placed the bill, which was passed in voice vote. The new law will replace the existing Child Marriage Restraint Act 1929.
The 1929 law had fixed 18 and 21 as the minimum age of marriage.
Three lawmakers from the opposition Jatiya Party (Ershad) sought to bring in some amendments and elicit public opinion before the passage of the bill, but their pleas were turned down in majority voice vote.
The lawmakers -- Fakhrul Imam, Salim Uddin and Rowshan Ara Mannan -- opposed the "special provision" of the bill and proposed that the House should send the bill for eliciting public opinion or send it back to a special committee for further scrutiny.
In reply, Chumki said the government is committed to stop child marriage and for that a time befitting law is immensely important. 
The opposition lawmakers' proposals for scrapping the special provision were rejected in voice votes in the House presided over by Speaker Shirin Sharmin Chaudhury.
Talking to The Daily Star later, Rebeka Momin, chief of the parliamentary standing committee on women and children affairs ministry, said the concern that keeping the special provision would increase child marriage has no basis.
"Let's see whether child marriage goes up in the country after passage of the law," she said, adding, "There was no alternative to keeping the special provision considering the socio-economic reality, especially in rural areas."
On December 8 last year, the state minister for women and children affairs placed the bill in parliament with a special provision for the marriage of only underage girls in special cases.
But during scrutiny of the bill, the parliamentary standing committee brought a change in the original keeping the provision of "special circumstances" also for boys. Initially, it was only for girls. 
According to section 2 of the bill, any male who is yet to complete 21 years or any female who is yet to complete 18 years will be considered underage for getting married.
When one or both are underage, this will be defined as child marriage.
However, as per Section 19 of the proposed law, if any marriage takes place in line with the directives of a court and consent of the parents or guardians alongside specific process in special context in the best interest of an underage female, such marriage will not be considered an offence, according to the report of the House committee.
Earlier in November last year, the cabinet approved the draft law that drew huge criticism from various quarters at home and abroad, including Human Rights Watch, for allowing child marriage in the name of "special cases".
According to the bill, the Mobile Court Act 2009 can be exercised in case of child marriage.
Local officials, including upazila nirbahi officer, executive magistrate, upazila women affairs official, upazila social service officer, upazila primary or secondary education officer and officer-in-charge of the police station concerned can take necessary measures and legal actions to stop any child marriage upon receiving written or verbal complaint.
The court can stop any child marriage while the punishment for breaching the ban on child marriage is maximum six months' imprisonment or a fine of maximum Tk 10,000 or both.
The punishment for marrying any underage person for an adult woman or man will be maximum two years' jail or maximum Tk 100,000 in fine or both.
As per section 7 (2) of the proposed law, underage boy and girl will have to undergo a detention of 30 days or pay Tk 50,000 as fine or both in case of any child marriage.
If the guardians concerned or others remain associated with child marriage, the punishment is six months to two years' jail or Tk 50,000 in fine or both, while the punishment for officiating such child marriage is six months to two years' jail or Tk 50,000 in fine or both.
Besides, the licence of a marriage registrar can also be revoked for registering such child marriage alongside maximum two years' jail or Tk 50,000 in fine or both.
Birth certificates, national identity cards, passports and certificates of different academic examinations like primary terminal examinations and equivalent tests, JSC and equivalent exams, and SSC and equivalent exams will be considered as legal documents for verifying the age for getting married.
Girls Not Brides, a UK-based global partnership of more than 700 civil society organisations committed to ending child marriage, said,  "The Bangladesh Government is concerned that pregnant adolescent girls, particularly in rural areas, would be ostracised by their communities if they could not marry. Allowing marriage in 'special cases', such as pregnancy, is their proposed solution. But marriage does not protect girls. Research consistently shows that child marriage goes hand in hand with dropping out of school, losing out on job opportunities, and experiencing domestic violence."
It further noted that Bangladesh's neighbour, Nepal, increased the minimum age of marriage to 20 for both men and women and came up with a national strategy to end child marriage, which addresses the concerns that drive parents to marry off their daughters before 20.
"The strategy focuses on ensuring quality education for girls, working with families and communities -- including men and boys -- to change mentalities, and ensuring access to government services," it added.
Social Action Committee is a platform of 69 women rights, human rights and development organisations working in the country. While holding a rally protesting the special provision in the proposed Child Marriage Restrain Act at the Central Shahid Minar recently, it said the provision would not only encourage child marriage but also affect children's rights and women empowerment.
According to Unicef, "Early marriage leads to early pregnancy. One third of teenage girls aged 15 to 19 are mothers or are already pregnant [in Bangladesh]. Adolescent mothers are more likely to suffer from birthing complications than adult women."