Beauty belies dark trade
Picturesque hills, jungles in southern Thailand offer perfect place for human traffickers to confine victims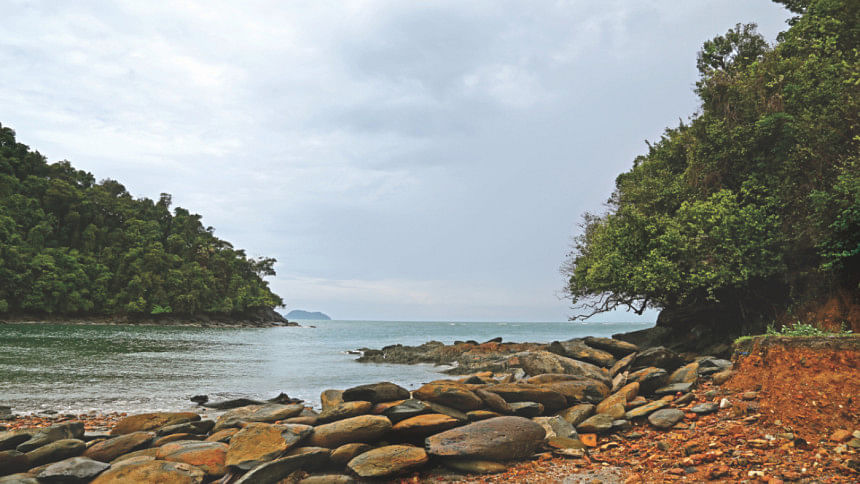 The dense mangrove forest on both sides of the road to the Bang Ben bay through Laem Son National Park is indeed intriguing.
With 15 islands having beaches, coral reefs, mangrove swamps, and a rainforest jungle, the national park in Thailand's southern Ranong and Phang Nga provinces has not only attracted adventurous tourists, but also has offered a perfect place for traffickers to hold smuggled people for years.
"That's the place where we intercepted a large boat carrying 295 Rohingyas and Bangladeshis, including seven Rohingya traffickers, last November," said Santaya Kaewsri, the assistant district officer of Kapoe, pointing his finger to the Andaman waters between two hills not far from the pier which falls in Ranong.
The mesmerising serenity of the layers of hills turning blue from green hides a dark secret that visitors do not see.
The district officer, who earlier took this correspondent to another place to show the seized boat, claimed most of the people-smuggling incident takes place in Phang Nga. But Ranong is no less infamous than Phang Nga, Songkhla and Satun provinces for Thai ransom business that had become so lucrative in recent years, creating a major humanitarian crisis.
The trend of Rohingyas, who tried to flee persecution in their homeland, taking sea voyages in small boats was noticed well after the 2004 Asian Tsunami, a Thai official in Ranong said, seeking not to be named.
"Even though Thailand was not the migrants' final destination, the traffickers wanted to save money by transporting people in Thailand first on their way to Malaysia due to cost of gas. They would later move them overland to Malaysia where the Rohingyas wanted to seek jobs," Colonel Suthipong Zhongpakdi, the deputy commander of Internal Security Operations Command in Ranong, told this correspondent during a visit in the last week of May.
The 2012 riots in Myanmar's Rakhine state turned the low-key smuggling into an exodus of homeless Rohingya Muslims, making the people smugglers hungrier for money.
And the brisk money later led to expansion of the smuggling syndicate into Bangladesh, where there was already an active network of labour brokers, and introduction of forced trafficking of people to extort ransom, said experts.
INACTION TO STOP, CONNIVANCE WITH TRAFFICKING
According to local fishermen in Ranong, officials have full knowledge of what has been going on for years.
"They usually came in the late hours in small groups. They were frequently seen during the past few years," an employee of Laem Son National Park, who did not want to be named, said through a translator.
The traffickers in some boats would ask the fishermen about the location of their destinations. Expressing ignorance, some fishermen would then inform local police, he added.
"But the police did not show any interest to arrest them because it would add to the burden of the existing refugee crisis."
Police would wait to see the smuggled people pass through the border into Malaysia and let it be their problem, he added.
The discovery of a mass grave in Thailand's Songkhla province on May 1 revealed to the world the extent of inhumane torture the smuggled boatpeople had undergone.
"Interviews with officials and others make it clear that these brutal networks, with the complicity of government officials in Burma, Bangladesh, Thailand, and Malaysia, profit from the desperation and misery of some of the world's most persecuted and neglected people," Brad Adams, Asia director of Human Rights Watch, said in a statement on May 27.
The Thai authorities, who have been under tremendous pressure to raise their poor rank in stopping human trafficking, however, had to act and issue arrest warrants against 89 people, who included officials too, after Malaysia beefed up security at its border recently.
After the discovery of mass graves and trafficking camps, international media have written about the involvement of a whole range of people – which include officials, businessmen, law enforcers and politicians – in it.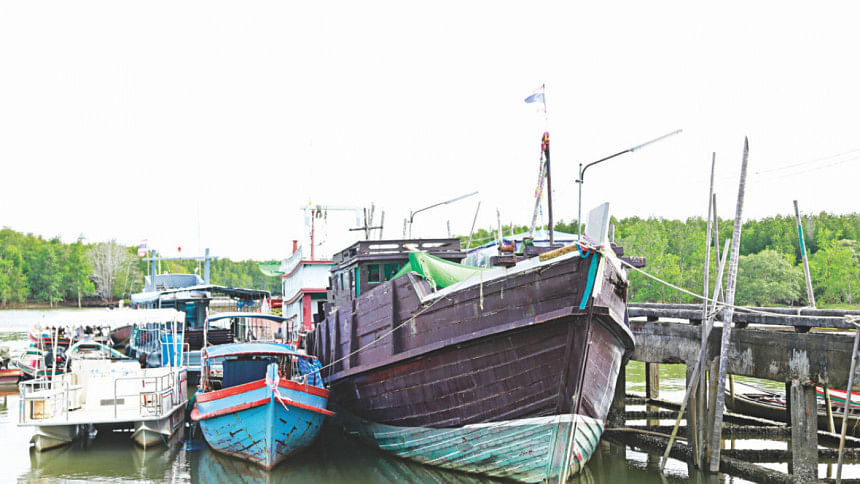 Talking about this, the deputy commander of Ranong's Internal Security Operations Command said: "We know some officers are involved. The officials found guilty will definitely face punishment for their crimes … but those who could not be charged for lack of solid evidence, will be sent to military camps for an attitude adjustment."
As of Friday, 55 of those facing arrest warrants were in custody in Thailand.
While the involvement of some local politicians did not surprise many, the link of Lieutenant General Manas Kongpaen, senior adviser to the Thai army, came as a real surprise to many. Facing multiple charges including human trafficking, detention and ransom in connection with the Southeast Asia human trafficking disaster, he has surrendered, marking the first arrest of a military official since the investigation started last month.
The total value of assets belonging to suspects alleged to be involved in human trafficking has reached Bt109 million, according to Thai Anti Money-Laundering Office.
All assets of some other suspects -- Pajjuban Angchotephan, Natthaphat Saengthong, Charnnarong Phromenut and Hard Thodthing -- have also been confiscated.
Meanwhile, after the discovery of mass graves of migrants in Bukit Wang Burma area in northern Malaysia on May 24, the country's Home Minister Ahmad Zahid Hamidi insisted that Malaysians are involved in the clandestine business for long.
The camps have been there for a while, "maybe even five-years", he said, expressing shock about the clandestine activities.
Six routes discovered along the Malaysia-Thailand border are believed to be human trafficking and goods-smuggling "rat" trails, Malaysia's The Star newspaper reported.
Nor Mahizan Kasim, chairman of the Kampung Syed Omar Village Development and Security Committee, said the syndicates had used the routes for more than 10 years.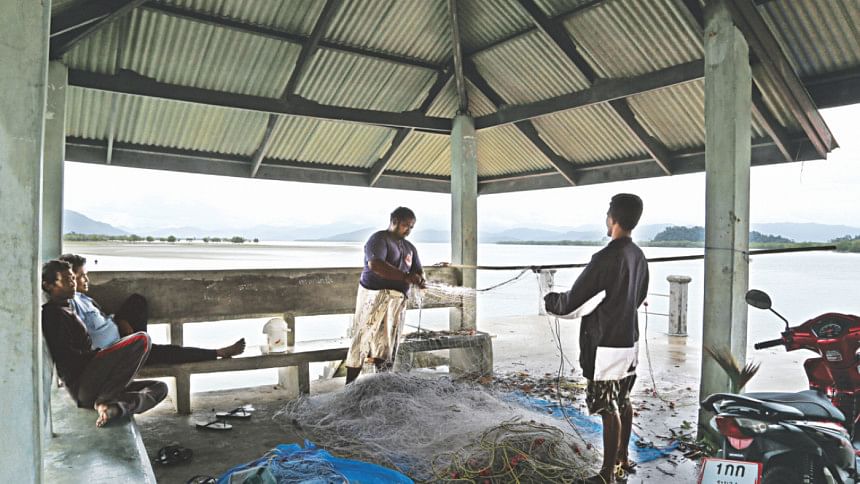 MOST GUARDS ON BOATS ARE 'MYANMAR CITIZENS'
Though many Bangladeshi brokers are learnt to be involved in the trafficking syndicate, Myanmar and Thai nationals play the key role in transporting the victims in most cases, this correspondent learnt.
Three Bangladeshis, now detained at the Immigration Detention Centre in Ranong, told The Daily Star on May 26 that the guards on the boats that took them to Thai coasts were all "Arakanese".
"They understand and can speak Bangla though they are not Bangladeshis," said Nur Alam, an 18-year-old from Shariatpur Upazila who was rescued from a camp in Thailand's Padang Besar area in December 2013.
After they landed at the jungle camp, another Arakanese broker named Islamail gave him a mobile phone to talk with his family members back home and ask them to hand over Tk 2 lakh ransom money to one broker named Farukh in Teknaf.
"While handing over the money at a Rohingya camp in Cox's Bazar, my family learnt that Farukh is the brother of Ismail," he said.
Talking about the operation of trafficking boats, Thai officials told The Daily Star that they seized three modified fishing boats that were used to transport the Rohingyas and Bangladeshis to Thailand. Two of them belonged to Thai nationals while one to a Burmese man.
Souka, the Myanmarese captain of a boat seized at Sinhai island in Pakan sub-district of Ranong on January 30 this year, told police that Thai national Channarong Klomklao hired him for transporting the smuggled people to Thai coasts.
Seven crew of the boat, who were also from Maynmar, were sent back to their country.
Meanwhile, the Myanmar authorities earlier held a 53 year-old Thai national who allegedly owned a boat, recently found by the Myanmar navy, crammed with more than 200 migrants.