Biman to get three more aircraft: PM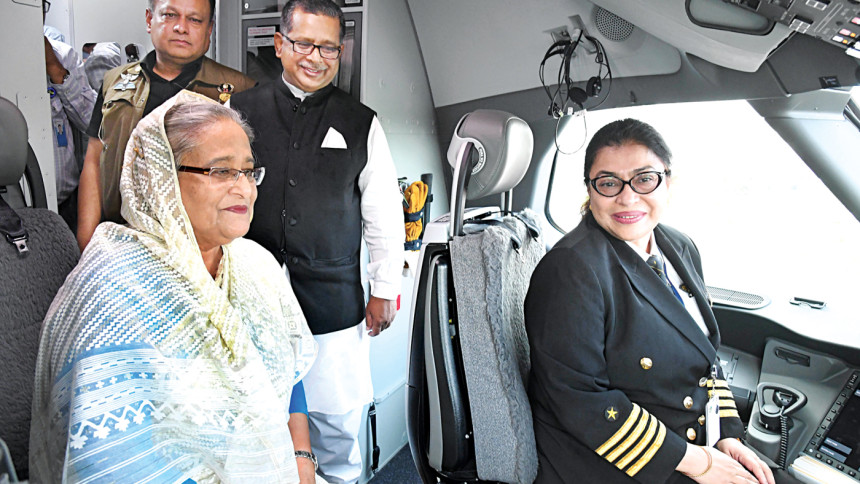 Bangladesh has a plan to procure three more Dash planes for Biman, Prime Minister Sheikh Hasina has said. 
The country may also buy two more aircraft from Boeing, she said yesterday while addressing the induction ceremony of the Rajhangsha -- Biman's fourth brand new Boeing 787-8 Dreamliner. 
"The inclusion of Rajhangsha into the Biman's fleet is another milestone for the national flag carrier," she told the ceremony at the VVIP Tarmac of HSIA. 
After the inauguration, Hasina boarded and inspected inside the aircraft and talked to its pilots and other crew members.
The PM said that the government has a plan to expand the wings of Biman in the coming days. 
She said that Biman would start its flight to Manchester as Bangladeshi people living there have been requesting her for a long time to start Biman's flight operation. 
The PM asked the officials of Biman to gain the trust of passengers by ensuring the standard services with honesty and sincerity. 
Earlier, the first and second Boeing 787-8 Dreamliners -- named Akash Beena and Hangsabalaka respectively -- arrived here in August and December last year, while the third one -- Gaangchil -- arrived in July this year.
In 2008, Biman signed a US$2.1 billion agreement with Boeing to purchase 10 new aircraft. Of those, Boeing has already delivered four 777-300ER's, two 737-800's and three Dreamliners to Biman.
The 271-seater Rajhangsha has been designed to be 20 percent fuel efficient compared to other aircraft. The airliner has the capacity to fly 16 hours nonstop with an average speed of 650 miles per hour, and is also equipped with on-board Wi-Fi.
It will provide passengers with Wi-Fi services at a height of 43,000 feet.