Attack on Hindus in Brahmanbaria: Ambition, not religion
3 investigations failed to find masterminds, motives but people seem to know who, why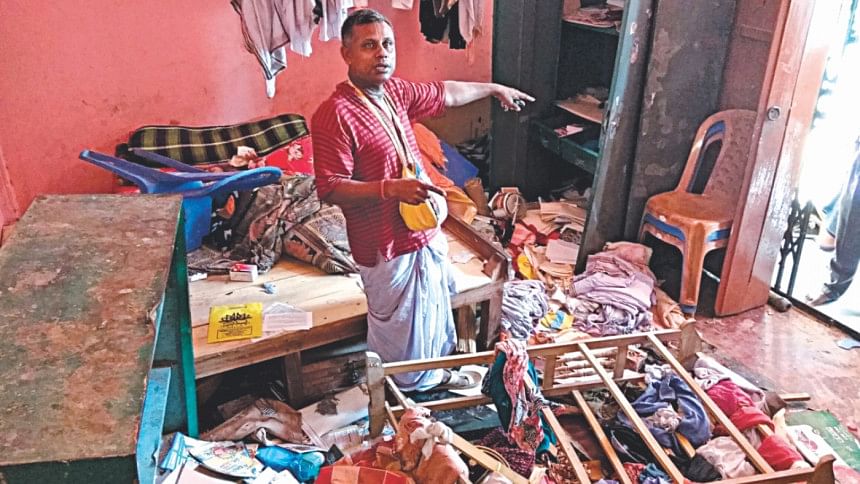 On October 30, hundreds of religious zealots launched a synchronised attack on six Hindu villages in Brahmanbaria's Nasirnagar upazila and vandalised 100 houses and 17 temples. They also looted whatever valuables they could find. Before the attack, they spread communal hatred for two days using a Facebook post on the wall of a Hindu fisherman. To instigate and mobilise people, the post was shared among the locals via phone and hard copies. But who pulled the strings, why and how?  M Abul Kalam Azad and Rashidul Hasan try to explain all this after talking to over 100 locals who are "convinced" that 

political ambition of a ruling Awami League lawmaker played a big role.
Three government investigations could not find out the motive behind the attack on the Hindus in Nasirnagar and its masterminds. But interestingly, locals seem to know it all.
The Daily Star has spent 10 days in the area, talking to about 100 people from different levels, and they tell one identical story: That the attacks were instigated for political gains and the issue of religious sentiment was only secondary.
As they allege, the plan for the October 30 mayhem stemmed from bitter rivalries between two Awami League stalwarts in Brahmanbaria politics. One is a minister and the other a lawmaker. If the minister can be forced to quit, opportunity would open up for the lawmaker to climb up the political ladder and even become a minister.
Everyone -- from farmers to politicians to top district officials -- is aware of the toxic relations of the two -- Sayedul Haque, 74, a five-time lawmaker and minister of fisheries, and Obaidul Muktadir Chowdhury, 61, a former bureaucrat-turned politician.
None of the sources, however, agreed to go on record for fear of retribution or citing the ongoing investigation.
Muktadir outright rejected the allegations. He claimed he had no conflicts with Sayedul and that his followers had no links with the Nasirnagar attack, which saw scores of Hindu homes and temples damaged and household belongings and temples' money and idols looted over a Facebook post hurting the religious sentiments of the Muslims.
"Those who are bringing such allegations against me are amateurs and intellectually corrupt," Muktadir told this paper.
'MUKTADIR, AN AMBITIOUS MAN'
But those bringing the allegations include two Brahmanbaria lawmakers from his own party.
"Muktadir wants his grip on everything for which we face problems," said one AL MP. "Anyone involved in local AL politics knows Muktadir and Al Mamun [district AL general secretary] were probably behind the incident."
Terming Muktadir a very ambitious man, another local AL lawmaker said: "Muktadir wanted to malign the minister with the hope of replacing him."
And the best way to throw Sayedul off his political track is to hit him where it hurts the most.
Sayedul is a well-known politician and a lawmaker from Nasirnagar (Brahmanbaria-1 parliamentary seat) -- first elected in 1973 and then from 1996 to 2014. One of the main features of his victory is the support of the Hindu voters of about 45,000.
Local politicians suggest that the attack on the minority community was meant to upset this solid vote bank.
"It was certainly a planned attack and different vested quarters took part in it for their own interests, capitalising on the anti-Islam post on the Facebook page of Rasraj Das," Mizanur Rahman, superintendent of Brahmanbaria police, told this paper on Tuesday.
Sujit Kumar Chakrabarty, president of Nasirnagar Press Club and office secretary of the upazila AL, supported him, saying that after the ground for the attack was set, everyone took part in it -- local AL, BNP, Jamaat, religious bigots as well as local criminals, who mainly took part in the looting.
It is not yet clear if the masterminds themselves were behind the Facebook post (police already established that the post in question was not uploaded from Rasraj's phone) or if they just decidedly exploited it to launch the attack.
Investigators are now desperately searching for the answers of these two questions. 
"Our main challenge is to find out whether the Facebook post was made deliberately or if the conspirators simply used it once they saw it in Facebook." said Additional Superintendent of Police Iqbal Hossain.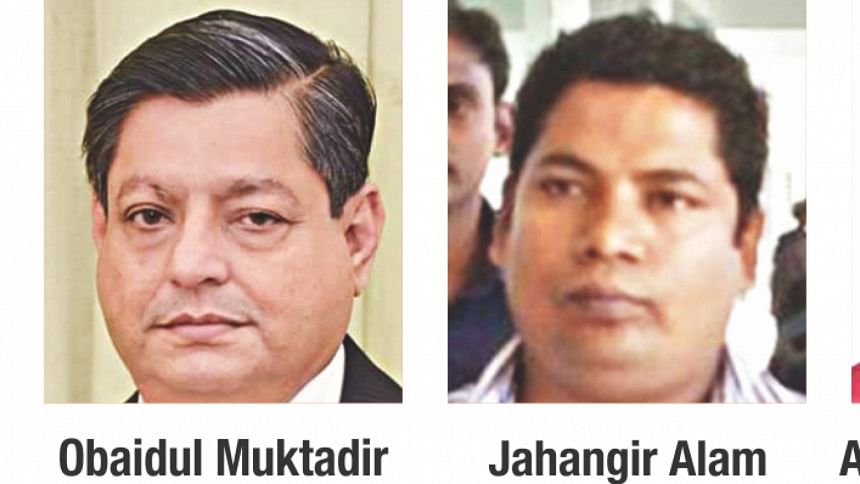 THE RIVALRY
Sayedul, a veteran AL leader, is considered one of the founders of AL in Nasirnagar.
On the other hand, Muktadir entered politics late, resigning from bureaucracy in 2005. A private secretary to Prime Minister Sheikh Hasina during her first term in 1996-2001, his aim is to get a cabinet post at some stage, sources say.
The politician from Sayedul's adjacent constituency gradually developed his political career, first by winning a by-election in 2011 and then the 2014 election, boycotted by the BNP and its allies. 
And the natural death of hitherto most popular AL leader in Brahmanbaria -- Lutful Hai Sachchu -- in 2010 opened up his political ladder to climb. Sachchu was Brahmanbaria district AL president and lawmaker of Brahmanbaria-3 (district sadar and Bijoynagar upazila).
When Sachchu died Muktadir was a member of Brahmanbaria district AL. He is now its president.
Over time, a rivalry grew between Sayedul and Muktadir, which became public in the last few years.
Politicians in Brahmanbaria said Muktadir even formed an anti-Sayedul group and wanted to discredit him in efforts to become minister.
For his part, Sayedul tried to demean Muktadir by making various comments. The rivalry turned bitter over the nomination of chairman candidate in the Horipur Union Parishad election in April.
Faruk Mia, known as Sayedul's man in the area, was first given the nomination for chairman post. It was later cancelled on the grounds that his father was a razakar. Muktadir's group allegedly played a role in it. The group backed Dewan Atiqur Rahman Akhi, a licenced liquor trader, who got the nomination and won.
Following the feud over candidacy, Muktadir and Mamun expelled the minister from the post of district AL adviser, accusing him of taking stance against party nominee Akhi and violating party discipline.
At a press conference on November 6 in Nasirnagar, Sayedul accused Muktadir and Mamun of taking money from Akhi for the nomination. Muktadir and Mamun sent legal notices to him, asking him to prove the claim.  
Later at a rally organised by Brahmanbaria police in Nasirnagar on November 8, the minister alleged a group was trying to "eliminate him" from politics to fulfill their evil design. "But they would not be able to achieve that since Nasirnagar voters are with me."
MUKTADIR'S MEN?
Akhi was allegedly given the responsibility by Muktadir and Mamun to do something and discredit the minister. He then assigned his "main man" in Horipur, Jahangir Alam, to pull it off, sources alleged. 
Jahangir allegedly made Rasraj Das, a Hindu fisherman, a pawn in the game. Using a Facebook, he spread hatred and mobilised people against Rasraj (see side story). Later, religious zealots carried out a synchronised attack on Hindu homes and temples in Horipur and Nasirnagar sadar.
Jahangir is now in jail connection with the attack.
Findings of both the AL and the police also revealed that the attack was an outcome of the internal feud of the party.
After the incident, the AL sent a three-member team to Nasirnagar. The team, led by Organising Secretary Enamul Hoque Shamim, reported to the party chief that internal conflict was one of the main reasons.
Speaking at a party meeting at the Gono Bhaban on November 9, Sheikh Hasina expressed anger over Muktadir's role in the incident.
"I won't keep him in any committee," meeting sources quoted the AL chief as saying.
The probe body formed by the police headquarters and headed by Deputy Inspector General of Police of Chittagong Range Shakhwat Hossain told journalists that the attack took place following an internal conflict of the local AL over establishing supremacy.
In a bid to discredit the minister, Muktadir got with him some local leaders of the AL. They include Al Mamun Sarker, Joint Secretary of Brahmanbaria Mohila AL MB Kaniz, Nasirnagar upazila AL general secretary and upazila chairman AKM Moniruzzaman and Horipur UP chairman Dewan Atiqur Rahman Akhi.
All of them would benefit if Sayedul can be sidelined, sources in the local AL said.
Akhi did not talk to The Daily Star about his alleged role in the incident, though the twice agreed to give his version. Police say he is on the run now.  
THE DENIAL
Both Muktadir and Mamun dismissed the allegations brought against them.
According to Muktadir, a vested group wants to divert people's attention when a process has started to identify the criminals.
"The internal conflict of the district Awami League or the political conflict between the minister and the district Awami League is being highlighted to hide the perpetrators," he told The Daily Star.
"I don't have any personal rivalry with the minister. There are some differences of opinion between him [Sayedul] and the district Awami League, which is not a secret." 
He also disowned Akhi.
Mamun also denied all the allegations against him, but admitted that he and Muktadir lobbied for the cancellation of Faruk's nomination and nominating Akhi instead.