Arson Case: Khaleda's bail prayer rejected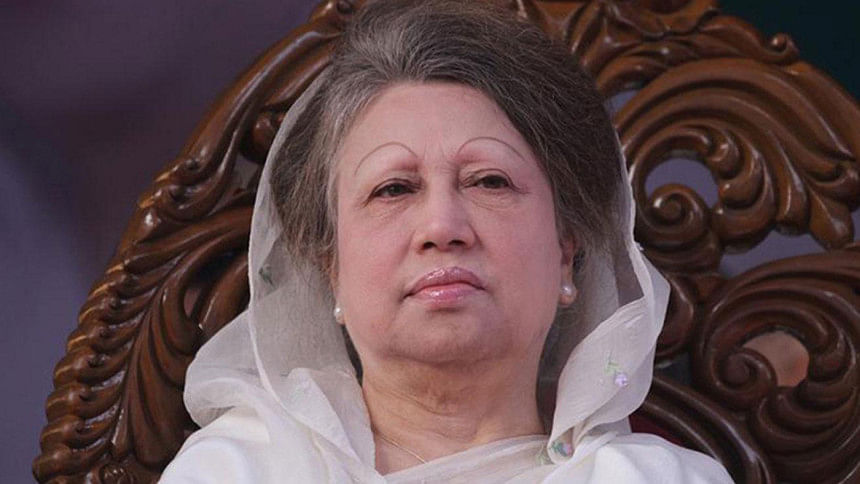 A Comilla court yesterday rejected BNP Chairperson Khaleda Zia's bail petition in a case filed over instigating an arson attack on a bus in the district's Chauddagram upazila that killed eight people in 2015. 
Senior Judicial Magistrate Mustain Billah passed the order after Khaleda's lawyer Sanaullah Miah moved the petition seeking bail in the case.
During yesterday's hearing, Sanaullah said Khaleda was accused in the case as part of a conspiracy to harass her politically. She could not be involved in any subversive activities as well as any killings, Sanaullah added.
On Sunday, the same court issued a production warrant against Khaleda, asking the jail authorities to produce her before it during the hearing.
On October 10 last year, the same court issued an arrest warrant for Khaleda after Sub-Inspector Mohammad Ibrahim, investigation officer of the case, submitted a charge sheet against 78 people, including Khaleda, in the case.
In the charge sheet, the IO cited Khaleda as a "fugitive" and appealed to the court to issue an arrest warrant for her.
Soon after the bail rejection order, Sanaullah told The Daily Star that they would file a criminal appeal before the Comilla District and Sessions Judge's Court, challenging the lower court's order after getting the certified copy of the order.
The hearing of another bail petition in the case filed under the Special Powers Act will be held on April 23.   
On February 3, 2015, eight people were killed and 25-30 others injured when some criminals hurled a petrol bomb at a bus at Jogmohonpur on Dhaka-Chittagong highway during a non-stop movement enforced by the BNP-led-20 party alliance.
Three cases -- one for killing, one under the Explosive Substances Act and the other under the Special Powers Act -- were filed with Chauddagram Police Station against Khaleda and several top BNP leaders.
In the cases, Khaleda was accused as the mastermind and instigator of the incident.
KHALEDA HAS NO MAJOR HEALTH ISSUE
There are some problems in the joints of her hip and shoulder, said Prof MS Zaman Shaheen, chief of the medical board formed for her treatment.
After examining X-rays, the physicians concluded that the issues might be related to old age, he told reports at Dhaka Medical College Hospital yesterday.
Such complications are treatable in the country's hospitals, he added.
The four members of the medical board on Monday received different test reports from the jail authorities.
Nothing wrong was found in her blood tests, Prof Shaheen said yesterday.
Khaleda was taken to Bangabandhu Sheikh Mujib Medical University on Saturday for tests from the capital's old central jail.
On April 1, after examining her at the jail, the medical board said the health problems Khaleda had been suffering were not serious.
Khaleda was sentenced to five years in prison in the Zia Orphanage Trust graft case on February 8.