8 took part in Avijit murder
Arrested operative of Ansar Al Islam tells court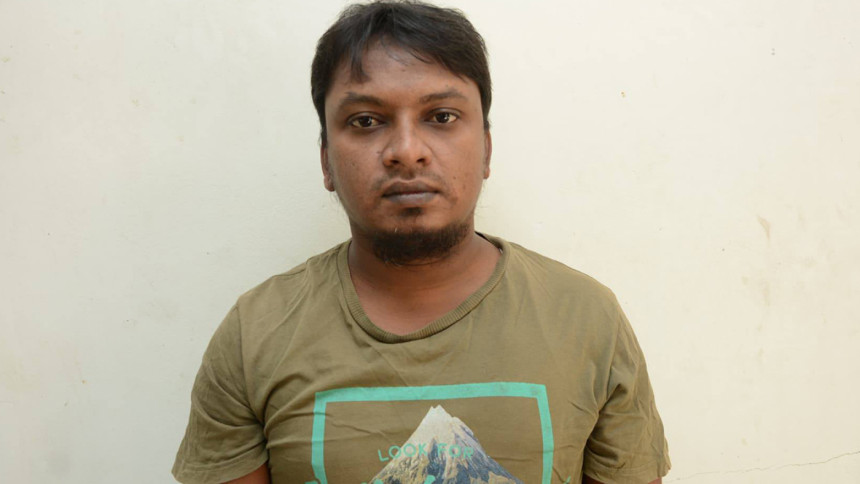 Eight operatives of Ansar Al Islam took part in the murder of writer-blogger Avijit Roy following the instruction of sacked and absconding army Major Syed Ziaul Haque, alleged military wing chief of the banned militant outfit.
Abu Siddique Sohel alias Sakib alias Sajid, 34, who was arrested on Sunday night in connection with the killing of Avijit in the city's Mohammadpur, admitted this before a Dhaka court yesterday.
Major Zia also coordinated the attack on Avijit, said Sakib, from Lalmonirhat, also a member of the outfit's IT and intelligence wing, according to counterterrorism officials.
In his statement recorded by Metropolitan Magistrate Ahsan Habib, Sakib said eight people participated in the operation. Four, including him, were following Avijit at the venue of Amar Ekushey Book Fair on February 26, 2015. Four others, who were outside the venue, took part in the killing mission. He claimed that he did not know much about the seven others.
Avijit, a Bangladesh-born US citizen, was hacked to death on Dhaka University campus when he along with his wife Rafida Ahmed Bonya was returning from the book fair that day. Bonya was critically injured in the attack.
He came to Bangladesh with his wife as his two books were published during that year's book fair.
Sakib followed the secular writer at the fair venue on February 26, 2015. On information from Sakib, the operation wing members hacked Avijit to death, Mohibul Islam, deputy commissioner of Counter Terrorism and Transnational Crime (CTTC) unit, told The Daily Star. 
Law enforcers earlier arrested eight suspects, but failed to detain any of those who directly took part in the killing mission.
Avijit's father Prof Ajoy Roy, who filed a case against unidentified assailants with Shahbagh Police Station, expressed disappointment at the progress of investigation as police were yet to submit a charge sheet in the case.
The trial of the case is not beginning as either the investigators lack the skill or they do not want that to happen, he alleged while talking to this correspondent yesterday.
He also demanded the arrest of those directly involved in hacking Avijit to death.
Sakib, who completed BBA from Government Titumir College, joined the outfit in 2014 and met Major Zia several times at different hideouts, said CTTC official Mohibul. 
CTTC officials claimed that Sakib was one of the six suspects police identified after analysing the CCTV footage captured in and around the fair venue.
Sakib was seen following Avijit in one of the seven video clips posted on Dhaka Metropolitan Police's official Facebook page on August 21 last year, they said.
The CCTV footage, however, is too blurry to identify anyone. 
Earlier, police from that clip identified one as Sharif alias Saleh alias Arif alias Hadi as a suspect.
He was later killed in a "gunfight" with law enforcers in the city's Khilgaon on June 19 last year.
Sharif topped a list of six members of banned militant outfit Ansarullah Bangla Team (ABT) on whom police declared a bounty on May 19 last year.
Seven of the eight arrestees in the case -- Shafiul Rahman Farabi, Sadekur Rahman Mithu, Alimul Mallik, Towhidur Rahman, Julhaj Biswas, Sabez Ali and Jafran -- are now behind bars.
Another suspect Abul Bashar, brother of ABT's spiritual leader Jashim Uddin Rahmani, died in jail custody while undergoing treatment at Dhaka Medical College Hospital.   
Police collected 11 kinds of evidence from the killing spot and sent those to the DNA lab of the US Federal Bureau of Investigation. However, the DNA profiles did not match with those of the arrestees.