Aiming beyond great grades
Nine top achievers dream of better Bangladesh, want to change the world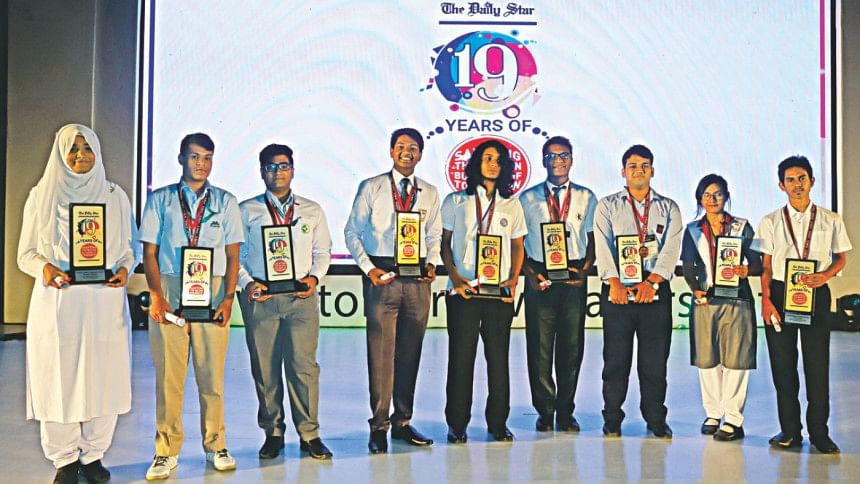 They have achieved the highest grades in A-levels and O-levels in the country, which is something for all to be proud of. The achievers are happy too, but they say the grades are not everything.
In a dazzling celebration of talent, the bright young minds spoke of values and dreams of transforming peoples' lives through knowledge and skill.
"One thing I believe is that education is beyond marks and grades. It is all about what we learn and how we use that knowledge to make an impact on the life of people around us," said Afeya Jahin, who achieved 11 A*s in her O-levels.
She is one of the nine students, who scored the most A's in the 2016-17 A-levels and O-levels in the country.
They were given special recognition at The Daily Star's A-levels and O-levels awards presentation ceremony in the capital's Shaheed Suhrawardy National Indoor Stadium yesterday.
Jahin, who studied at Changes, said everyone had abilities and specialties that needed to be discovered.
"So, my friends, I urge you to follow your dreams and passions and be crazy enough to change the world," she told an auditorium packed with students, teachers and parents.
Anindya Hoque, achiever of 11 A*s in the O-levels exams, said he dreamt of seeing a world free of injustice and inequality.
"I dream of a developed Bangladesh, where one will not find people suffering from hunger or living without a roof above them. At the end of the day, what matters is whether we can bring about that change," said Anindya of SFX Greenherald International School.
Abdullah Al Sajid, who also scored 11 A*s in the O-levels, said everybody needed to change as the world was changing.
"But, while we change we have to remember to keep our moral values--the very foundations upon which we, as a human being, are built," said Sajid of South Breeze School
Wealth may be destroyed by a fire, storm or get stolen, but knowledge and wisdom stay, Sajid said, referring to a Chinese folktale.
He added that he was on the stage for his good grades, but he had many friends who obtained lower grades, but had more potential than him.
"This means we should not judge a person by the grades in some exams, but by the values that they have, the person that they are now and the person that they can be in the future."
Asif Mallik, who got six A*s in A-levels, said the awardees must not forget the role of their families, friends and society in their success.
"Now, more than ever, we must remember our responsibility and make full use of the opportunity that arises as a result of our education," said Mallik of Academia.
Tanvir Sayed, who achieved 6 A*s in A-levels, said his goal was to be one of the best software engineers in the world and create a programme that would make a difference in the world.
Tanvir, who is from Sunshine Grammar School and College, wants to study in one of the world's best universities and one day return home to serve the nation.
Siam Tahsin Mugdho with six A*s from Changes, Maryum Rahman with five A*s from Maple Leaf International School, Soumik Saha with 11 A*s from Maple Leaf International School and Al Muhaimen Azam Khan with eight A*s from Wordbridge School were also given special recognition.