Act, immediately
Publishers rap govt; Gonojagoron Mancha's 6-hr hartal today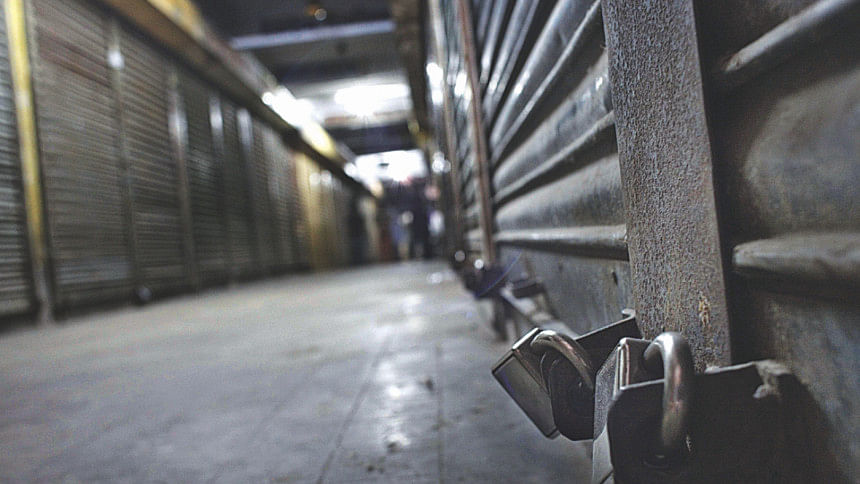 Publishers and bookshop owners across the country kept their businesses closed for hours yesterday, protesting the murder of Faisal Arefin Dipan, owner of Jagriti Prokashani, and the brutal attack on another publisher and two bloggers.
They did not open their offices and stores until 2:00pm to press home their demand for immediate action against the culprits.
Bangladesh Publishers and Book-Sellers Association brought out silent processions at several places in the capital and elsewhere.
Wearing black badges, publishers and bookshop owners also submitted memorandums to the 64 deputy commissioners' offices, demanding their security and punishment to the culprits behind the killing and assault, its leaders said at a human chain in front of the Jatiya Press Club.
Gonojagoron Mancha, a platform demanding capital punishment for war criminals, is scheduled to enforce a six-hour countrywide hartal from 6:00am today to protest the attacks. 
From a rally in the capital's Shahbagh on Sunday, Imran H Sarker, spokesperson for a Mancha faction, said, "The hartal will be called off if law enforcers arrest the culprits within 24 hours."
HUMAN CHAIN
 At the human chain, Alamgir Sikdar Loton, a central leader of the association, said, "At first it was the writers and bloggers who were attacked. Now they [assailants] are targeting the publishers. It seems readers are on their next hit list."
Without freethinking it is impossible for any author to come up with good stories and if publishers are not provided with good write-ups, the number of good books will come down. It will only deprive the readers, he said.
Shah Alam, owner of a bookstore in the capital, said a welcoming ambience was essential for the sake of promoting freethinking and publishing books.
Criticising members of law enforcement agencies for their failure in arresting the killers of Dipan, Robin Ahsan of Srabon Prokashani alleged the government was giving them a false assurance.
"It seems publishing books has become a big crime these days," he said.
Khan Mahbub of Kollol Prokashani called for a united movement to prevent attacks on publishers and bloggers in future.
He also demanded that a portion of the five-storey association building, which is under construction, be named after Dipan.
The association has around 10,000 registered and 12,000 unregistered members across the country, according to its members.
In what appeared to be synchronised attacks, suspected militants hacked to death Dipan at Shahbagh and critically injured Ahmedur Rashid Tutul of Shuddhoswar Prokashani and two bloggers in Lalmatia on Saturday.
Both Dipan and Tutul had published books of slain writer-blogger Avijit Roy, a US-Bangladesh citizen who was hacked to death in the capital on February 26.
On Sunday Farid Ahmed, publisher of Shomoy Prokashani, received a death threat through an SMS.