Losing Leg in Road Accident: Family sues bus owners, rejects offer of Tk 2 lakh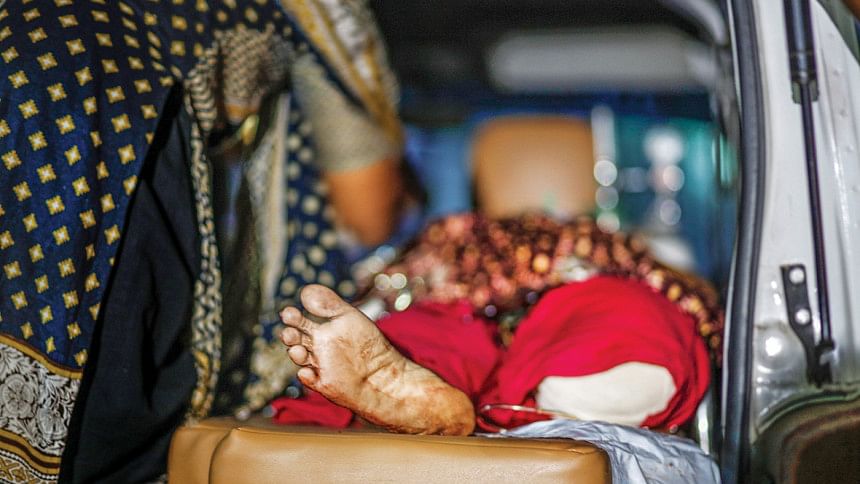 The family of the BIWTC official, who lost her left leg in a road crash in the city on Tuesday, has turned down a compensation offer of Tk 2 lakh from the owners of the bus which was involved in the accident.
Radhe Shyam Chowdhury, husband of victim Krishna Roy Chowdhury, filed a case with Hatirjheel Police Station yesterday against the bus owners, the driver and his helper in this connection.
The complainant in the case statement said his wife became crippled and was struggling for her life due to reckless driving by the driver and negligence of the bus owners, the driver and his helper.
Naming the driver as Morshed, he said he could not mention the names of the two other accused as he did not get those immediately.
Krishna, 55, assistant manager (accounts) at Bangladesh Inland Water Transport Corporation (BIWTC), lost her left leg after the recklessly-driven bus of Trust Transport Services ran her over on a pavement in the city's Banglamotor area on Tuesday.
The accident took place when she was on her way to a private bank in the area from her nearby office.
Doctors at the National Institute of Traumatology and Orthopaedic Rehabilitation (Nitor) had to amputate her left leg from below the knee to save her life.
Bipul Chandra Biswas, secretary of BIWTC, said representatives of the bus owners visited their office yesterday and proposed giving Tk 2 lakh to the victim as compensation.
 "We didn't agree to their proposal as we thought it was unacceptable. We want to deal legally with the issue to ensure exemplary punishment of those responsible," he told The Daily Star.
Radhe Shyam said he didn't accept the compensation offer and filed the case to get justice.
Citing doctors, he said the condition of his wife was stable.
"According to a CT Scan report, her head injuries were not critical. She was taken back to Nitor from the neuroscience hospital today [yesterday] for treatment on her injured leg," he told this newspaper.