$6-9b lost in 2014
Global research reveals $75b fly out of Bangladesh in a decade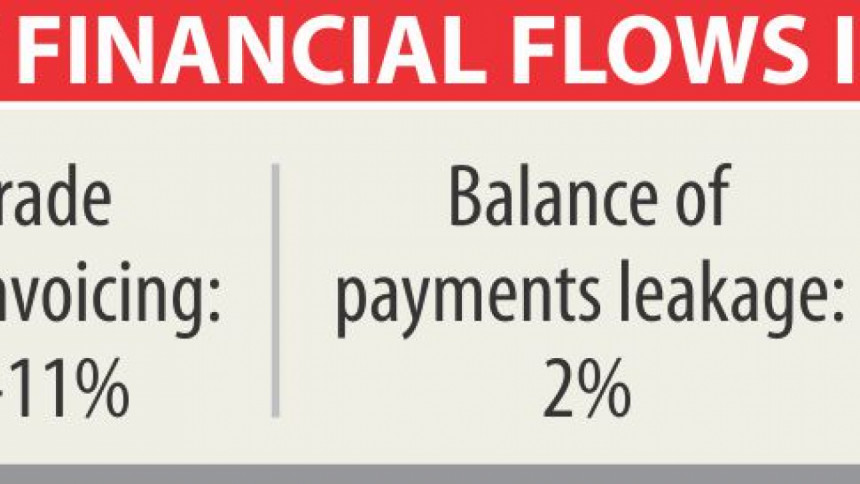 Bangladesh has lost between $6 billion and $9 billion to illicit money outflows in 2014, according to a Global Financial Integrity (GFI) report.
The Washington-based research and advisory organisation on Monday released the report based on a research on 150 countries.
Bangladesh lost $75 billion due to trade misinvoicing and other unrecorded outflows between 2005 and 2014, according to the report.
The report -- Illicit Financial Flows to and from Developing Countries: 2005-2014 -- provides low and high estimates of illegal flow of money out of the developing world, referred to as illicit financial flows (IFFs).
The GFI analysed discrepancies between bilateral trade statistics and balance of payments data, as reported to the International Monetary Fund, to detect flows of capital that were illegally earned, transferred, or utilised.
Illicit trade outflow equalled to 9 to 13 percent of Bangladesh's total trade of $70.07 billion in 2014 -- 7 to 11 percent due to trade misinvoicing and 2 percent due to balance of payments leakage.
As per the low estimates, $6.06 billion moved out of the country through IFFs. The figure is $8.97 billion if the high estimate is considered, which is enough to build three Padma Bridges.
The 2014 IFFs estimate for Bangladesh is lower than that of 2013.
If the highest estimate is considered, the outflow fell by 10.66 percent from 2013 when it was $10.04 billion, the highest recorded.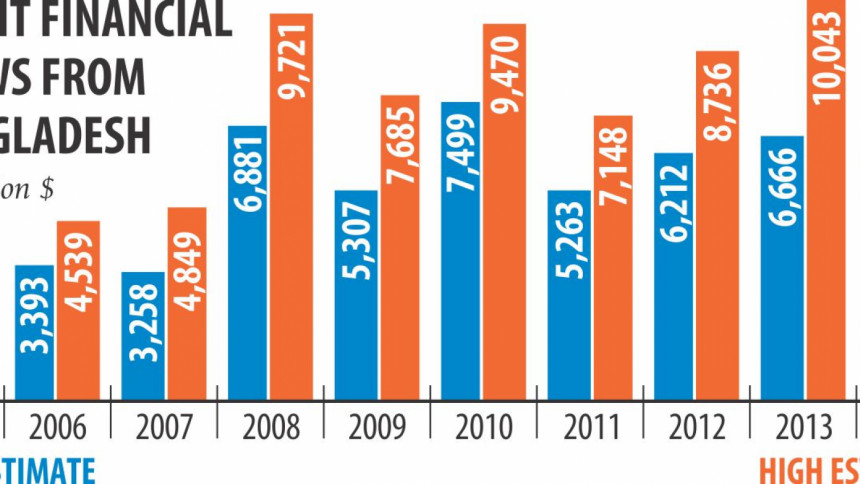 Economists blamed the high outflow in 2013 to the general elections of early 2014 and the political turmoil in 2013.
In case of the low estimate, the 2014 outflow was 9.13 percent less than that of 2013 when $6.67 billion went out of the country illegally.
With number one spot being the worst, Bangladesh was ranked 28th in terms of illicit money outflow. If the high estimate was taken into account, it stood at 21st spot.
The 2013 report had put Bangladesh at 26th spot among 149 countries. It was ranked 51st on the previous list.
The report also highlighted its estimated IFFs into developing countries.
"It has become increasingly evident that both types of illicit flows represent a challenge to economic and social progress in the developing world," it read.
The report showed $4.06 billion illegally entered Bangladesh in 2014, up 25 percent from 2013, when it was $3.25 billion.               
The IFFs from developing and emerging economies was nearly $1 trillion in 2014, according to GFI.
In India, it went up to $21.10 billion from $17.80 billion in 2013.  
For Pakistan, it went down from $518 million in 2013 to just $23 million in 2014.
The worst was China, which suffered a jump to $247 billion from $194 billion in 2013.
The report is the first global study at the GFI to equally emphasise illicit outflows and inflows of money.
The outflows and inflows were estimated to account for 14.1 to 24 percent of developing countries' trade. Outflows were estimated to have ranged between $620 billion and $970 billion, while inflows ranged between $1.4 trillion and $2.5 trillion.
"The order of magnitude of these estimates, much more so than their exactitude, warrants serious attention in both the developing countries and the wealthier world," said GFI President Raymond Baker in a statement on the organisation's website.
"Years of experience with businesses and governments in the developing world have taught us that the decision to bring illicit flows into a particular developing country often marks only the first phase of a strategy to subsequently move funds out of the country. Together, illicit inflows and outflows sap the crucial financial resources needed to reach the Sustainable Development Goals."
An average of 87 percent of illicit financial outflows between 2005 and 2014 were due to the fraudulent trade misinvoicing.
The total illicit financial flows (outflows and inflows) grew between 8.5 percent and 10.1 percent a year over the 10 years.
Estimates of total trade were calculated by an average of the magnitude reported by each developing country and the magnitude reported by that country's trade partners.
As policy recommendations, the report said governments should adopt and fully implement all of the Financial Action Task Force's anti-money laundering recommendations.
Policymakers should require multinational companies to publicly disclose their revenues, profits, losses, sales, paid taxes, subsidiaries, and staff levels on a country-by-country basis, said the report.
According to the GFI, measurable illegal flows stem from two sources: trade misinvoicing and other unrecorded flows.
Trade misinvoicing takes into account export under-invoicing and import over-invoicing, while a second source of illegal flows includes leaks from the balance of payments system.