10 killed in UP violence
Five of them killed in firing by law enforcers in Pirojpur; AL candidates set to win landslide; huge turnout, festivity marred by violence, irregularities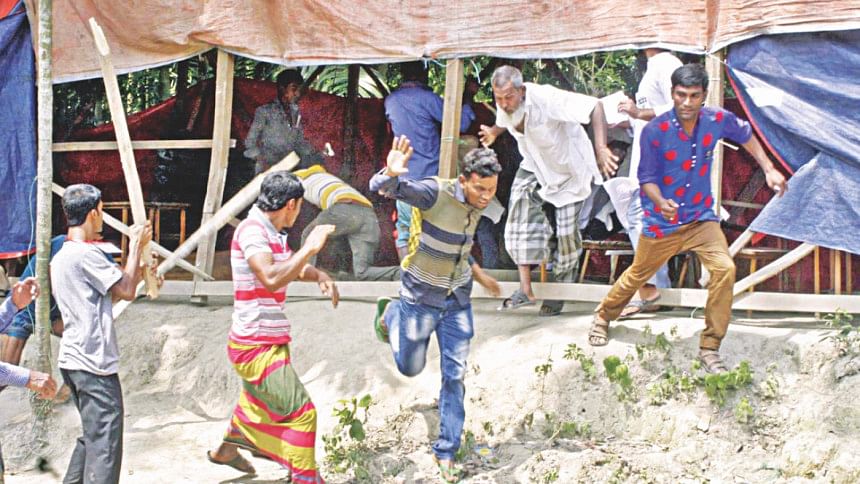 Widespread violence left at least 10 people dead and around a thousand others wounded in the first phase of union parishads elections yesterday.
The festive mood of the polls to the lowest tier of local government was largely marred by electoral irregularities and incidents of clashes between supporters of rival candidates.
Storming of polling stations and ballot stuffing -- mostly by those loyal to the ruling Awami League favourites -- were reported in many of the UPs.
Mathbaria upazila of Pirojpur saw the deadliest violence in which at least five people were killed and several others injured in firing by law enforcers.
Apart from this, two people were killed in Cox's Bazar and one each in Jhalakathi, Netrakona and Sirajganj in polls-related violence. Most of the dead were ruling party supporters, our correspondents reported citing locals.
Yesterday, 712 UPs went to the polls, held on the party lines for the first time. The Election Commission (EC) initially had planned to conduct elections to 730 UPs yesterday but it had to postpone the polls in 18 places due to legal complications.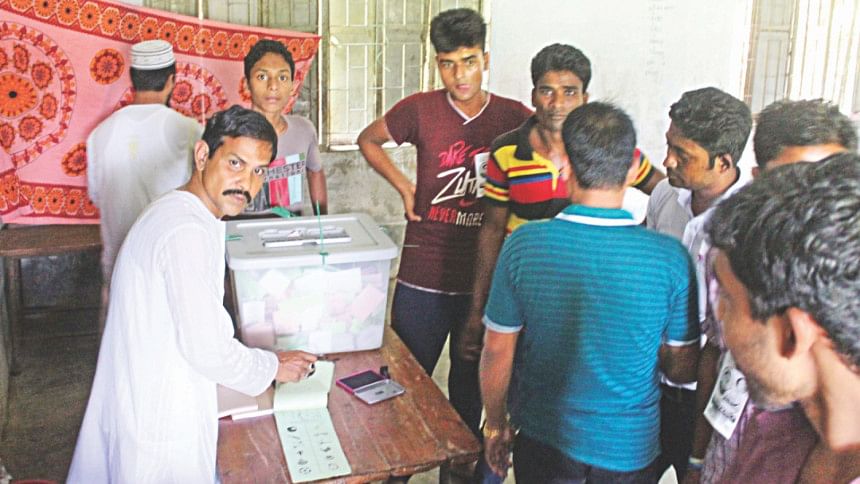 There had been concern over violence in the polls as deadly clashes erupted in the run-up to the elections in many places over the last several days. The BNP, Jatiya Party, Workers Party of Bangladesh and Jatiya Samajtantrik Dal had voiced concerns over the fairness of the elections.
Overcoming all fears, a huge number of voters turned up at the polling stations to exercise their franchise in the polls, considered the most competitive of all elections. The turnout of women voters, in particular, was noteworthy.
Despite massive violence and irregularities, Chief Election Commissioner Kazi Rakibuddin Ahmed said the elections were held in a free, fair and peaceful manner except for some "isolated incidents of irregularities".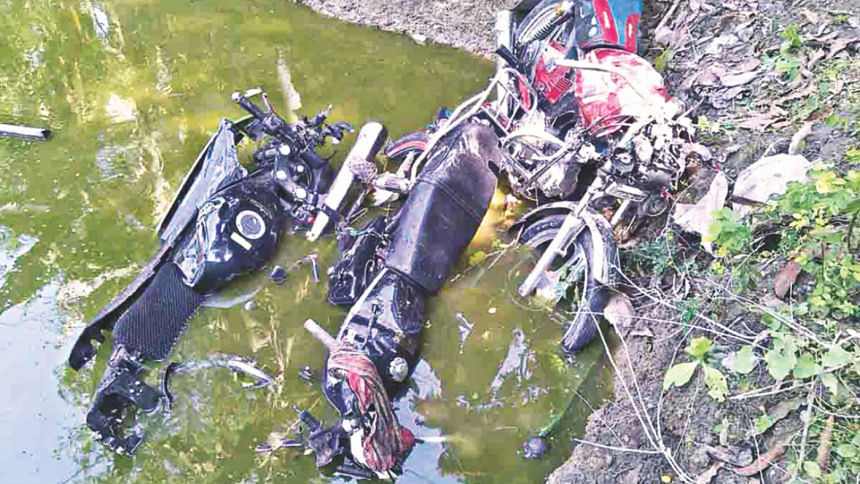 The AL spoke along the same line. The BNP, however, described the polls as "a farcical election under a partisan Election Commission".
AL-backed chairman candidates seemed all set to clinch a landslide victory in the polls. As of 12:30am, this newspaper got the results of 324 UPs. The ruling party candidates won 262 chairman posts while BNP secured 21 and Jatiya Party two. Independent contenders and candidates backed by other parties won the rest 39 chairman posts.
Elections to 643 UPs are slated for March 31 in the second phase and 681 UPs on April 23 in the third phase. Around 2,200 unions will go to polls in three more phases till June.
Chairman aspirants are contesting the elections with their party symbols, while member hopefuls are taking part in the polls without official endorsement from any party.
VIOLENCE, IRREGULARITIES
Around 8:30pm in Mathbaria, the presiding officer of the Safa Degree College centre under Dhanisafa UP declared void 800 ballots, all of which reportedly had stamps on the AL's 'boat' symbol, saying the ballots did not have his signature on them, according to locals.
Hearing the news, several hundred AL activists armed with locally made weapons from the nearby areas besieged the centre, they said.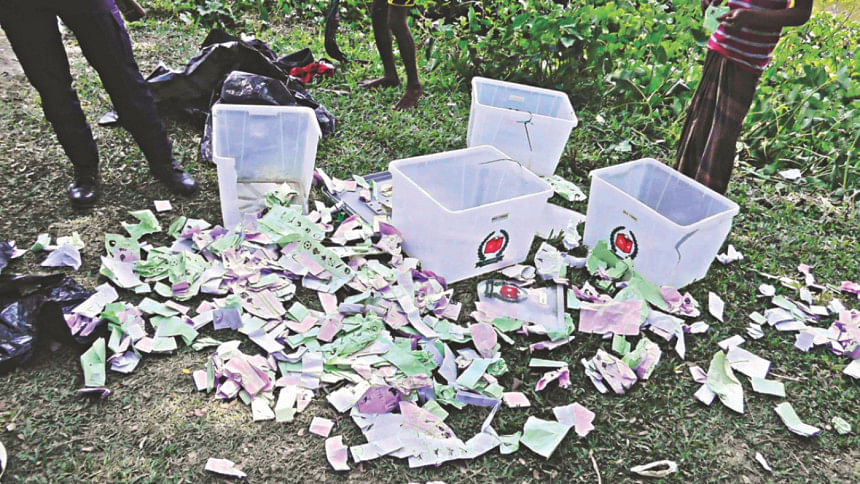 Executive Magistrate Kazi Ziaul Baset said a group of 600-700 people waylaid the presiding officer around 8:30pm when he under the escort of police and Border Guard Bangladesh (BGB) members was going to the office of the Upazila Nirbahi Officer from the centre with election result sheets, reports UNB.
"The mob tried to swoop on the presiding officer and snatch the result sheets," he said.
At one stage they attacked the presiding officer as he tried to prevent them, the magistrate added.
Later, the magistrate ordered the law enforcers to fire shots in order to bring the situation under control. Police and BGB members then fired 29 shots, Baset added.
Walid Hossain, superintendent of Pirojpur district police, said, "The people on whom the BGB opened fire were obstructing [polling officials] from carrying ballot boxes [to the UNO office]. They also attacked the officials with sharp weapons."
Three people -- Sohel, 25, Shahdat, 30 and Quamrul, 25 -- were killed on the spot and two others -- Solaiman, 26 and Billal, 16 -- died on the way to Barisal Sher-e-Bangla Medical College Hospital, Officer-in-Charge Khandakar Mustafizur Rahman of Mathbaria Police Station said at 1:25am today.
A local journalist said Sohel and Shahdat were nephews of AL-backed chairman candidate Harunur Rashid.
Four others with bullet wounds were undergoing treatment at a local hospital, according to police.
In Cox's Bazar, two people were killed when police fired shots to disperse the supporters, loyal to two UP member candidates, as they swooped on election officials to snatch the ballot boxes at Teknaf upazila after the vote counting.
The deceased were identified as Abdul Gafur, 36, and Mohammad Shafik, 22, said Masud Munshi, sub-inspector of Bahachara Police Investigation Centre of Teknaf Police Station.
Police, however, declined to make any comment on the incident.
According to witnesses, the polling officials came under attack in Mondartal area around 7:30pm on their way to the Teknaf upazila headquarters after counting the votes. This prompted the policemen to open fire on the attackers.
In Netrakona, an AL activist was shot dead in a clash between the supporters of two chairman candidates during vote-counting at Adaura Government Primary School centre in Khaliajuri Sadar UP.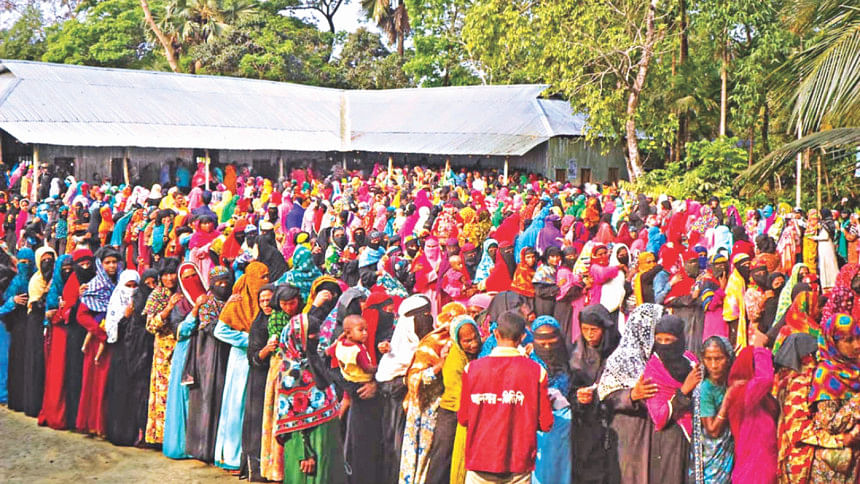 The dead was Golam Abu Kawser, brother of AL-backed chairman candidate Golam Abu Ishak, said Additional Superintendent Khan Mohammad Abu Naser of Netrakona police.
Kawser was killed in a clash with the supporters of his brother's rival candidate Josef, the police official said.
However, Ariful Islam Falak, another brother of the deceased, claimed Kawser was killed in police firing.
In Jhalakathi, a man was beaten to death and five others were injured during a clash between two member aspirants at Kalianda Government Primary School centre in Nabagram UP.
The deceased was identified as Abul Kashem Sikder, 55, brother of Chunnu Shikdar, one of the member aspirants.
At Kaparkathi Government Primary School centre in the same union, a voter was shot after Ansar personnel on duty fired bullets to contain a clash between supporters of two chairman aspirants.
Incidents of violence were reported in almost half of the 279 voting centres under 31 UPs of the district. At least 35 people were injured in the incidents.
The BNP-endorsed chairman candidates in all the UPs of Jhalakathi except in one boycotted the polls, alleging vote rigging by the ruling party men.
Our Jhalakathi correspondent visited 15 polling stations and found ruling party men had captured all the centres. Incidents of clashes took place at all the 15 centres and police opened fire in most cases. Polling at eight centres was temporarily suspended following the incidents.
The correspondent came under attack by the supporters of AL candidate Awar Hossain Mujibor Mridha. They snatched his camera and broke it when he was taking photographs of them stuffing ballot boxes at Boro Kaibottokhali Government Primary School centre in Rajapur upazila.
In Sirajganj, a woman died during a clash between supporters of two member candidates outside the Jayanpur Government Primary School polling centre under Dhangara UP in Raiganj upazila after the vote counting ended at 9:00pm.
The victim was identified as Naunai Begum, 60.
At least 10 people were injured in a gunfight between supporters of two chairman candidates during the counting of votes at Teghoria polling centre in Poradah union under Mirpur upazila of Kushtia upazila.
In Noakhali, an assistant presiding officer and a polling officer were injured after supporters of two rival chairman candidates traded gunshots at a polling centre in Char King UP under Hatiya upazila over capturing the polling station around 9:00am. They were taken to the upazila health complex, said police.
In Bhola, at least 200 people, including police and women, were injured in clashes at different polling stations in seven upazilas, local sources said.
Nine candidates backed by the BNP and an AL rebel aspirant boycotted the elections there, alleging "massive" vote rigging and ballot-box stuffing.
Thirty-six UPs went to elections yesterday in the district and polls to seven of them were suspended.
"Incidents of violence took place in 40 polling centres in the district," said Moniruzzaman, superintendent of Bhola police.
Besides, violence and electoral irregularities were reported in many UPs of Satkhira, Laxmipur, Barguna, Comilla, Sherpur, Barisal, Munshiganj and Jhenidah districts.