4 female 'JMB activists' held
Arrestees include intern, univ students; were out to radicalise women, claims Rab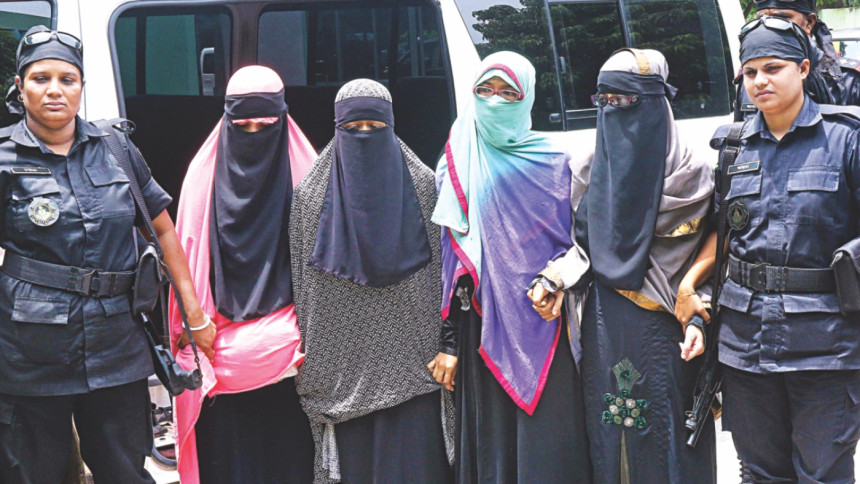 Rapid Action Battalion claims to have arrested four suspected female members of Jama'atul Mujahideen Bangladesh (JMB) in different areas of the capital and Gazipur early yesterday.
All of the four are from the female unit of the banned militant outfit, Khandker Lutful Kabir, commanding officer of Rab-4, claimed at a press briefing at its headquarters in Mirpur.
The unit was formed under the guidance of JMB's southern region chief Mahmudul Hasan alias Hasan, he said.
The arrestees are Aklima Rahman Moni, Khadija Parveen Meghla and Ishrat Jahan Mou -- all fourth-year Pharmacy department students at Manarat International University (MIU) -- and Istishna Afroz Oishee, an intern at the Dhaka Medical College Hospital.
They were allegedly spreading extremist ideologies among other females in the name of teaching Arabic.
"Their current objective was to strengthen the female unit and collect funds for terror activities," Kabir said while replying to a query.
The elite force came to know about the existence of the female unit after it arrested the JMB leader, Mahmudul, in Gazipur on July 21.
Based on information gleaned from him, a Rab-4 team kept a close watch on Aklima for days, and finally arrested her from her home in Signboard area of the district around 2:00am yesterday.
Oishee was arrested from her home in Moghbazar, and Meghla and Mou from their residences in separate areas of Mirpur later, he added.
Rab also claims to have recovered a huge number of jihadi books, documents, video clips and other write-ups from their homes, laptops and mobile phones.
These were put on display before the media at yesterday's briefing.
A Rab press release issued yesterday said Aklima had passed her SSC examination from the capital's Uttara High School in 2010 and HSC examination from Holy Child College in 2012. She later got admitted to the MIU in the capital.
Recently, she handed over Tk 12,000 to JMB leader Mahmudul. She had collected the money from several places during the month of Ramadan, it said.
Similarly, Oishee handed over Tk 8,000 to the same man.
The release said Oishee's parents are doctors. She got admitted to Dhaka Medical College after passing her HSC exam from Viqarunnisa Noon School and College in 2010.
Mou and Meghla passed their HSC exams from BCIC College and Cambrian College in 2012 and the next year, before getting admitted to the private university, added the press release.
At yesterday's briefing, Kabir, the Rab-4 chief, claimed that Aklima had been "involved" in militant activities for several years. She became "active" recently after she was given the responsibility to form the female unit of the JMB, he claimed.
Oishee was "inspired" by a "foreign friend" to get involved in militant activities four years ago. The other two were "radicalised" around seven months ago, he added.
Although Rab claimed that Aklima and Oishee used to take the vital decisions of the female JMB unit, the crime buster could not say anything exactly about their positions or the structure of the unit immediately.
Kabir also claimed that during their primary interrogations, the arrestees told Rab officials that they supported the terror attacks and all the secret killings carried out in Bangladesh in recent years.
They think themselves the "ideological followers" of the so-called Islamic State. They believe the only "punishment" for those who are progressive and secular is death, the Rab official claimed.
"They also believe that the death should be awful so that it creates panic among other people."
Replying to a query whether the arrested students of the MIU were propagating extremist views among other students at the private university, Kabir said their investigation was at an "initial" stage.  
"We will give our topmost priority to the issue during our investigation as we had a bitter experience in case of North South University," he said, adding that none of the culprits would be spared.
Rab officials said they had already got names of several people, including some students of the MIU, who have links with the arrestees. They said they were verifying the information.
The officials also said they would try to find out whether the female JMB unit was formed to carry arms from one place to another as "it was noticed in the past that different militant organisations used females to carry arms and ammunition before their operations."  
On July 24, police arrested four women in Sirajganj who they say were taking preparation to carry out a "massive attack" in the district.