Uttara-Motijheel
In 37 minutes
Construction of metro rail begins today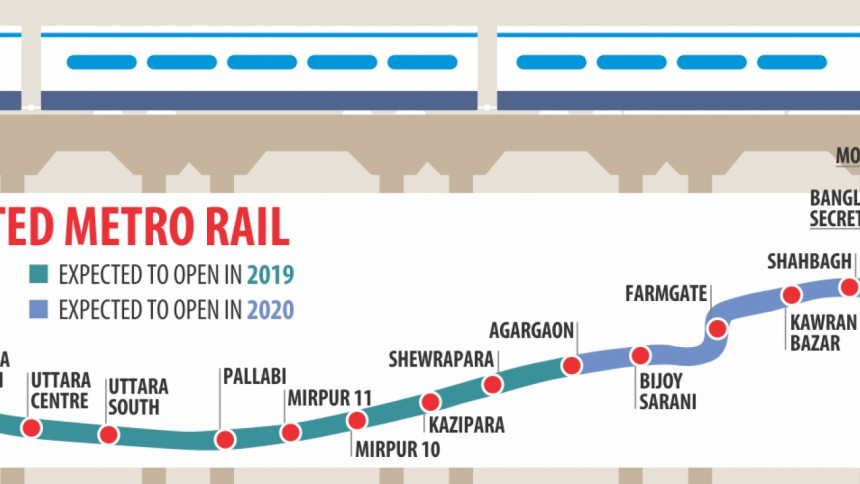 Construction work of the first metro rail service in the capital begins today with an aim to open half of the 20km metro line by the end of 2019.
A formal commencement of ground development for a depot begins today. The depot is the foremost component to be in place for building the metro rail service system, as metro trains will be launched on the elevated lines from the depot, said Md Mofazzel Hossain, project director of Dhaka Mass Rapid Transit Development Project.  
The entire metro rail route will be elevated and all 16 stations will be elevated as well. Only the depot will be on the ground.
A Japanese firm Tokyo Construction Ltd is carrying out the depot land development work, which the Prime Minister Sheikh Hasina is scheduled to inaugurate at Bangabandhu International Conference Centre today.   
Dhaka Mass Rapid Transit Development Project, official name of the metro rail scheme, stretches from Uttara to Motijheel.
It has purchased 22 hectares of Rajuk land in north Uttara, paying Tk 328 crore, for the depot, which will be the maintenance and resting place for metro rail.
The Tk 22,000 crore ($2.5 billion) ambitious metro rail project is expected to provide an improved, safe, faster and affordable but modern means of urban public transport service significantly reducing the perennial traffic congestion in the capital and prevent environmental pollution, said eminent transport engineering expert Prof Shamsul Hoque.
With every metro rail train comprising six air-conditioned spacious cars, a city commuter will travel between Motijheel and north Uttara in 37 minutes and there will be a train in every four minutes at each of the 16 stations on the way in both directions, said Mofazzel. 
A total of 24 trains will together transfer 60,000 passengers every hour on both directions, he said.
The metro rail would be noise-free, with noise barriers and vibration-free lines, and the cars would be made of stainless steel and aluminium alloy, he said.  
The metro will save Bangladesh an annual economic loss of Tk 200 billion equivalent to 1.5 percent of the country's gross domestic production, according to a former Jica country representative in Bangladesh. 
Currently, city commuters spend several hours to travel from Uttara to Motijheel in snail-pace traffic.  
Once the ground development is done, second part of building metro rail will begin on the depot premises by March next year, with the construction of a workshop, yard, train trial lines, training centres, metro rail company headquarters, electricity substation, washing plant, medical centre and metro operation control centre, said Mofazzel.
Contracts would be signed by February, he said.
Simultaneously, the tender process for the third and fourth part of building a 10km elevated viaduct (overpass) and metro stations, from the depot to Agargaon through Pallabi, would begin by April next year.
A five-km elevated viaduct from the depot to Pallabi and four stations would be under the third part, he said, adding that the fourth part would be of another five km viaduct and five stations.
Early last year, Mofazzel had said that this would start by end of this year.
A 10km metro rail service, including five km from the depot to Pallabi and another five from Pallabi to Agargaon will be ready for operation by the end of 2019, and the following year, the entire 20km metro system will ready for use.  
The entire project is being implemented under eight separate contracts, including four for building the 20km elevated overpass.
The 16 stations would be in north Uttara, Pallabi, Mirpur, Kazipara, Sheorapara, Agargaon, Rokeya Sarani, Bijoy Sarani, Farmgate, Karwan Bazar, Shahbagh, Dhaka University, Bangladesh Secretariat and Motijheel.          
The fifth part will be on the construction of a viaduct and stations from Agargaon to Karwan Bazar and the sixth on similar construction from Karwan Bazar to Motijheel.
The seventh will be electrical and mechanical work and the eighth procurement of 144 metro rail cars. Procurement of 24 locomotives and the cars will go on simultaneously and be delivered by the second half of 2019, said Mofazzel.
Pre-qualified bidders for car procurement will drop tenders this August and contracts will be signed in January next year.   
The project formalised as Dhaka Mass Rapid Transit, otherwise known as Mass Rapid Transit (identified as MRT line-6 in the Strategic Transport Plan), is being implemented by government-owned Dhaka Mass Transit Company Ltd while Dhaka Transport Coordination Authority is supervising.
Consultants, having experience in building New Delhi, Hyderabad, Jakarta, Bangkok metro rails, are applying their knowledge in developing Dhaka metro rail, Mofazzel said. 
A consortium of consultants, led by Nippon Koei Ltd of Japan and including Nippon Koei India Ltd, Delhi Metro Rail Corporation Ltd, Mott MacDonald Ltd India, Mott MacDonald Ltd UK and Development Design Consultants Ltd Bangladesh, was hired in November 2013 for general consultancy. They are taking care of the project's design, construction supervision, procurement support and management of work.      
The Japanese government through Jica will provide Tk 16,600 crore of the project's total cost as soft loan while Bangladesh government will provide the rest. 
TRAFFIC PLAN
The city dwellers have to prepare for a difficult time during the construction of the viaducts, which would be on the existing city streets. Things would be particularly bad during relocation of utility service lines, said Mofazzel.
Traffic management during the construction of elevated viaduct along the busy and crammed Dhaka streets will be the biggest challenge, he said.
As part of the traffic management, two lanes on each side of a street will remain open for traffic and traffic will also be diverted through Mirpur-1 and Shatth-foot street via Shyamoli towards Agargaon Radio Station, he said. 
Besides, they will request Mirpur cantonment authorities to allow more public transport vehicles through the cantonment area.
Construction materials will be mobilised only at the dead of night, Mofazzel. 
PROGRESS MADE
Since 2013, the topographical survey, traffic demand survey, geotechnical survey, basic design, detailed design (for tender and implementation), environmental survey, right of way survey and survey for any historical and archaeological sites along the metro route have been completed, said the project director.
The geo-technical examinations have been completed. The 120 borehole soil tests along the proposed alignment was required to know soil condition on which detailed design and construction of metro stations and elevated viaduct were dependent.
Relocation of utility service lines of around a dozen private and government organisations, including DPDC/Desco, Titas Gas, Dhaka Wasa, Dhaka City Corporations and BTCL, begins next month.
The organogram of around 1,700 employees of DMTC that will own and operate the metro service is ready for approval. Formulation of a recruitment plan is also underway.