Journeys on Highways Before, After Eid
339 killed in 277 road accidents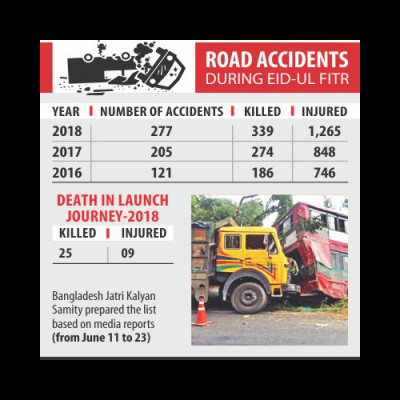 Both the number of road accidents and deaths during the Eid rush saw a sharp rise in last three years, a passengers' platform said yesterday.
At least 339 people were killed while 1,265 injured in 277 road accidents in 13 days during the Eid journeys this year, indicating that on an average 26 people were killed per day, according to Bangladesh Jatri Kalyan Samity.
Fifty-two people were killed on roads on June 23 alone, the highest casualty in a single day in recent times.
A total of 274 people were killed and 848 injured in road crashes last year, up from 186 killed and 786 injured in 2016, the organisation said.
Besides, at least 25 people died and 55 others went missing in 18 accidents in waterways while 41 were killed either in train crashes, being hit by trains or falling from trains' rooftops in between June 11 and 23, it added.
The Samity prepared the statistics on the basis of reports of national and regional newspapers and online news portals, Mozammel Hoque Chowdhury, secretary general of the organisation, said at a press conference at Dhaka Reporters Unity.
Rights activists and road safety campaigners blamed the state's inaction for the "procession of death" on the roads.
"These are not deaths. Clearly these are murders," rights activist Sultana Kamal said, referring to deaths in road accidents.
REASONS BEHIND DEATH
Mozammel said they have been monitoring road accidents for the last four years as such incidents saw an alarming rise during the Eid rush.
Around 1.15 crore holidaymakers leave Dhaka for their homes ahead of Eid-ul-Fitr, according to a recent estimate by the Kalyan Samity.
"Although people's journey home before this year's Eid was a little more comfortable due to active presence of all the agencies concerned, the number of accidents, deaths and damages increased when they were returning to Dhaka due to absence of monitoring," Mozammel said.
In the wake of scores of deaths on roads, Prime Minister Sheikh Hasina on Monday issued some directives, including driving-time limitations on drivers of long-haul vehicles, to prevent accidents and casualties.
The "procession of deaths" on roads would stop if the PM's directives could be implemented immediately, Mozammel said.
Buses were involved in 18.89 percent accidents while trucks and covered vans in 16.39 percent, locally made Nasimon, Koriman and battery-run vehicles in 25.28 percent, and motor cycles in 15.28 percent accidents this year, he told reporters.
Mozammel said 34.02 percent accidents occurred due to head-on collisions while 32.72 percent took place as vehicles ran over pedestrians and 13.23 percent happened after drivers lost control at the wheel.
Plying of unfit vehicles, lack of rest for drivers, unskilled drivers and helpers, plying of slow-moving vehicles on highways, reckless driving, poor monitoring and bad road conditions were to be blamed for the accidents, he said.
The organisation also came up with 10 recommendations to prevent road accidents. Those include making National Road Safety Council an effective organisation, providing training to drivers by the government, stopping movement of unfit vehicles, conducting road safety audits regularly, constructing a separate lane for speedy vehicles, and implementing the government ban on three-wheelers and slow-moving vehicles on national highways.
ACCIDENT TURNED 'EPIDEMIC'
Aiyubur Rahman, chairman of Bangladesh Road Transport Authority (BRTA), said road accidents have turned out to be an "epidemic" in the country.
The tendency to violate law was the key behind road accidents and indiscipline in the transport sector, he said.
Referring to a report of the Buet's Accident Research Institute about the economic loss due to road accidents, Aiyubur said it was not possible to measure the loss in GDP.
"Can you measure the death of [prominent cinematographer and journalist] Mishuk Munier [in road accident] in GDP?" he questioned.
Jyotirmoy Barua, a Supreme Court lawyer working for human rights, said deaths in road accidents were a "man-made disaster".
People responsible to curb road accidents were not discharging their duties properly, said Jyotirmoy, also the vice-chairman of Road Safety Foundation, an organisation working for safe roads and safe driving.
He said bribing was one of the main reasons behind the mismanagement in the transport sector and also for road accidents. "It is the state which is responsible to protect everyone's life. But the state is failing to do this time and again."
Sultana Kamal, also former adviser to a caretaker government, said people were "dying untimely due to lack of discipline in the national and personal life".
It seems people were getting involved in a big competition of violating laws to be gainers, she said.
"The tendency of ignoring law is driven from a basic sense of insecurity. The society, we are living in, is facing huge deficit of insecurity," she said.
Sultana said she was member of a government committee related to accident, but the committee held only two meetings. "The state didn't try its best to face the matter [road accidents]."
Welcoming the PM's directives to prevent road accidents, the rights activist said she wanted to see whether those people who always remain busy in praising the premier followed her directives properly.