Barbaric Torture on Woman, Son
3 killed as police fire on protesters
32 hurt, 6 bullet-hit in Tangail clash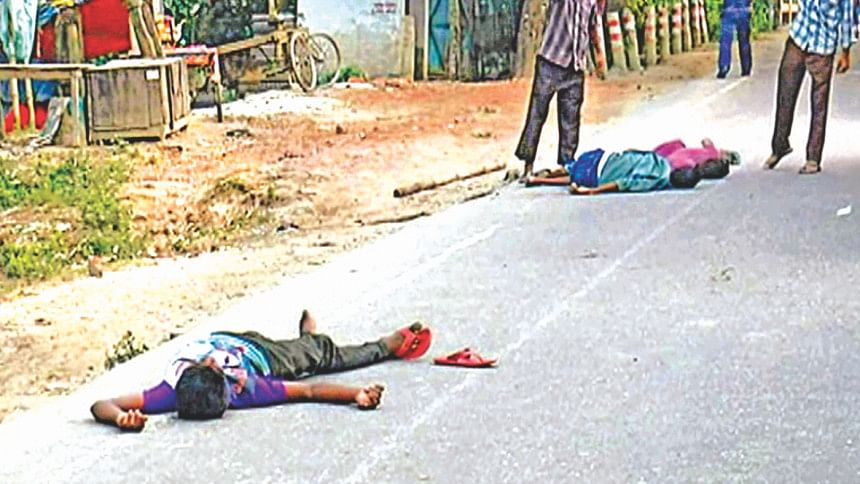 At least three people were shot to death in Kalihati upazila of Tangail yesterday afternoon as police opened fire during a clash with locals protesting the brutal assault of a woman and her son.
The incident left at least 32 others injured and they include three cops and three bullet-hit locals.
Of the dead, Faruk, 20, breathed his last at Kalihati Upazila Health Complex and Kabir, 18, on his way to Tangail Medical College Hospital. Shyamol Chandra Paul, 38, died while being taken to Dhaka Medical College Hospital (DMCH).
Two others wounded by gunshots were undergoing treatment at the DMCH and another at a local hospital.
Locals say Rafiqul Islam Roma of Saturia village in Ghatail upazila was harbouring a grudge against a teenaged boy of Atharodana village of the same upazila for having an affair with his wife.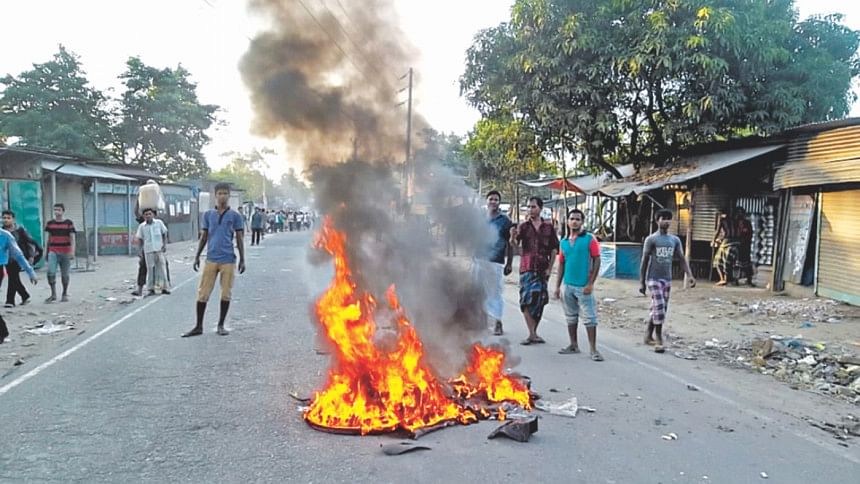 Roma's family had asked the mother and son to come to his house, saying he just want to talk things out.   
The two came to Roma's house on Tuesday -- but only to face serious physical abuse and humiliation. They were beaten up by Roma, his brother-in-law Hafiz Uddin and neighbour Kazi.
At one stage, the mother and son were stripped and confined to a room.
On information from villagers, police rescued the victims and arrested Roma. Hafiz was arrested following a case filed by the woman with Kalihati Police Station the next day.
Police say the woman in the case statement also brought the allegation of sexual abuse against the accused -- Roma, Hafiz and Kazi.
Protesting the incident, hundreds of people from Atharodana, Hamidpur and several villages started a demonstration around 4:30pm yesterday.
Marching in processions, they went to lay siege to Kalihati Police Station around 5:45pm. As they reached College Gate area, police intercepted them and following an altercation, they baton-charged and fired teargas shells.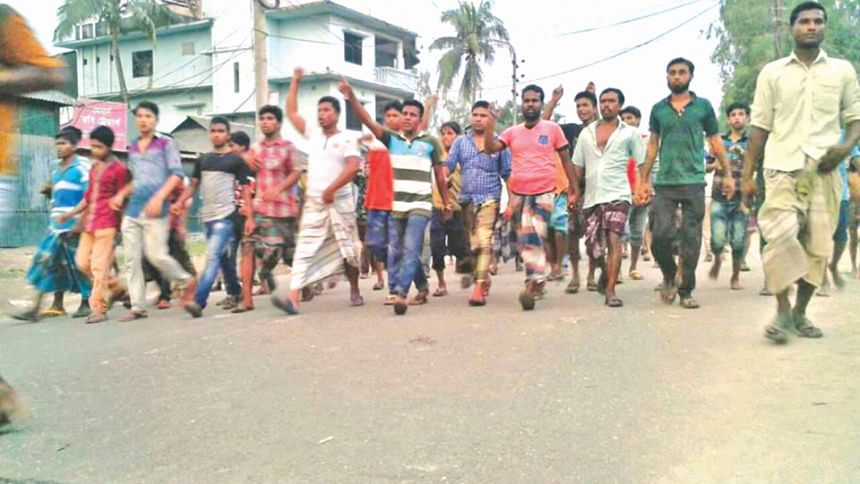 Agitating locals threw brickbats, leaving Sub-Inspector Faruk and constables Liakat and Harun injured. They also blocked Tangail-Mymensingh road at different points for four hours till 8:00pm.
Some demonstrators also tried to snatch arms of police, witnesses said, adding at one stage of the fight, law enforcers fired 60-65 rounds.
Shahidul Islam, officer-in-charge of Kalihati Police Station, claimed they opened fire when the angry mob attacked them but nobody was killed in the shooting. "They might have been killed while clashing with one another as the protesters were split in groups."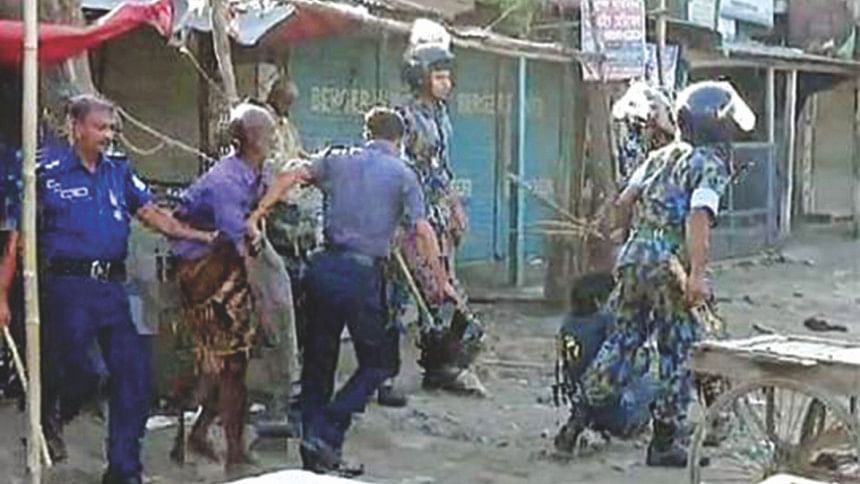 Police detained five from the spot.
Shahidul said they arrested Roma and Hafiz, still people tried to lay siege to the police station. "It was ill-motivated."
Tangail Deputy Commissioner Mahbub Hossain last night told this correspondent that they decided to give Tk 50 thousand to the families of the dead and take responsibility of the treatment of the injured.
After a meeting at the police station, he also said they formed two committees to probe yesterday's incident -- one under the police and the other under the district administration.