$4.5b Fresh Indian Credit
$1b for Rooppur nuke power plant
Dhaka and New Delhi have signed a $4.5 billion credit agreement with a provision for spending nearly one fourth of the amount on Bangladesh's first nuclear power plant at Rooppur.
Through this deal, India becomes a party to the civil nuclear programme to be implemented by Russia.
At the signing ceremony of the third Line of Credit (LoC) at the finance ministry yesterday, visiting Indian Finance Minister Arun Jaitley said this is the biggest-ever credit New Delhi has given to any country.
Seventeen projects have already been identified for implementation under the third LoC.
Of the amount, around $1 billion would be spent on infrastructure development for power evacuation facilities of Rooppur plant. When the power plant goes into production, a transmission line will be set up to connect it to the national grid.
Russia is building the plant and also providing a credit of $12 billion for the project.
Finance Minister AMA Muhith and his Indian counterpart oversaw the deal signing in the morning.
"We are passing through an era where the Indo-Bangladesh relations are at its very best. And in the spirit and environment that exist between our governments, our people and our prime ministers, we have been able to resolve a lot of issues of the past," said Jaitley.
"India sees Bangladesh not merely as a neighbour and a friend… we deeply appreciate the kind of progress and the pace of progress that Bangladesh has been making in the last several years."
Before the signing ceremony, the delegations of the two countries, led by the finance ministers, held a closed-door meeting for an hour.
An official who was present there said the two sides discussed how the three LoCs could be implemented smoothly.
The Indian side made requests over several issues, including quick implementation of the bridge project over the Feni river which would be helpful in transporting goods from Chittagong port to seven sister states in India, said the official.
The Indian side also proposed revival of the railway system that existed during the British period for increasing connectivity between the two countries.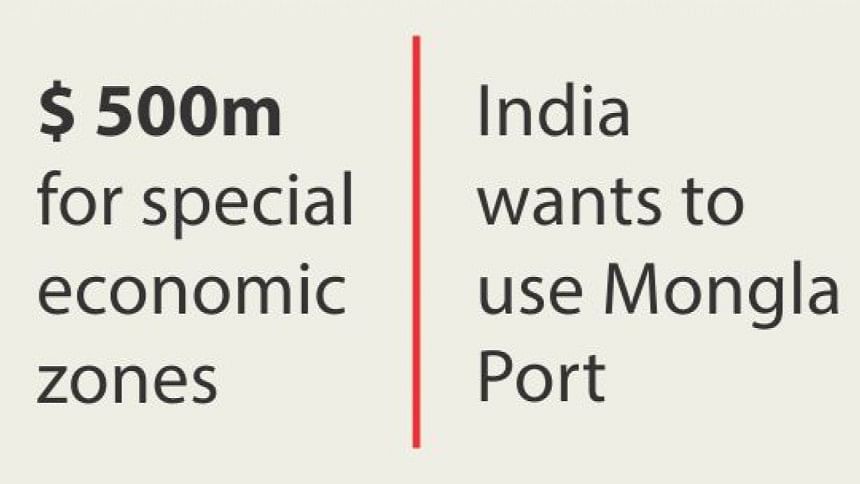 New Delhi urged Dhaka to let it use Mongla port and allow more Indian private airlines to operate flights in Bangladesh.
India also proposed setting up an effluent treatment plant in Narayanganj's Pagla to help address the problem of river pollution.
After the bilateral meeting, the third loan agreement was signed by ERD Secretary Kazi Shofiqul Azam and Managing Director of India's Exim Bank David Rasquinha.
In a statement, the Economic Relations Division (ERD) said 17 development projects have been primarily identified for implementation under this credit line agreement.
The projects include Buriganga River Restoration (New Dhaleshwari-Pungli-Bangshi-Turag-Buriganga river system) with an estimated allocation of $196 million and upgrading of 245km roads -- Benapole-Jessore-Narail-Bhanga (135km), Ramgarh-Baruerhat (35km) and Mainamati-Brahmanbaria-Sarail (75km) -- with an estimated allocation of $225 million.
At least three of the projects involve development of economic zones, a priority for Bangladesh which looks to ramp up private sector investment.
Of the credit, around $500 million would be used for setting up three economic zones for Indian and other investors, according to officials of the finance ministry and Bangladesh Economic Zones Authority.
Some $100 million will be allocated for building a dedicated economic zone spanning 1,005 acres in Mirsarai of Chittagong.  Another $100 million may be used for developing a special economic zone at Payra or Maheshkhali and $300 million for developing infrastructure of different economic zones.
The other projects include Payra port multipurpose terminal ($350 million), construction of new dual gauge rail-line from Bogra to Shaheed M Mansur Ali Station in Sirajganj ($501 million), development of an inland container terminal in Ishwardi ($35 million), Bogra-Jharkhand (India) 400 KV transmission line project ($177 million), and Gazipur 450MW combined cycle (gas/LNG based) power plant ($402 million).
The first LoC of $1 billion was signed on August 7, 2010 and the second LoC of $2 billion in March last year.
Bangladesh's utilisation of the Indian credit has been nothing more than a sorry state of affairs for the past seven years.
Bangladesh could use only $576 million of the first LoC till last month from 2010.  The implementation of the second LoC has not started yet.
At yesterday's signing ceremony, Muhith said, "The progress on the implementation of the projects under the first and second credits has not been too good. But initial teething troubles are now over. We believe that implementation of this agreement would be pretty fast. Let's hope that it will be fast."
Jaitley said most of the projects involve infrastructure development.
Referring to Muhith's statement, the Indian minister pointed out that there was some delay in the past, as it took time to select the projects. But this time, 17 projects have been identified in advance.
"One of the reasons for delays for some of these projects in any country is also land acquisition. There are local issues which all governments face because they have to do it in a very tactful manner."
Jaitley further said, "We do hope the earlier credit also gets executed expeditiously."
Muhith said a golden period of friendship exists between the two countries.
"We are having very good relations with all our neighbours at this moment. To have good relations with other neighbours of Bangladesh, we need to use India to a degree," he added.