16,000 tea workers face uncertainty
Govt plans to acquire land of three tea estates in Habiganj for setting up special economic zone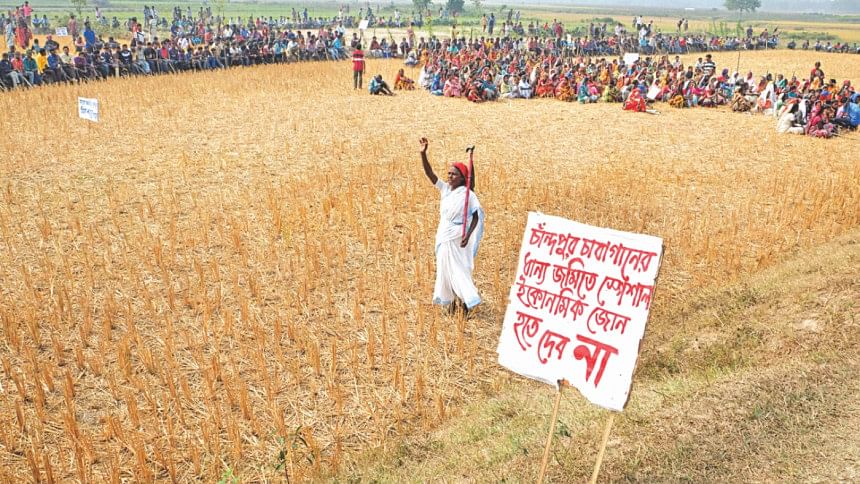 Hunger brought them here. They slashed and cleared the jungle, braving snakes, tigers, and malaria and set up the tea estates. They were brought here from the depressed areas of India almost like slaves some 130 years back to work as tea garden workers. Now, once again, their descendants are staring at hunger. And the reason is development.
Paradoxical, it may sound, but today suddenly about 16 thousand tea workers of three tea estates in Habiganj face an uncertain future as they hear the government is planning to set up a special economic zone (SEZ) on their rice farm.
The British made their tea fortunes on these bonded labour.  These workers from different small marginal ethnic groups were allowed to grow rice on a 600 acre fallow land of the tea gardens. Their pay was so puny that without this rice they would go hungry. As a matter of fact, it still is, so they need this rice.
Their impoverished lives are so insignificant that it can be easily overlooked in the country's ambitious development plan and goals.
They really don't have any legal claim on the land because it belongs to the tea estates. The land is on a long-term lease from the government. The bind they are in is they are highly dependent on the land and they have been using the land for over a hundred years.
Now the government wants the land and these people stand to lose it without any compensation because the land does not really belong to them legally.
No one comes and asks them their opinion. No one wants to know how they will survive. In government books, they do not exist when it comes to this land.
As the local administration is getting ready to start the process of acquiring the area, thousands of tea workers yesterday gathered on their land at Chandpur Tea Estate with bows and arrows, axes, spears and whatever homemade weapons they could find, some were in war paint, to protest the takeover bid.
For the last one week, workers of Chandpur Tea Estate, Ramgonga Tea Estate and Begum Khan Tea Estate belonging to Duncan Brothers Bangladesh Ltd have come together. They are the ones who stand to lose their land and they have been on strike to protest the takeover.
The workers came in their hundreds chanting slogans like "Amar Mati Amar Ma, Kerey Nitey Dibona (My land, my mother, we shall not let them snatch it away)."
They vowed to let their blood flow and yet they will not allow anyone take away their land.
"Our wage is so low that the           food we get from the land helps us survive," said Ramesh Rajbanshi, a tea worker. "When we need emergency money for treatment or            anything, we lease the land and get money. If it is taken from us, we have nothing."
A tea worker gets Tk 69 as daily wage and 3.5 kgs of wheat a day per family as subsidized ration. Absentees do not get anything.  
"The administration says we'll get jobs in mills and factories, but we don't have any skills. All we know is tea plucking. We'll simply die for want of food," says Annapurna, another tea worker. "Outsiders will benefit out of this, not us."
As workers go on protest, Duncan officials say they have written to              the government about the importance of this land for the workers' survival.
"We have not touched this land for over a hundred years because the workers depend on it to survive," said a senior official of Duncan.
Director of Duncan M Nurul Alam said he did not get any formal letter on takeover of the land for the proposed economic zone.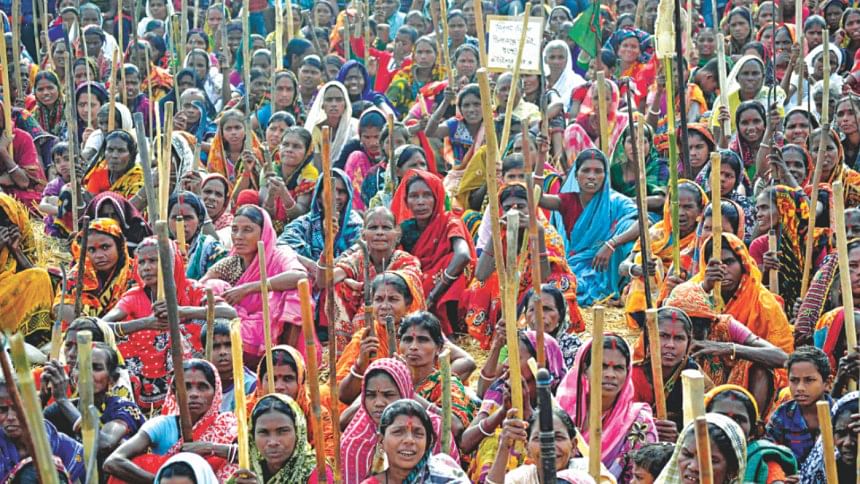 Meantime, local political interests are keen to see the whole project go ahead. Chunarughat Upazila Chairman Abu Taher wants to see the SEZ start on the land.
Tea workers allege he is interested because he can then get contracts for the land development. Taher, on the other hand, says he wants the SEZ as it will bring prosperity to the area.
"Prosperity it will bring but not for us," says Paban Dey, another tea estate worker, "We'll not get jobs. Outsiders will come in and get the jobs."
As tension runs high, workers and their leaders hold nightly meetings on their strategy. They repeatedly pledge to lay down their lives if needed to hold on to their land. The workers in the neighbourhood are on high alert fearing attacks from those who want the SEZ to go through. At night, they do not go out of their own areas.
"For four generations we have lived on this land and this is the first time we are facing this uncertainty," said Atit Bakti, a dark, lanky worker of 54. "We will starve to death if this land is taken from us."
Ardashir Kabir, chairman of Bangladesh Tea Association, opposed the idea of setting up the SEZ on tea estate land and said Bangabandhu Sheikh Mujibur Rahman, when he was the chairman of Bangladesh Tea Board, had announced that the land of tea estates would remain intact.
"He said this keeping in mind the workers' tradition and their poor condition," Kabir said. "Tea industry labourers are not like any other industrial labourers. They lead more of a pastoral life and use the land to supplement their income."
He said the industry gets relief on cost by letting the workers use the land. Now if the land is taken away, the companies will have to pay more to the workers. It will make the industry's investment unviable.
"We had written to the government from our association and mentioned that there are 1200 acres of Khas land available in Habiganj," Kabir aid. "The economic zone can be set up there instead of the tea garden land."
Paban Chowdhury, executive chairman of Bangladesh Economic Zones Authority (Beza) could not be reached for comment despite repeated attempts by The Daily Star.