15 BRTC buses gutted in mysterious fire
Govt opens probe amid fear of sabotage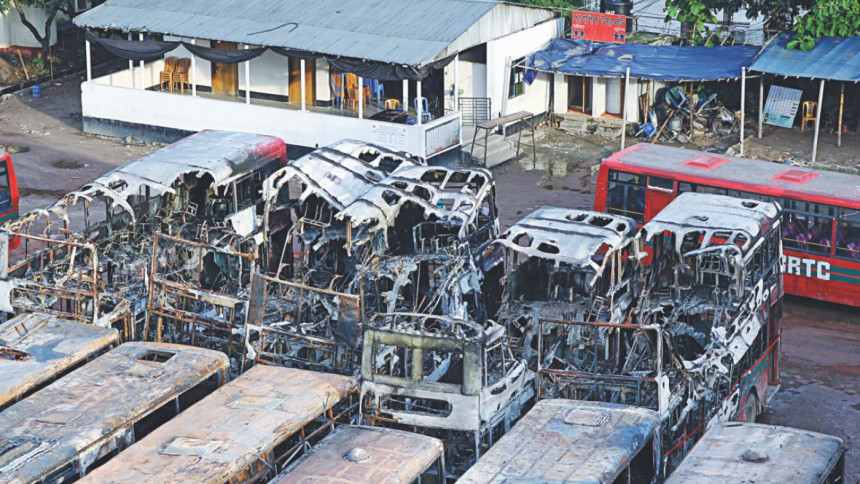 After a mysterious fire gutted 15 buses of Bangladesh Road Transport Corporation (BRTC) inside one of its depots in the capital early yesterday, the government formed a high-powered committee to investigate the incident.
The seven-member body, led by Safiqul Islam, additional secretary (administration) of Road Transport and Highways Division, was asked to submit its report within three working days, RTHD Secretary Nazrul Islam told The Daily Star.
The committee has representatives from BRTC, Bangladesh Road Transport Authority (BRTA), police, fire service and the journalist community, he said, adding that the police member was included in to find out whether the incident was an act of sabotage.
The fire broke out at the Joar Sahara depot in Nikunja area near Airport Road around 1:30am yesterday, just days before Eid-ul-Fitr.
Of the damaged buses, eight were out of order while seven useable, Nazrul said, adding, the incident was "definitely a setback" for the BRTC ahead of the Eid rush when it needs more vehicles for an increased number of passengers.
He, however, said they would handle the situation with "alternative" buses.
During a programme at BRTA earlier in the day, Road Transport and Bridges Minister Obaidul Quader directed the RTHD secretary to thoroughly investigate the fire incident and form a probe committee having members from police and journalist community.
"If BRTA alone investigates the matter, it might not be acceptable to all," he said.
The minister also wondered where were the night guards when the fire originated and went on to say that "there are people inside BRTC who can carry out subversive acts".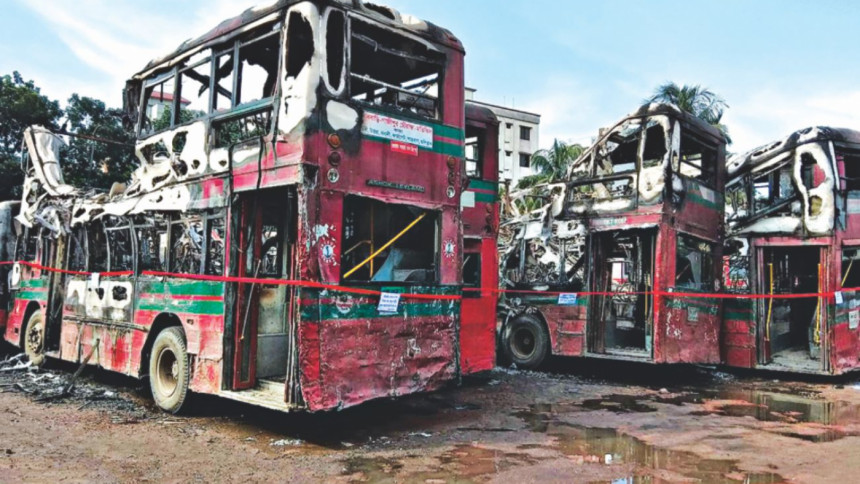 Shafiqul Islam, senior station officer of Fire Service and Civil Defence in Uttara, said the cause of the fire could not be known immediately.
The incident took place on the ground and first floors of the depot.
On information, six units of firefighters from Uttara, Kurmitola and Baridhara fire service stations rushed to the spot and doused the flames after an hour, he said.
"We succeed in saving some buses parked nearby as there were two easy sources of water there," he added.
Sources in the BRTC said 164 buses were parked at the depot when the fire broke out. After the incident, around half of the vehicles were parked on the Dhaka-Mymensingh highway. It created a gridlock.
Mohammad Moniruzzaman, the depot's manager, said they collected footage of the CCTVs installed there.
"The depot was packed with buses. We could only see the roofs of the buses [in the footage]. We are analysing the footage further," he said.
The damaged buses, including five double-deckers, were still at the depot when this correspondent visited the place yesterday.