10,000 Rohingyas entered Bangladesh in recent weeks: UN
Suu Kyi vows to initiate national reconciliation move amid criticism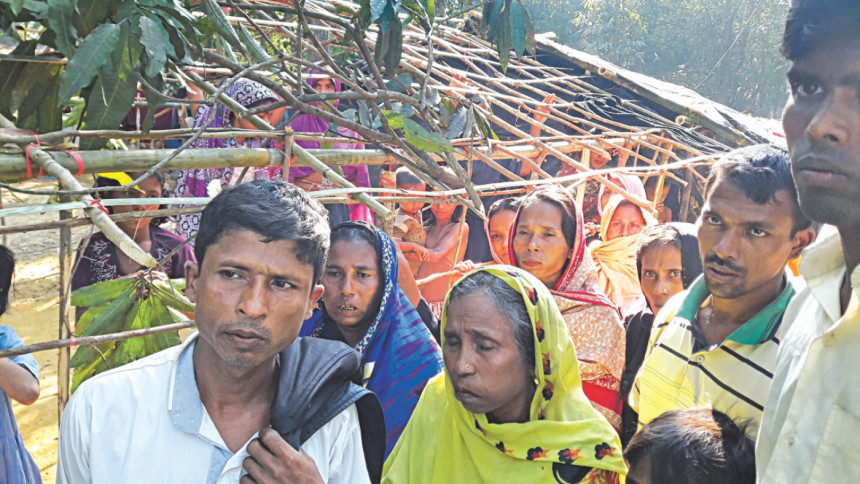 At least 10,000 Rohingyas have entered Bangladesh recently to flee violence in Myanmar, the United Nations said yesterday.
"Based on reports by various humanitarian agencies, we estimate that there could be 10,000 new arrivals in recent weeks," Vivian Tan, a spokeswoman for the UN refugee agency in Bangkok, told AFP.
"The situation is fast changing and the actual number could be much higher."
The UN estimates that at least 30,000 Rohingyas have been forced to leave their homes in the western state of Rakhine since the Myanmar army started crackdown there in October.
Scores of Rohingya people are sneaking into Bangladesh every day -- many of them crossing the Naf river and others walking across the land border.
Bangladesh has stepped up patrol on the border to try to stop the Rohingyas from entering, but last week it said thousands had streamed into the country.
Apart from 33,000 registered Rohingyas in two refugee camps of Cox's Bazar, more than 3,00,000 of the ethnic minorities from the neighbouring country are living illegally in the district, according to government statistics.
Those interviewed by AFP inside Bangladesh had horrifying stories of gang rape, torture and murder at the hands of Myanmar's security forces.
Analysis of satellite images by Human Rights Watch found hundreds of buildings in Rohingya villages have been razed.
Myanmar has denied allegations of abuse, saying the army is hunting "terrorists" responsible for the raids on police posts in October.
Foreign journalists and independent investigators have been banned from accessing the area to probe the claims.
Myanmar's de facto leader Aung San Suu Kyi, a Nobel peace laureate, has faced a growing international backlash for what a UN official has said amounts to a campaign of ethnic cleansing.
On Wednesday, she vowed to work for "peace and national reconciliation", saying her country faced many challenges, but did not mention the violence in Rakhine state.
Tan said the UN was urging the Bangladesh government to allow the Rohingyas safe haven.
"We are ready to support the government to provide effective humanitarian assistance for these individuals in need of international protection," she said.
On Tuesday, the Office of the United Nations High Commissioner for Human Rights said Myanmar's treatment of the Rohingya could be tantamount to crimes against humanity.
A senior UN official told the BBC on November 24 that Myanmar was seeking the ethnic cleansing of the Muslim Rohingya minority from its territory.
Our Cox's Bazar correspondent reports: although the Bangladesh government has tightened security along the Bangladesh-Myanmar border, hundreds of Rohingyas are entering the country through the border every day.
Locals claimed that around 1,000 people crept into the country through seven border points in Teknaf's Hnila and Whykang unions in the last two days.
As law enforcement agencies heightened vigilance on Cox's Bazar-Teknaf road, Rohingyas, who trespassed into Bangladesh, were taking the dirt roads through villages to reach the camps in Leda and Shaplapur of Teknaf and Kutupalang of Ukhiya.
Rohingyas living in Bangladesh were allegedly helping the trespassers cross the border and find shelter.
Border Guard Bangladesh (BGB) claimed that it had increased vigilance along the border and sent back 453 Rohingyas in the last one month -- from November 1 to November 29.
Meanwhile, a Rohingya girl, who arrived in Teknaf yesterday, was mugged at Jaliapara Ghat in Hnila.
Village leader Jahangir Alam said one Belal Uddin, son of Sona Mia of Dokkhin Phul village, snatched the belongings of Nur Fatima, daughter of Nurul Alam of Bura Sikderpara in Myanmar's Maungdaw, soon after she got down from a boat.
Later, locals recovered the snatched items and gave those back to her.
Abu Morshed Chowdhury Khoka, president of Cox's Bazar civil society, claimed that at least 30,000 Rohingyas crossed into Bangladesh in the last one month.
He made the claim on the basis of his recent visits to three unregistered Rohingya camps in Ukhiya and Teknaf, and discussions with the people concerned.