1 killed in gunfight between AL groups
People loyal to MP and UP chairman clash in Badda over establishing supremacy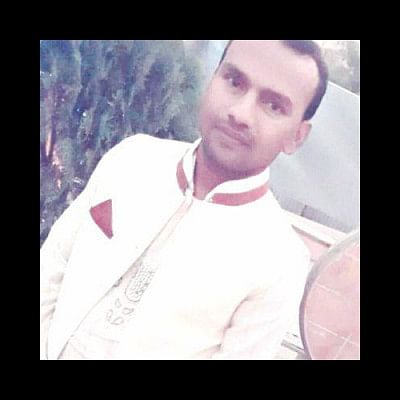 The brother of Badda Awami League unit leader was shot dead and at least seven others were injured during a gunfight between two groups of ruling party men in the city yesterday afternoon.
Deceased Kamruzzaman Dukhu, 35, was the brother of Jahangir Alam, general secretary of Badda AL unit and also chairman of Beraid Union Parishad, said Assistant Commissioner of Police Ashraful Karim of Badda Zone.
Two groups -- one loyal to Jahangir and the other to local Awami League lawmaker AKM Rahmatullah -- clashed around 4:30pm in Beraid area, police and locals said.
They had been at loggerheads over supplying raw materials to a concrete mixing company, they said.
One of the injured, Makfur Hossain, also cousin of the deceased, told reporters at Dhaka Medical College Hospital that Kamruzzaman used to supply stone and sand to the factory, but the lawmaker's nephew Faruk took the job about a month ago.
Kamruzzaman got involved in an altercation with Faruk and his men when he went to the factory to submit a bill around 1:30pm yesterday. Faruk and his men also beat up Sunny, one of Kamruzzaman's men.
After returning, Kamruzzaman gathered more men and went to Patnipara area to deal with Faruk and his men. The clash ensued and at one stage Faruk's men opened fire, leaving several injured, Makfur claimed.
Kamruzzaman was declared dead when taken to Apollo Hospitals. The other injured were later moved to Dhaka Medical College Hospital.
Police, however, said both sides fired their weapons. 
Talking to The Daily Star, Kamruzzaman's brother Jahangir alleged that a group led by Faruk attacked members of the Beraid AL unit.
"My brother was shot dead," said Jahangir, adding that four members of his family were also shot, including another brother Kamal Hossain, also an AL leader.
He alleged that MP Rahmatullah wanted to give Faruk a post in the city AL unit and make his son the councillor of the area. "The MP is doing this so that I cannot do business in the area," he added.
Rahmatullah said his nephew Faruk was not involved in yesterday's clash and that Faruk was at a bank during that time.
Denying his men's involvement, the MP said, "The clash was between two groups in Beraid area, one of which was against Jahangir."
No one had been arrested in this connection.
AL leaders and police said local AL leaders had held a meeting at Beraid Muslim High School playground late last year and nominated lawmaker's son Hedayetullah as councillor candidate in the polls to Dhaka North City Corporation.
The conflict between the lawmaker and Jahangir came to the fore after Jahangir collected nomination form to run against Hedayetullah.
Jahangir and Ataur Rahman, chairman of Bhatara Union Parishad, later challenged the legality of the schedule of the DNCC polls with the High Court.
Faruk could not be contacted for comments.