Female sea kayaker now in Bangladesh
Female sea kayaker now in Bangladesh
Retracing a German kayaker's seven-year journey over 80 years back when he traversed some 50,000 kilometres from his native country to Australia, a 46-year-old female schoolteacher from Western Australia is now in Bangladesh, hoping to accomplish it in five years.
Reaching Kuakata around 3:20pm yesterday on her red kayak, around six metres long and only 60 centimetres wide, Sandra Helen Robson, popularly known as Sandy Robson, plans on crossing Chittagong and Cox's Bazar and resting till December 18, after which she will set off for the next country.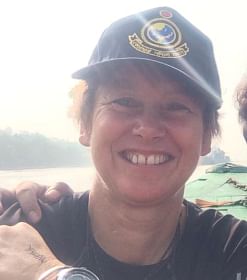 She is currently on Stage 4 of her expedition which comprises casting off from West Bengal, India on October 14 and having to paddle some 8,000 kilometres to reach Indonesia's Far East by the end of November 2015, passing the coasts of Bangladesh, Myanmar, Thailand, Malaysia and Singapore.
As per her website, www.sandy-robson.com, she then plans to end Stage 4 and take a break. In it, she is also describing her experience connecting with the local communities during her breaks and uploading photographs.
Embarking on her journey from Germany on May 14, 2011, Sandy has crossed over 9,000 kilometres completing three phases, Stage 1: Germany to Cyprus, Stage 2: India West Coast and Gulf of Mannar and Stage 3: Sri Lanka and India East Coast.
Her inspiration, Oskar Speck, had started from the Danube river in 1932 and reached Australia's waters in 1939.
In Bangladesh, she had first reached Mongla on Tuesday after leaving from West Bengal. Resting for a couple of days, she left the Mongla Navy jetty on Saturday aiming for Chittagong via Kuakata through the Sundarbans.
"It was a nice experience while I was crossing the Sundarbans in the last few days," Sandy told The Daily Star yesterday afternoon over phone.
"I did not see any tiger in the forest but I saw plenty of birds, monkeys and wild boars. I also saw forest guards setting up camera traps for tiger census," she said, spending the first night at Hiron point and Katka and at a guest house of Bangladesh Coast Guard.
"On the way to Katka from Dublar Char I did not have any intention to go to Shelar Char. But there was strong currents which took me there. Fishermen did not know English. But somehow we communicated. They were very hospitable and helpful," she said.
With 20 years' experience and over 15,000 kilometres under her belt, the sea kayaker in her website sought donations, mentioning that she was facing a hard time financing her expedition. 
"I am not afraid of Pirates, but I am afraid of not having enough Sponsors," says her homepage.