Farmers in Distress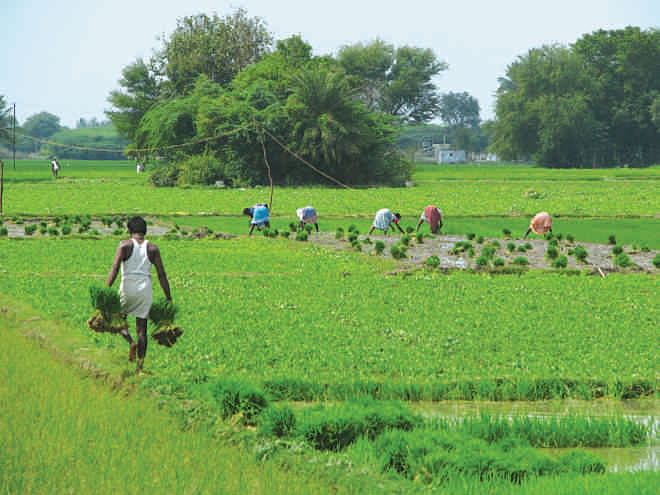 Indian Prime Minister Narendra Modi has expressed anguish over suicides by farmers, whose condition has not improved despite the high rate of economic growth. The reason for this distressing state of affairs is that economic policies are badly crafted.
The primary effort of the government has been to increase agricultural production. The price factor is not taken into consideration, the perception being that the farmer will be better off producing 20 quintals of wheat instead of 10. But the contrary can happen. A simultaneous decline in prices can eat away the gains from increased production. The farmer may incur higher cost of production due to increased inputs and still get less income because of the lower sale price.
Farmers in Rajasthan often lament that prices of bajra had fallen to such an extent that the bumper crop had become almost a liability. They had to pay large amounts for harvesting and could barely recover the expenses. They were better off when the crop production was less and prices were high.
The government has been providing Minimum Support Price (MSP) to select crops such as wheat, rice and sugarcane. Our farmers have increased the production of these crops because they were assured of reasonable price. This success has come with its costs, however.
The MSP system has shifted the farmer's attention away from other crops that could provide higher returns such as vegetables, fruit, timber, flower and orchids because of uncertain prices. The government must, therefore, work out ways to move the farmers from low-value MSP crops to high-value market-oriented crops. In particular, it is important to support crops that have a huge international demand such as flowers, organic food and designer vegetables.
The Prime Minister should put in place a programme on skill development in advanced agricultural technologies such as tissue culture. We have a varied climate from Kerala to Kashmir. It is possible for India to become a global flower and vegetable hub throughout the year.
The problem is that prices of the market-based crops are uncertain, while those of the MSP-based crops are certain. The government must work out a system to cover the risk of the farmers in the cultivation of market-based crops. A subsidised insurance system, which covers the price decline, would be one option. Another alternative would be to expand the scope of the MSP system to these crops.
The government has accepted the free market for agricultural commodities. We are pleading that the domestic agricultural subsidies by the rich countries be discontinued under the WTO in pursuance of this policy. The idea is that opening of the markets of rich countries will provide opportunities for our farmers. I fully support this approach but the final benefits of this strategy are doubtful because these markets will be opened not only for us but for other players as well.
The consequent increase in supply from other producers can wipe out most of the expected gains in price from the opening of these markets. For example, the entry of Vietnam in the coffee and black pepper sectors has wiped out the gains for Indian farmers from free trade.
It is imperative to form cartels for specific agricultural commodities just as OPEC has done for oil. India and Malaysia can team up to increase the world price of rubber. India can cooperate with Bangladesh in jute, Sri Lanka in tea, and Pakistan and Egypt in cotton. This will certainly provide high prices to our farmers. But we may have to come out of the WTO in the process. That cost has to be assessed.
The government is trying to increase the flow of credit to the farmers on the presumption that lower interest rates will provide relief to them. No relief is likely. The rural areas are flushed with funds. The credit-deposit ratio of rural banks is typically 15 - for every 100 rupees (US$1.65) worth of deposits the loan provided is only 15 rupees.
 Rural banks have a large number of depositors. but few applicants for loans. Farmers have the money but no opportunity to invest it productively because of the absence of profitable opportunities in villages.
Expansion of credit will serve no purpose; it is like pouring tap water into the waterfall. The government must focus on specific areas such as floriculture where the profits are high. Loans, earmarked for the agricultural sector, are actually given for buying vehicles to be run as taxis and trucks for hire.
In every budget, the Finance Ministers promise to increase investment in agriculture. The basic thrust is welcome but there is need for caution here as well. Every investment is not farmer-friendly. For example, increased investment in harvesters has become a curse for the small farmers and agricultural labourers. Previously, they obtained most of their income at the time of harvesting when they got 1/6 to 1/10th of the produce. Now this lucrative occupation has been taken over by machines.
Other investments, as on tubewells, are labour-friendly. The scope for employment is reduced in the task of running the water-wheel, just like the harvester. But increased irrigation leads to more land being brought into cultivation of labour intensive crops like vegetables and to higher demand of labour. Thus the government must make a social audit of various types of agricultural investments and encourage only those that have a positive impact on the poorest farmer. More tubewells and water harvesting structures and fewer harvesters can be helpful.
Public investment in agriculture also calls for reflection. Mere construction of more canals and increasing the area under irrigation will not help because the prices are declining. Remember that most of the suicides by farmers are taking place in irrigated areas.
Public investment must be finetuned to support value-added agriculture. For example, the global demand for organic food - guavas, mangoes, coffee and tea - is increasing. The government must create a certification mechanism in each district to promote this scheme. Export subsidy may be provided to private exporters of value-added agricultural commodities to help them penetrate this lucrative global market.
The government is trying to reduce agricultural subsidies on food, fertilisers, water and diesel to contain its fiscal deficit. The need is to turn these subsidies towards sectors that can lead to a multiplier effect. For example, instead of subsidising electricity for extracting groundwater, the same money can be better utilised to provide subsidy for water recharging by building check dams and ponds.
The condition of our farmers has continued to decline over the past few decades because of faulty policies and despite massive investments by the government. Modi should take steps to chart a new path and bring succour to millions of our farmers.
– BHARAT JHUNJHUNWALA
ANN/The Statesman
(The writer is former Professor of Economics, Indian Institute of Management, Bangalore)