Even home not safe nowadays
Even home not safe nowadays
Woman, daughter killed in Ctg; suitor for the girl suspected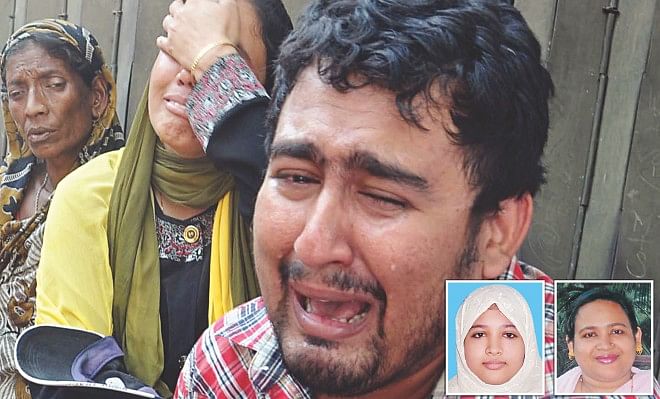 Unknown assailants stabbed to death a 16-year-old girl and her mother in CDA residential area of Chittagong city yesterday morning, within an hour after her father and elder brother left for work, leaving only the two of them at home.
Rezia Khatun, 47, and her daughter Saima Naznin Nishat were "brought dead" to Chittagong Medical College Hospital around 11:00am, said doctors.
Family members accused one Raihan, a suitor for Nishat, and BBA student of the University of Science and Technology, Chittagong (USTC), of the murder. Raihan lives in Halishahar, half a kilometre from Nishat's house, said her brother Saif Reza.
"It must be none but Raihan," said Saif. "He had proposed my sister. As she refused, once he came to our house to convince me but I rebuked him saying 'she is too young'." Raihan killed them to take revenge, Saif told The Daily Star.
Police said they were primarily convinced that Raihan was the murderer but were considering other possibilities. A hunt was launched for him. "We are on the lookout for him but he is repeatedly changing his position," said Matiul Islam, officer-in-charge of Double Mooring Police Station.
A female friend of Nishat, who appeared at the SSC exams this year, found the two lying in a pool of blood when she came to take her to school around 10:30am, said police.
The friend first pressed the doorbell button; as there was no response, she pushed the door open only to see the two dead in the dining room, the girl was quoted as saying by Hasanuzzaman Mollah, an assistant commissioner of police. Her screams drew a crowd of neighbours who immediately called Saif and his father home.
Nishat's family lives on the third-floor of a six-storey building where ten families reside. The caretaker and the security guard were arrested for interrogation. OC Matiul said the two were "not giving information" and that there was no visitors' book in the building.
It is not clear how the assailants got into the house, as no window of the five-room apartment was broken, and the killing took place between 9:30am, when Nishat's father Rezaul Karim and brother Saif left, and 10:30am, when they were found dead.
Police said no valuables, including laptop, did go missing from the house of Rezaul, director of the clearing and forwarding firm Osmond International.
The victims' bodies bore multiple injuries, including stabs in the abdomen and chest, said doctors and police.
HEARTBREAK
"Oh, Allah! Take my life, save my daughter and her mother. I don't want anything else," Rezaul was wailing in CMCH, himself admitted to the hospital after falling sick at the shock.
Tears were sliding down from the eyes of Saif. "Just after an hour after getting out of the house, I was told that my 'world is no more'," he said.
A teacher of Agrabad CDA Girls High School where Nishat studied described the girl as meritorious, who often topped the class. A cousin, Rukhsana Naznin, said "Nishat was a polite girl. We planned to go on a tour after her practical exams."
Nishat was the youngest of three siblings. Her elder brother, Asif Alvi, who is younger than Saif, practices in Chokoria of Cox's Bazar as a doctor.