Green Award: 30 factories recognised for environment-friendly contribution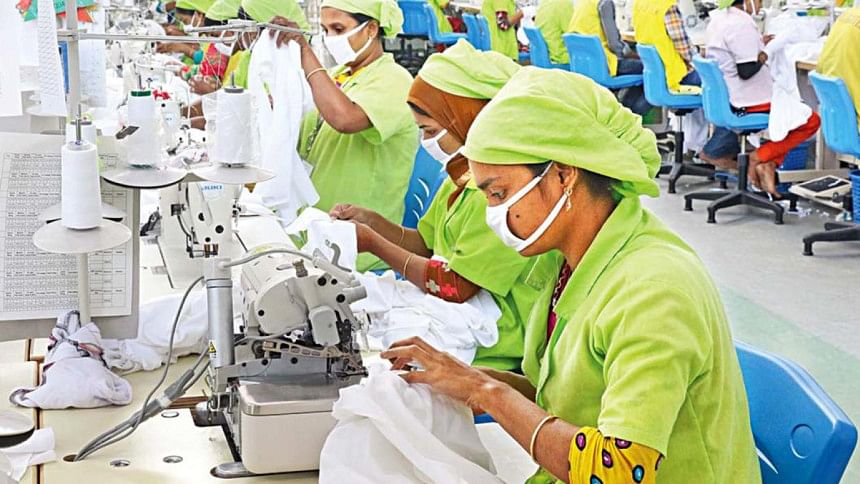 The Green Factory Award 2020 was given to 30 establishments -- from six sectors of the country – today, in recognition of their contributions to protecting the environment and the job market.
The award was given marking the birth centenary of Father of the Nation Bangabandhu Sheikh Mujibur Rahman.
Of the 30 factories, 15 are from the garment sector, four from tea sector, three each from food processing, plastic and pharmaceutical sectors, and two from the leather sector.
Prime Minister Sheikh Hasina virtually joined the award-giving ceremony from her official residence Gono Bhaban.
On behalf of the Prime Minister, State Minister for Labour and Employment, Begum Monnujan Sufian, handed over the awards to the representatives of the factories at Dhaka's Osmani Memorial Auditorium.
The 15 garment factories are Remi Holdings Ltd, Tarasima Apparels Ltd, Plummy Fashions Ltd, Mithela Textile Industries Ltd, Vintage Denim Studio Ltd, AR Jeans Producer Ltd, Karooni Knit Composite Ltd, Designer Fashion Ltd, Kenpark Bangladesh Apparel Private Ltd (Kenpark Unit 2), Green Textile Ltd (Unit-3), Four H Dyeing and Printing Ltd, Wisdom Attires Ltd, Mahmuda Attires Ltd, Snowtex Outerwear Ltd and Auko-Tex Ltd.
The factories from the food processing sector are Habiganj Agro Ltd, Akij Food and Beverage Ltd and Ifad Multi Products Ltd.
The four enterprises from the tea sector are Gazipur Tea Garden, Laskarpur Tea Garden, Jagchara Tea Factory and Neptune Tea Garden.
The two factories from the leather sector are Apex Footwear Ltd and Edison Footwear Ltd, while the three factories from the plastic sector are Banga Building Materials Ltd, Allplast Bangladesh Ltd and Durable Plastic Ltd.
The three factories from the pharmaceutical industry are Square Pharmaceuticals Ltd, Beximco Pharmaceuticals Ltd and Incepta Pharmaceuticals Ltd.
At the function, medals, certificates and award money were given to the awardees.
The Labour and Employment Ministry introduced the 'Green Factory Award' on the occasion of the birth centenary of Bangabandhu. The award will be given every two years.
At the function, the Prime Minister also opened the ministry's eight newly constructed structures, including a hostel for working women.
The eight new structures are women's hostel with 5-bed hospital facilities and labour welfare centre at Bandar in Narayanganj; six-storey Shilpa Samparka Shikhayatan Bhaban in Chattogram; five-storey regional labour office in Narayanganj; three-storey labour welfare centre and regional labour office in Bogura, three-storey labour welfare centre in Gaibandha; three-storey labour welfare centre at Mongla in Bagerhat; four-storey labour welfare centre at Rupsha in Khulna and labour welfare complex at Ghagray in Rangamati.
Labour and Employment Secretary Md Ehsan-E-Elahi delivered the welcome speech.