Over 200 houses, cropland devoured in Kurigram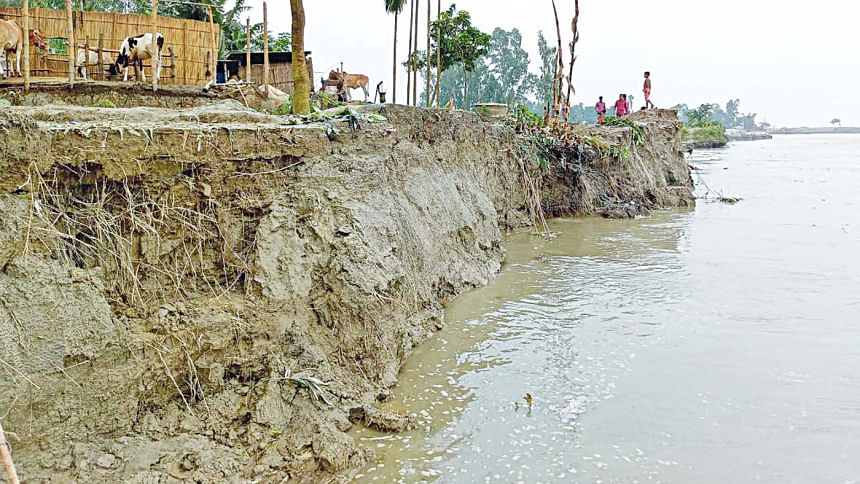 Erosion by the Teesta river has taken a serious turn and continues devouring fresh areas in Kurigram's Chilmari upazila.
Locals said river erosion has devoured over 200 homesteads and vast tract of arable land at Patrakhata village under Ramna union in the last six to seven weeks.
About 400 bighas of croplands has already been devoured by the river, while three educational institutions, over 100 homesteads and several hundred bighas of arable land are under threat of being eroded, said the affected villagers.
Ramna Union Parishad (UP) Chairman Golam Ashek Aka said the swelling Teesta is devouring houses and arable land at Patrakhata village every day.
If the Water Development Board (WDB) had taken necessary measures at the right time, then maybe, the fresh erosion could have been prevented, the UP chairman said.
But WDB started dumping sandbags at the vulnerable points only a few days ago to check the erosion, he said, adding that, the erosion-hit people have taken shelters on government khas lands, different roads and other people's land.
Moreover, many erosion affected villagers left the village and moved to other places as they could not save their belongings, said the chairman.
If the erosion is not checked permanently, Patrakhata village will disappear from the map within a short time, Superintendent of Patrakhata Reazul Jannah Dakhil Madrasa Abdul Aziz said.
He also urged the authorities concerned to take prompt steps to check the erosion permanently.
One of the affected villagers Naya Mia said he along with his family members have taken shelter beside a village road after his homestead on eight decimals of land eroded by the river recently.
"The mighty river also ate my three bighas arable land only a month ago," Naya said, adding that as he is a poor man he cannot afford to buy any land and build a new house.
Another erosion victim Bahar Uddin said his house on 10 decimals, a fruit garden and two bighas of arable land had gone into the river last Friday.
"We took shelter on other people's land and now I am finding it hard to run my family," he said.
Kurigram WDB Executive Engineer Abdullah Al Mamun said 70,000 geo bags have been allocated to prevent the river erosion at Patrakhata village.