PM urges int'l community to adopt appropriate climate action plan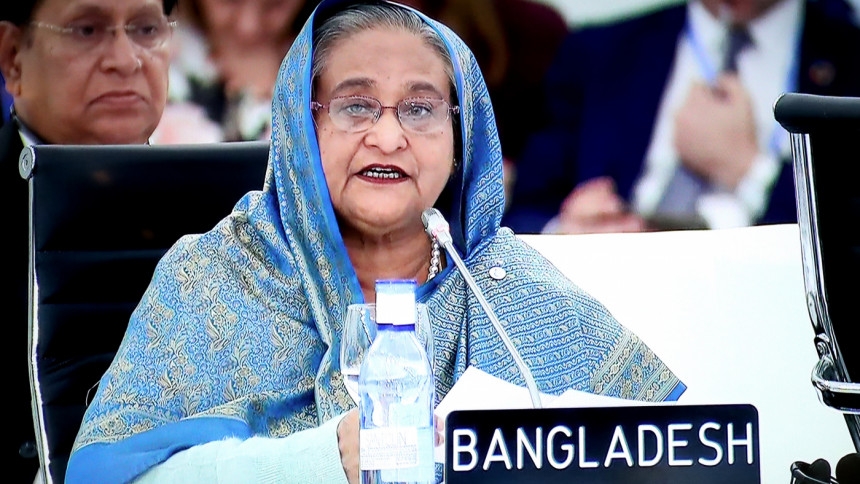 Prime Minister Sheikh Hasina today called upon the international community to adopt a time-befitting climate action plan and implement all provisions of Paris Agreement and other relevant global instruments and mechanisms to stop further degradation of environment.
"Any consequence of failure to deliver a climate action plan must fall equally on every country, especially on the countries which are more responsible for contributing to climate change, and the cost of our inaction is devastating for every living person," she told the general roundtable at the Conference of the Parties (COP25), the UN Climate Change Conference, in Madrid of Spain.
"To stop further degradation of the environment, we must implement all provisions of Paris Agreement and other relevant global instruments and mechanisms," she added.
Sheikh Hasina added it is the responsibility of the leaders and the politicians to make public aware of the critical situation and the actions required to stop it from developing. "We cannot decide to be undecided."
The COP25 of the UN Framework Convention on Climate Change kicked off at Feria de Madrid, the largest exhibition complex in Spain and one of the most important venues in Europe, here this morning.
The prime minister said from now on the principle of 'Loss and Damage' must feature prominently in all negotiations and the 'Warsaw International Mechanism' must be given a much stronger mandate to explore financing loss and damage through its review.
"The global landscape of climate finance is highly fragmented, complex and grossly inadequate," she said.
Sheikh Hasina said the Convention and the Paris Agreement recognized the special circumstance and needs of LDCs and 'Particularly Vulnerable Countries' based on the principle of the 'common but differentiated responsibility', and this recognition must be adhered to in every delivery mechanism of the climate finance.
 "We hope that finalization of robust rules under Article 6 of the Paris Agreement must continue environmental integrity, avoid double counting and other accounting loopholes, deliver a share of proceeds from the market mechanism for the Adaptation Fund to assist overall mitigation in global emission," she said.
The prime minister said the concept of equity or fairness is a fundamental issue that underlies the framing and operationalization of the Paris Agreement under the Convention through which greater levels of international cooperation under the Convention and its Paris Agreement may be achieved.
Sheikh Hasina said impacts of climate change are harming the civilization and destroying the planet and it has now become an existential threat for climate vulnerable countries like Bangladesh.
"We are at the most important crossroad of human history facing the gravest global challenges of our time.
The prime minister said the globe is fighting the battle on two fronts. First, mitigation measures to reduce and eventually reach zero emission in future. Second, adaptation measures in areas where irreparable damage has been done, she said.
 "Lives and livelihoods of millions of people would continue to be at risk unless we deliver on both these two fronts," she said.
Sheikh Hasina said the 5th Assessment Report (AR5) of the Intergovernmental Panel on Climate Change (IPCC) clearly states that adverse impacts of climate change will continue to intensify over the current century and "push us off the cliff unless we come up with drastic actions to reduce or stop carbon emission".
 "And if the IPCC 1.5 degree centigrade Report was bad enough, the recent WMO Statement on State of Global Climate 2018 shows that we are even worse off than what was originally thought," she said.
Pointing out that time is ticking fast to the point of no return, the premier said the world urgently needs to limit the temperature increase to 1.5oC and avoid the worst impacts of climate change, by cutting 45 per cent of greenhouse gas emissions by 2030, and achieving carbon neutrality by 2050.
"Bangladesh, the largest delta in the world, is the worst affected country if we consider its small size and the huge population to be affected by adverse impacts of climate change. Up to 2050 from now, our annual GDP loss will be 2% and at this rate by 2100, the loss will be a staggering 9%," she said.
According to the World Bank, she said, more than three-quarters or 134 million of around 165 million population of Bangladesh are at the risk of declining living standard as a result of rising temperature and erratic rainfall due to climate change. The prime minister said the decline in living standard as a result of changes in average weather could cost a loss of 6.7 per cent or $171 billion of Bangladesh's Gross Domestic Product by 2050.
"By 2080, some 40 million people will be homeless due to sea-level rise and UNICEF, in last April, published that in spite of excellent progress on resilience and adaptation, Bangladesh has 6 million climate migrants already," she said.
Sheikh Hasina said the number could be more than double by 2050 and 19 million children in Bangladesh are already under threat. "We will never achieve the SDGs and eradicate poverty if the adverse impacts of climate change are not stopped," she said.
In spite of being a non-emitter and being severely constrained in terms of resources and choices, the prime minister said Bangladesh is doing its best to enhance its resilience.
With the challenges and opportunities of the delta, she said, Bangladesh, with assistance from the Netherlands, has prepared Bangladesh Delta Plan 2100, a long-term strategy, policy and commitment to implement actions for sustainable delta based on nature-based solutions.
 "Domestically, we are the first LDC to establish a Climate Change Trust Fund. We have so far spent more than $415 million from our own resources for mitigation and adaptation purposes. We are set to spend as much as $10 billion to make the country less vulnerable to natural disasters," she said.
The prime minister said the country has National Strategy on the Management of Disaster and Climate-Induced Internal Displacement as well as National Adaptation Plan and Bangladesh Climate Change Strategy and Action Plan, 2009 to deal with the issue.
 "Our government has done sector-wise vulnerability assessment for all 64 districts," she said.
Sheikh Hasina said the government has declared our Nationally Determined Commitment under the Paris Agreement and expect others to respect their own commitments.
She said Bangladesh has prepared a plan to achieve 30% of the total energy from renewable sources by 2041.
"It has been made mandatory to undertake environmental impact assessment and act accordingly for every development project. We are going to plant 10 million trees in the year 2020 in excess of the regular plantation programme," she said.
The premier said Bangladesh has become a climate-resilient country and successfully reduced climate-induced loss with its innovative adaptation and mitigation measures which can be replicated by other countries.
"Our disaster management programme and practices are also appreciated and replicated widely.
Sheikh Hasina said Bangladesh Parliament has recently adopted a motion declaring the current state of climate vulnerability as a planetary emergency calling all other Parliaments to act to adopt necessary measures to reduce global warming.
Mentioning that in 2016, displacement due to climate change was more than 3 times of the displacement due to conflict, she said Bangladesh has a similar situation with the Rohingyas from Myanmar.
Sheikh Hasina said the presence of 1.1 million Rohingyas has caused environmental and social havoc in an environmentally critical area, Cox's Bazar, with loss of forest, hills, biodiversity and local livelihood.
"So, we already have the dreadful experience of how the situation after a climatic calamity may turn out," she said.
The premier continued: "But I must warn here that there is a limit to resilience and adaptation. We simply have to stop the increase of global temperature at 1.5-degree centigrade more than the pre-industrial level."
"As our people will be displaced at no fault of ours, we expect the international community to shoulder the responsibility of accommodating them and providing them with livelihood," she said.
In spite of lack of interest among many to adopt adequate measures, she said, Bangladesh is a firm believer of collective efforts and understanding to fight climate change and the UN is the most appropriate platform.
"All 'Funds' to fight climate change must be replenished as per our agreement including the $100 billion annual contribution," she said.