Time 100 list: Zendaya, Simu Liu among honorees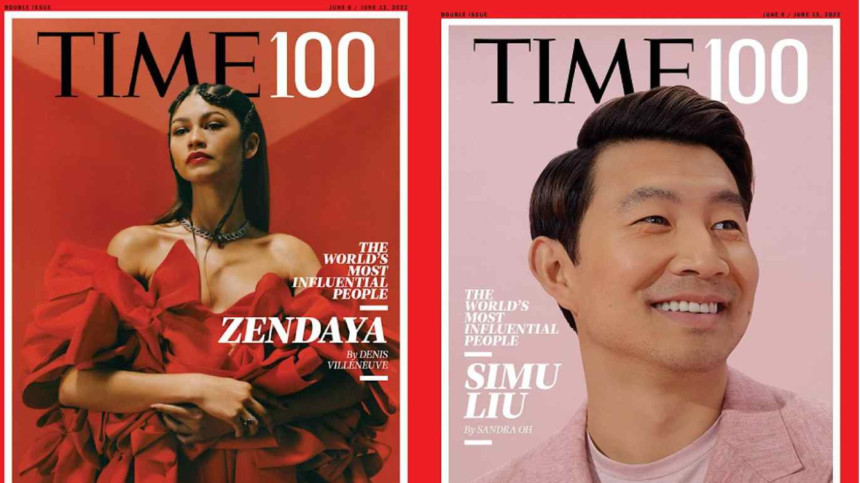 The Top 100 Most Influential People of 2022 by Time Magazine has been revealed. The coveted list included celebrities like Zendaya, Simu Liu, Adele, Andrew Garfield, Zoë Kravitz, Oprah Winfrey, and Mila Kunis, among others, this year. 
Zendaya and Simu Liu were also featured on the cover of Time 100 along with Apple CEO Tim Cook, recording artist Mary J. Blige, and Prime Minister of Barbados Mia Mottley.
The Time 100 list celebrates individuals who have brought positive changes in the fields of arts, entertainment, politics, business, sciences, and more.
Each honoree is also recognised with an essay written by other high-profile personalities like them, most often from their field.
Michelle Obama wrote on "Oprah Winfrey", Matthew McConaughey on "Channing Tatum", Denis Villeneuve on "Zendaya", James Corden on "Adele", Reese Witherspoon on "Zoë Kravitz", Martin Scorsese on "Andrew Garfield", Sandra Oh on "Simu Liu", Ryan Seacrest on "Kris Jenner."
Former "Grey's Anatomy" actress Sandra Oh wrote a heart-touching essay on "Shang Chi: Legend of the Ten Rings" actor Simu Liu. The actress emphasised how he has beautifully balanced the representation of his community while staying true to his own personality.
"Tick Tick…Boom" actor Andrew Garfield who is considering retiring from acting was also included in the list. Martin Scorsese who has worked with Garfield in "Silence" called him "one of the greatest of his generation." 
Queen of Hip-hop soul, Mary J Blige, made it to the list for her valuable contribution in music. Longtime friend and collaborator Nas, shared their touring journey during the initial days of their career and how she evolved as an artiste throughout that period. 
Quinta Brunson became popular among audiences for her comic skit on Buzzfeed. The comedian has become a star with her hit comedy series, Abbott Elementary.
Renowned basketball player LeBron James in his essay wrote that she is a "master of her own craft" and is "a game changer in network television."
Oprah Winfrey won the hearts of the American audience with her powerful personality. First Lady Michelle Obama about how stars and celebrities just feel at ease opening up to her and how she has the uncanny power to "uncover the higher truth ."
Issa Rae broke all records with her hit HBO series "Insecure". The talented actress was honoured by her collaborator Robin Thede who worked with her in "A Black Lady Sketch Show." 
Ariana DeBose, Taika Waititi, Rafael Nadal, Michelle Yeoh, Alex Morgan, Megan Rapinoe and Becky Sauerbrunn along with Candace Parker, Peng Shuai, Eileen Gu, Hwang Dong-hyuk, Jazmine Sullivan, Michelle Zauner, Nathan Wei Chen, Sally Rooney, Amanda Seyfried, and Keanu Reeves are also included in the list.