Rubaiyat Hossain's mentorship project 'Sultana's Dream' begins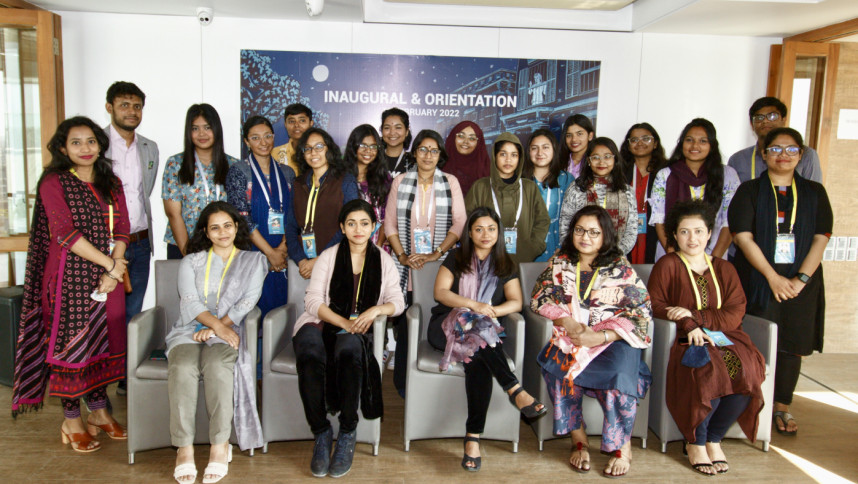 With a motto of "Breaking the Silence", noted filmmaker Rubaiyat Hossain initiated the pilot project "Sultana's Dream" for aspiring young female directors.
The mentorship programme, which was inaugurated on February 18, introduced 16 ambitious young women who are eager to explore their career as filmmakers.
The selected participants will be guided by experienced tutors, associated with filmmaking. Through this workshop, they will learn the entire process of filmmaking.
Rubaiyat Hossain, along with Tasmiah Afrin Mou, Philippe Barrière, Barkat Hossain Polash, Seemab Gul, Chaitali Samaddar, Nahid Masud, Saim Sadiq, Meenakshi Shedde, Jonaki Bhattacharya, Mahde Hasan, Aadnan Imtiaz Ahmed, and Syeda Iffat Hossain will be serving as mentors.
The participants will be trained to prepare project profiles and pitching, followed by leadership workshops, modules for writing scripts, history of feminist films, the female gaze, and gendered reading of film texts until June.
After the completion of the workshop, the contestants will pitch their ideas of short films to an international jury, who will select two projects for the grant. 
The platform will provide mentorship and production support for the two projects which will win.
Within December, the two directors will make short films which will be distributed to both local and international platforms. Goethe Institut Bangladesh has joined as the distribution partner of this program. 
"I have initiated this platform, Sultana's Dream, to promote filmmaking opportunities for women," said the director of "Shimu- Made in Bangladesh". "Since we live in a society, which is highly misogynist, I want to support young women in making their dreams come true."
"Generally, men have been displaying the female perspectives from their point of view," she said. "However, it is high time that women tell their own stories."
The selected participants of this programme are—Monon Muntaka Shova, Laboni Ashrafi, Atoshi Karmaker, Fatiha Taiara, Nusrat Jahan Ishat, Farah Jalil, Farzana Noor, Neha Shamim, Fariah Manar, Risana Tahmin Rahman, Samiha Siddiqui, Farisha Afreen, Mahamuda Aktar Monisha, Pracheta Ahana Alam, Md.Shihab, and Jahra Najifa Nova.