'This is our captain', says Chanchal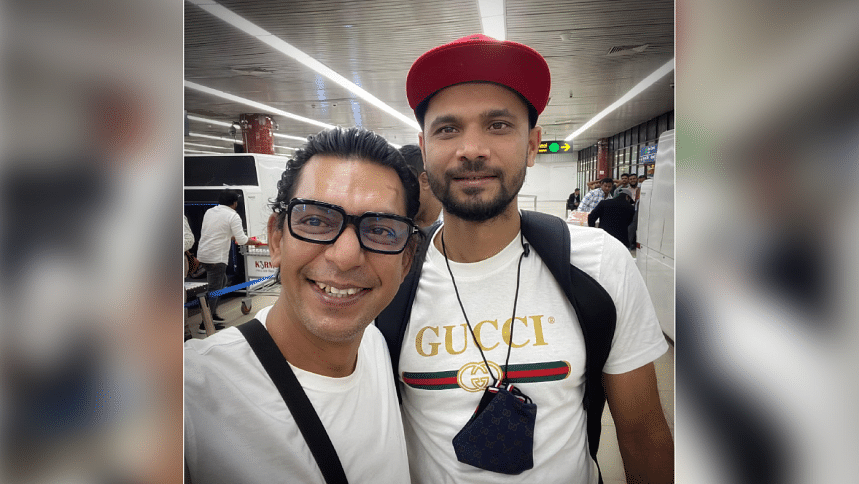 Renowned actor Chanchal Chowdhury and former Bangladeshi cricket star Mashrafe Bin Mortaza recently crashed into each other at the Hazrat Shahjalal International Airport.
The "Karagar" famed actor took to his social media and said, "Just the other day, we suddenly clashed into each other, and embraced each other saying 'my brother'…he is quite close to my heart."
The continued, "this is our Capt. Mash…Mashrafe Bin Mortaza."
Speaking to media outlets about their meeting, Chanchal said that he has known Mashrafe since the beginning of Mashrafe's cricket career, and is still good friends. The actor attested that Mashrafe hasn't changed one bit—he is still the friendly old Mashrafe.
Chanchal shared that though Mashrafe has become a cricket star, he is still just as quite humble and friendly—like the boy next door who doesn't have a shred of arrogance in him.
However, he also mentioned that to come as far as Mashrafe has taken Bangladeshi cricket, it's obvious that he had to make a lot of sacrifices and invest a hefty bit of effort.
The "Aynabaji" actor continued that he also came to know that Mashrafe often speaks with the people of his area, regardless of whether he or she is a tea-stall owner or a cobbler. Chanchal states that whether it's his contribution as a cricketer, as a social worker who is striving to improve his locality, or just his simple and friendly attitude—all of these traits mesmerise him.
Whenever these two friends meet, Mashrafe always says a few dialogues from Chanchal's famed works which the cricketer watched. The two had not talked with each other for quite some time due to having each other's old phone numbers.
They have already exchanged their contacts, and hope to keep in touch with one another from now on.