Oscars 2022: Will Smith wins first Oscar for 'King Richard', 'CODA' wins Best Picture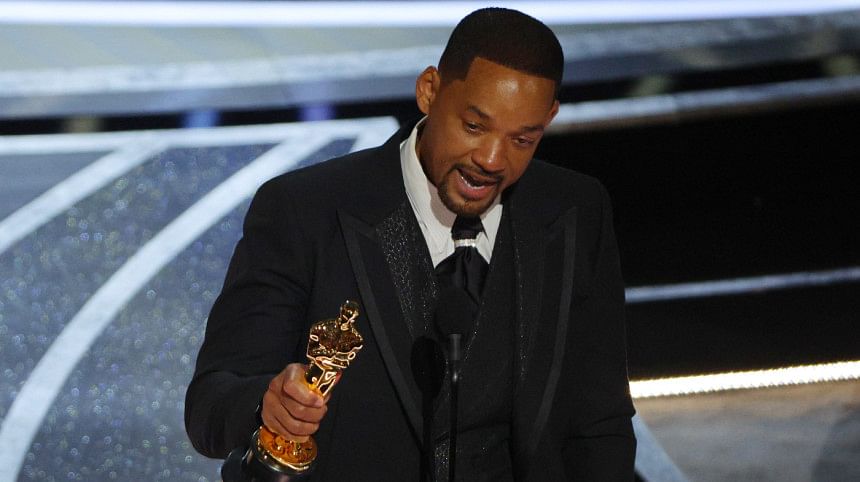 Will Smith took home his first Academy Award on Sunday night for playing Richard Williams — father and tennis mentor to Venus and Serena Williams — in "King Richard."
Smith spoke shortly after an onstage confrontation with comedian Chris Rock, who made a crack at his wife, Jada Pinkett Smith. Smith noted, in tears, that Richard Williams was also fiercely protective of his family. "I want to be a vessel for love," he said.
"I'm gonna apologise to the Academy. I'm gonna apologise to my fellow nominees...art imitates life. I look like the crazy father, just like they said about Richard Williams. But love will make you do crazy things," Will Smith added.
"CODA" won the best picture at the Oscars.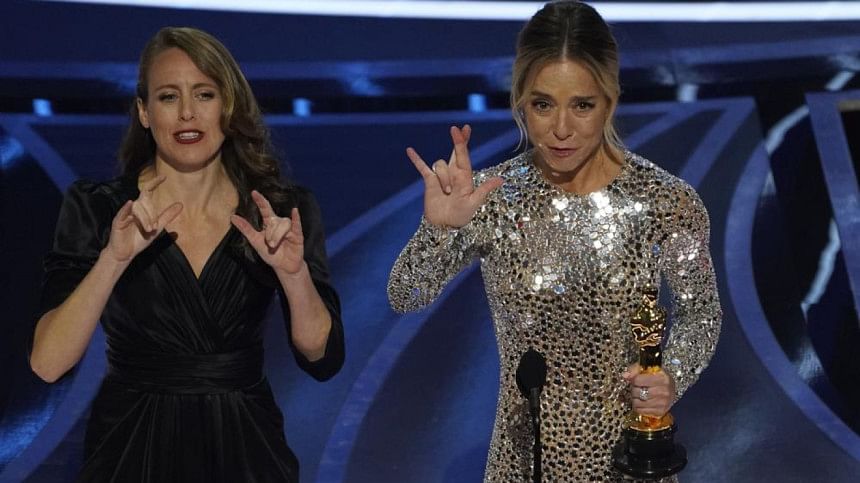 The small, coming-of-age film about the only hearing member in a family of deaf adults written and directed by Siân Heder took the top prize over bigger-budget contenders at the Academy Awards on Sunday night.
The Oscar is also a big victory for Apple, which becomes the first streaming service to win the best picture crown after several years of vying for the prize alongside Netflix and Amazon.
"CODA" beat out bigger nominees that included "Belfast," "Dune," "The Power of the Dog" and "West Side Story."
Jessica Chastain won the Academy Award for best actress on Sunday night for playing televangelist Tammy Faye Baker in "The Eyes of Tammy Faye."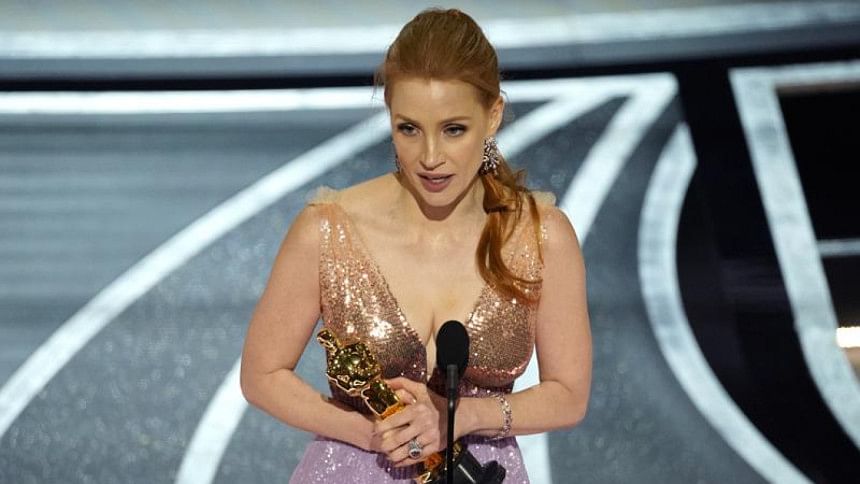 It's the first Oscar for Chastain in three nominations. She was previously nominated for "Zero Dark Thirty" in 2013 and "The Help" in 2012.
She beat out fellow nominees Olivia Colman, Penélope Cruz, Nicole Kidman and Kristen Stewart.
Jane Campion has won the best director Oscar for "The Power of the Dog."
The 67-year-old filmmaker won the Academy Award on Sunday night for the unconventional Western starring Benedict Cumberbatch that was shot in her native New Zealand.
It's her first best director Oscar. She won a best original screenplay Oscar in 1994 for her film "The Piano," which also earned her a directing nomination.
Troy Kotsur and Ariana DeBose made history and the big-screen craft of Denis Villeneuve's science-fiction epic "Dune" was awarded a leading six Oscars at Sunday's 94th Academy Awards that kept a buoyant spirit until Will Smith took great offense to a joke made by Chris Rock about his wife, Jada Pinkett Smith.
After Rock joked to Smith that he was looking forward to a sequel to "G.I. Jane," Smith stood up from his seat near the stage, strode up to Rock and slapped him. After sitting back down, Smith shouted at Rock to "Take my wife's name out of your (expletive) mouth."
The moment shocked the Dolby Theatre audience and viewers at home. At the commercial break, presenter Daniel Kaluuya came up to hug Smith, and Denzel Washington escorted him to the side of the stage. The two talked and hugged and Tyler Perry came over to talk as well.
After record-low ratings and a pandemic-marred 2021 show, producers this year turned to one of the biggest stars around — Beyoncé — to kick off an Oscars intended to revive the awards' place in pop culture. After an introduction from Venus and Serena Williams, Beyoncé performed her "King Richard" nominated song, "Be Alive," in an elaborately choreographed performance from a lime-colored, open-air stage in Compton, where the Williams sisters grew up.
Hosts Wanda Sykes, Amy Schumer and Regina Hall then began the telecast from the Dolby Theatre.
"All right, we are here at the Oscars," began Hall. Sykes finished: "Where movie lovers unite and watch TV."
The first broadcast award went, fittingly, to Ariana DeBose, who became the first openly LGBTQ actor and first Latina to win best supporting actress. Her win came 60 years after Rita Moreno won for the same role in the 1961 original "West Side Story." DeBose thanked Moreno for leading the way for "tons of Anitas like me."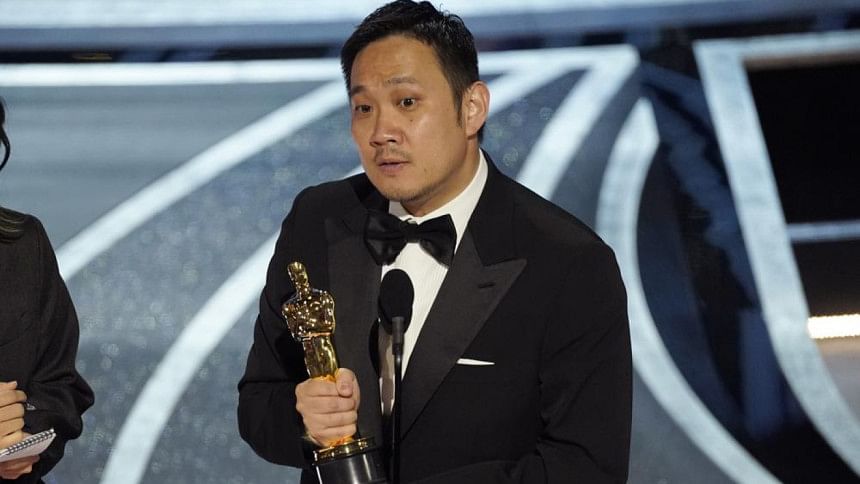 "You see an openly queer woman of color, an Afro-Latina, who found her strength and life through art. And that is, I think, what we're here to celebrate," said DeBose. "So if anyone has ever questioned your identity or you find yourself living in the gray spaces, I promise you this — there is indeed a place for us."
Later, Kotsur became the first male deaf actor to ever win an acting Oscar, and joined his "CODA" costar Marlee Matlin at the only deaf actors to win an Academy Award. He received a standing ovation while many in the Dolby gave the Deaf clap, waving both hands in the air.
"This is for the Deaf community, the CODA community and the disabled community," said Kotsur, signing from the stage. "This is our moment."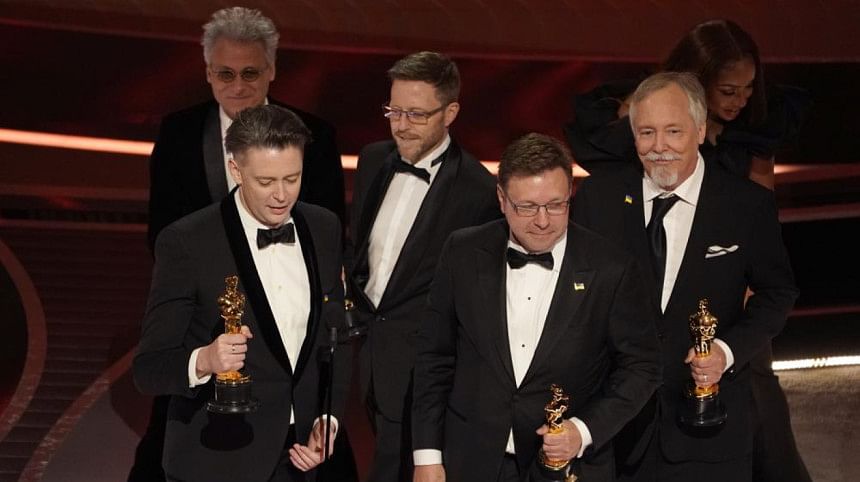 "Encanto," the Disney hit propelled by its chart-topping soundtrack, won best animated film. Lin-Manuel Miranda, who penned the film's hit songs, missed the ceremony after his wife tested positive for COVID-19. Ryusuke Hamaguchi's three-hour Japanese drama "Drive My Car," one of the year's most acclaimed films, won for best international film.
Check out the full list of winners 
Best Actor in a Leading Role
Will Smith - King Richard
Best Actress in a Leading Role
Jessica Chastain- The Eyes of Tammy Fae
Best Picture
CODA
Best Director
Jane Campion- The Power of the Dog
Best Actress in a Supporting Role
Ariana DeBose - West Side Story
Best Actor in a Supporting Role
Troy Kotsur – CODA
Best Song
Billie Eilish and Finneas O'Connell- No Time To Die
Best Documentary Feature
Summer Of Soul
Best Animated Feature Film
Encanto
Best International Feature Film
Drive My Car- Japan
Best Animated Short Film
The Windshield Wiper
Best Original Score
Hans Zimmer – Dune
Best Adapted Screenplay
Sian Heder – CODA
Best Original Screenplay
Kenneth Branagh- Belfast
Best Cinematography
Dune
Best Visual Effects
Dune
Documentary Short Subject
The Queen of Basketball
Best Sound
Dune
Best Production Design
Dune
Best Film Editing
Dune