From schoolteacher to silver-screen darling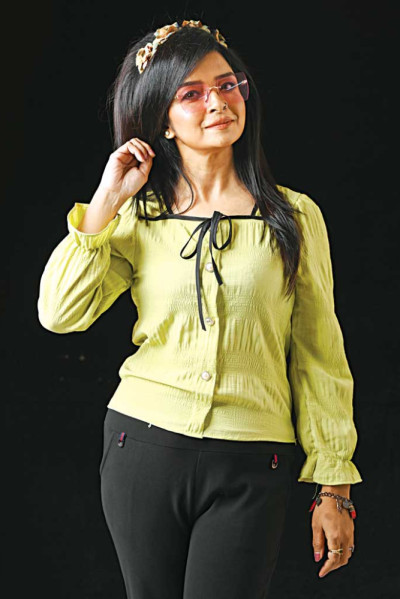 Elina Shammi used to be a schoolteacher, until she was inspired by one of her colleagues, Timir Nandi, to begin her journey as an anchor. In 2011, she hosted "Durpath", a programme on Desh TV.
"There was no looking back after that, I continued as an anchor, interviewing over six thousand artistes, and later on began my journey as an actress," said the actress who made her first appearance on the silver screen in 2014, in Shah Alam Kiron's "71er Maa Jononi".
Elina went on to impress the audience not only through her projects on the big screen, but with her presence on television. Recently, she has been busy working on projects for streaming platforms as well. Her performance in the Raihan Rafi directorial web film "Janowar" was a turning point in her career.
"I always look for story-based projects. From that point of view, I rarely discriminate between the variety of mediums as long as the story is good," said the artiste who has also been a screenplay writer since her college days, writing around 20 fiction projects that were aired.
"The first tele-fiction that I wrote was 'Aw Er Golpo'. Since I am currently occupied with projects for the big screen, I am trying to be a bit more selective when taking on television projects."
The multi-talented artiste has portrayed the role of Begum Khaleda Zia, in the much-anticipated biopic on the Father of the Nation, Bangabandhu Sheikh Mujibur Rahman. "Mujib: Making of a Nation" is directed by Shyam Benegal.
She shared that she is proud to be part of a project, which will have a place in history. "I was blown away upon seeing the transformation that the team put me through, to make me resemble Begum Khaleda Zia. All of the actors on set also resembled the real-life persons they are portraying".
Elina also talked about the controversy surrounding the release of the film's trailer. "Although people are talking a lot about this, especially since the film has a budget of 100 crores, I would say that presenting Bangabandhu on screen is not easy. The budget was not enough to execute such a project, but the director put in his best efforts to ensure the film would do justice," said the actress. "We should not jump to conclusions without first watching the entire film."
At present, the actress has around seven projects in the pipeline, all of which will be released soon. She stated that she has finished working on most of these projects, including: Mushfiqur Rahman Gulzar's "Tungi Parar Dushshahoshi Khoka"; Shyam Benegal's "Mujib: Making of a Nation"; Anonno Mamun's "Radio"; Tanvir Hassan's "Moddhobitto", and Shihab Shaheen directorial web film "Syndicate" among others.
Elina is quite busy with upcoming Eid projects as well. "I have recently worked on 'Shahoshika 2', which will be released during Eid, also I am working on a television serial 'Jhorer Pakhi' telecasted on Rtv," added the actress.
The actress has recently signed Asif Akbar's upcoming film "MR9", and she will be shooting for the film from June 24 until the 29th of this month.