This Eid will be a festival of films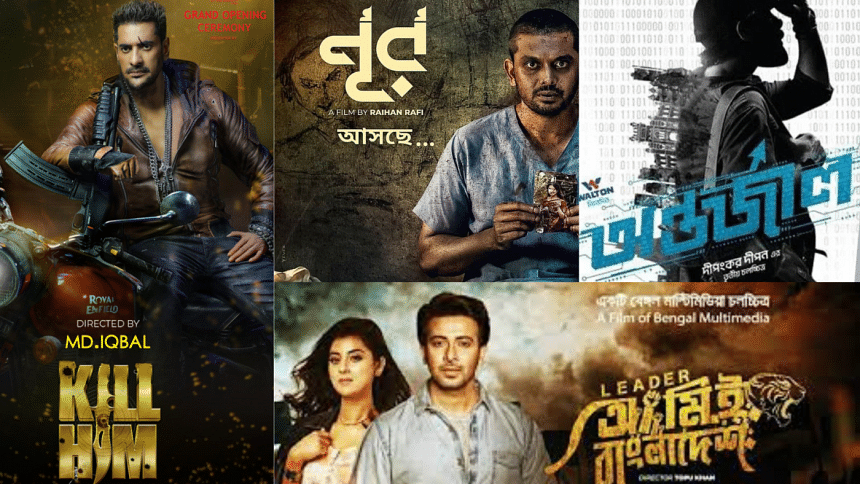 Eid has always been a festive time for films to appear in theatres. After Covid-19 had devastated the film industry for two years straight, actors, producers, and directors are quite hopeful for the coming two Eids this year.
While last year was dominated by "Hawa" and "Poran", this year the industry seems to be injected with new vitality as a strong lineup of films is expected to be released within the two remaining months of Eid ul-Fitr.
The probable Eid lineup includes "Leader Amie Bangladesh", "Agun", "Antarjaal", "Laal Sari", "Noor", "Kill Him" and "Shurongo", amongst others.
According to media outlets, Shakib Khan featuring film "Leader: Amie Bangladesh" has already gotten a censor board clearance, though the release date is yet to be announced. Meanwhile, Badiul Alam Khokon, the director of "Agun", told the media that the project will appear on the silver screen on Eid.
On the other hand, the Siam Ahmed starrer film "Antarjaal" is expected to greet the audience on the occasion of Eid. The director of the film shared with the media that he wishes to release the film on Eid.
Raihan Rafi's "Noor" might also greet the audience during the festive season of Eid. According to the recent rumours about its release, the film's authorities will soon make an official announcement.
Furthermore, Ananta Jalil's "Kill Him" is still completing its shoot. However, word about the film being released this Eid has come around.
All in all, fans can expect this Eid ul-Fitr to be a carnival of films and enjoy good content. According to the Bangladesh Motion Pictures Exhibitors Association, there are about 70 active cinema halls in Bangladesh now and due to the Eid season, many closed halls will be reopened. They mentioned to the media that about 150 cinema halls will be active due to the Eid season.