Two-day 'Rabindra Sangeet Utsav' kicks off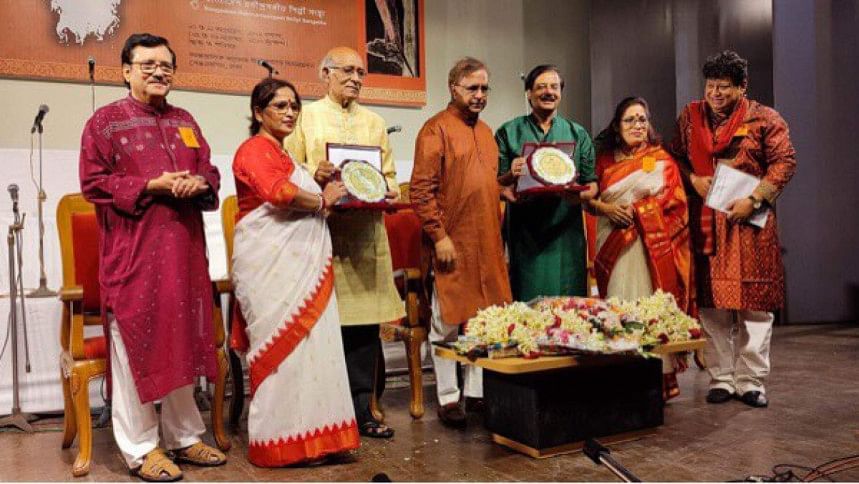 The 33rd instalment of the 'Rabindra Sangeet Utsav', organised by the Bangladesh Rabindra Sangeet Shilpi Sangstha (BRSSS), began earlier today at the auditorium of International Mother Language Institute, at the capital's Shegun Bagicha.
The festival was inaugurated by the chief guest KM Khalid, State Minister for Cultural Affairs. Two eminent artistes and 'Kontho joddha' of Shadhin Bangla Betar Kendra during the 1971— elocutionist Ashraful Alam and singer Rafiqul Alam, were honoured for their contributions to the respective fields. The artistes were handed over crest and honorarium cheque by KM Khalid MP.  
The event took place physically after three years, as the COVID-19 pandemic struck and it was not possible to arrange the festival for the last two years. However, the 32nd edition was held virtually in 2020.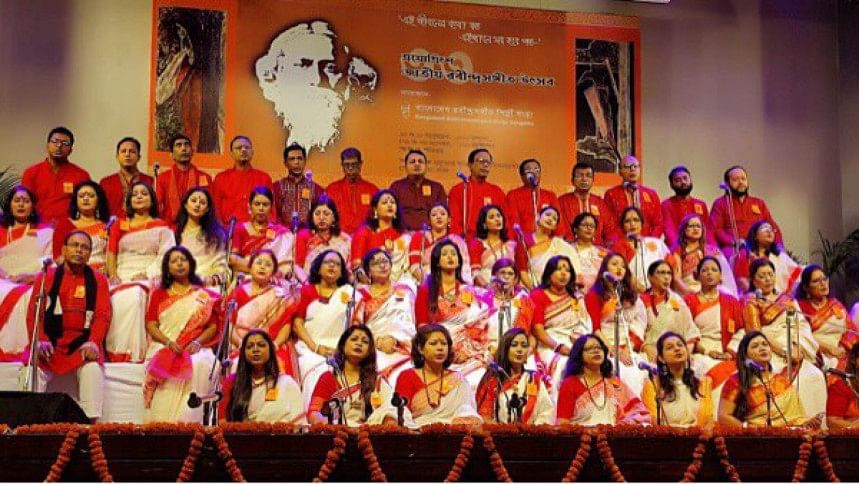 Particularly this year's edition of the festival was dedicated to all artistes, writers, journalists, poets and cultural personalities, who left for the good during the pandemic. The association's General Secretary, Pijush Barua, gave the welcome speech at the ceremony. Sangeet Bhavan, Uttarayan, Surtirtho, Bulbul Lalit Kala Academy (BAFA) and Bishwobani were the groups which participated in the beautiful renditions of Kabiguru Rabindranath Tagore, in the first round of the event.
Asharaful Alam recited a few lines of "Anondoloke Mongolaloke Biraj Shottyoshundoro", while Rafiqul Alam performed the renditions—"Uttor Bay Janay Shashon", Patlo Toper Shushko Ashon", and "Oi Janalar Kachhe Boshe Achhe/Kortole Rakhi Matha".
The two-day festival will conclude tomorrow featuring cultural programmes and recitations. The event is open for all.