Riad Hasan: From Kalurghat to Coke Studio Bangla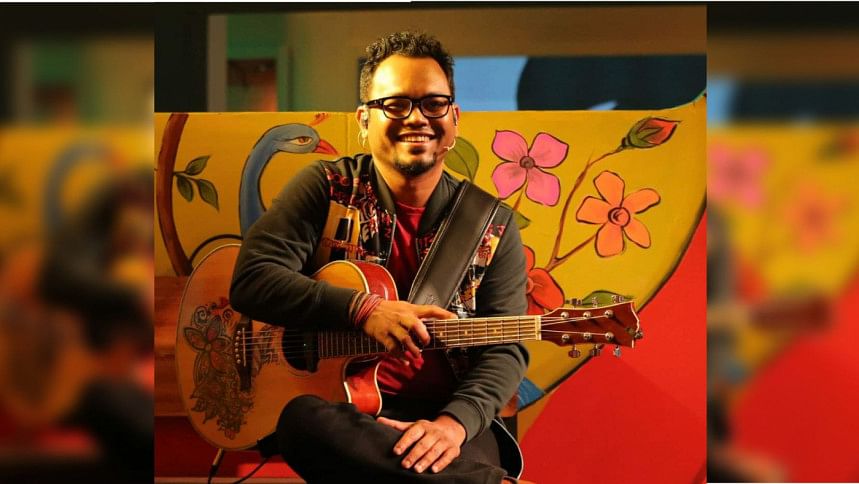 "Murir Tin" -- This is the latest installment of Coke Studio Bangla, as the platform kick-starts season two with something most of us Bangalees can relate to, buses. Upon its release, "Murir Tin" immediately captivated audiences for both the song and the visuals in the music video.
Another element that people seemed to love is the mix-mash of local dialects from Chittagong, Sylhet and Khulna, which all fused together to create an experience that the average Bangladeshi person will probably have experienced at some point in their lives.
Written and composed by Riad Hasan, a Chattogram native, "Murir Tin" is quite different from anything else Coke Studio Bangla has already ventured into. In hopes of learning more about the origin and inspiration for the song, The Daily Star sat down with Riad Hasan.
As a Chattogram local, how does it feel to have your dialect and song represented on a platform as big as Coke Studio?
I have been performing in the Chittagong dialect for a long time. Around 2007 or 2008, I released a song called "GEC", which is about the GEC circle area in Chattogram. I was inspired by the likes of Shyam Shundor Boishnob and Shefali Ghosh, local folk artistes who based their songs around local issues and themes. So, when I was writing this song for Coke Studio, I wanted to highlight contemporary issues that are relatable with most people.
There are very few platforms in the Bangladeshi music industry where an artiste can showcase their music to a large audience. My own songs in the Chittagong dialect, "GEC" and "Satkaniya Fatikchori", garnered some five to six lakh views on YouTube.
However, with Coke Studio Bangla, you can clearly see just how far and wide a song can reach. The fact that "Murir Tin" has been able to make its way to the speakers and earphones of so many people, that is what fills me with joy. Reaching 2 to 2.5 million listeners overnight is honestly amazing.
How has the audience's reaction to 'Murir Tin' been?
I have not gone too in depth with tracking the audience's response, but from what I have observed, I can see that people from Chattogram have particularly loved the song.
Neither Pollob, Towfique or I are mainstream artistes. We do have a core audience who faithfully listen to our music, but it isn't on the same level as a top mainstream artiste. So, the fact that Coke Studio Bangla chose us to kick-off the new season—paying respect to the month of our Mother Language—it surely required a lot of courage.
A lot of people have also commented that "Murir Tin" isn't local, because it sounds more like western music. The song has deliberately been made to highlight our local issues using the popular American Bluegrass country style—because it is a happy rhythm that pairs well with the movements of a bus.
From the reactions I have seen, some have been positive, while others not so much. Many even mentioned that they were expecting more popular aristes to be featured for the first song of season two. But I am just glad to see that people were able to relate to the song and its theme.
I even saw a Punjabi YouTuber reacting to the song and enjoying it. Someone even commented that their 70-year-old father, 60-year-old uncle and 85-year-old grandparent were all enjoying the song together.
While there will always be negative opinions, overall, the reception has been quite positive. I am happy to see people enjoying my music.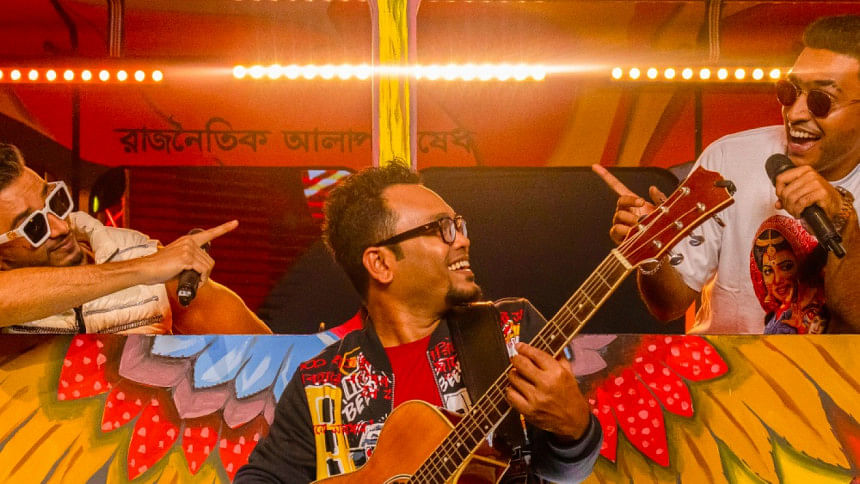 "Murir Tin" has been inspired by the buses you saw growing up in Kalurghat. Could you tell us more about the song's origin?
Growing up in Kalurghat, we would see buses with wooden or metal bodies, which we would call "Murir Tin". As I grew up, these buses slowly began to disappear.
But the stories and experiences of being in those buses are still there. So, it is a symbolic reference. Now, when we are saying "Murir Tin", we mean a somewhat broken-down vehicle where a lot of people travelling while crammed together.
I am a big fan of using humour in my music, so I wanted to make this a humorous and satirical song that people could connect to. Travelling by bus, is a part of many of our lives. So, what I really wanted to do is make a song that would make people smile or laugh while they were stuck in traffic.
What can we expect from you in the future?
As an artiste, I still feel that I am trying to find my own unique sound. What I seem to enjoy doing the most is playing the acoustic guitar while also singing. So, I hope to continue releasing one or two songs every year on my YouTube channel.
I also aim to do more collaborations in the future, as I feel it helps me grow as an artiste.
Find Riad Hasan's music at youtube.com/riadhasan