Pentagon returns after 7 years with 'Bheshe Esho'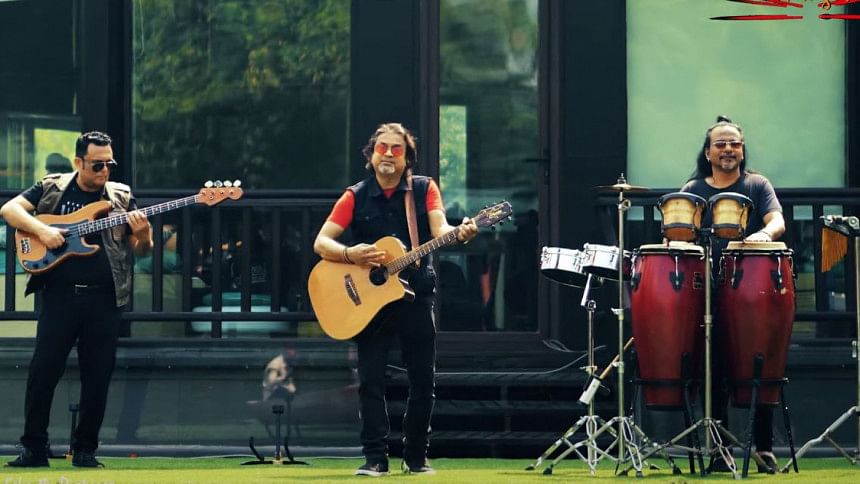 It was Valentine's day, when Bangladeshi band Pentagon released the music video of "Tomay", and garnered huge response from the audience. However, that was back in 2014.
After seven long years, the band has recently released a music video for the song "Bheshe Esho". The song was originally released in the band's second album "Eight o'clock", back in 2009. Though Pentagon had planned to film a music video for this song that year, the situation was not in favour for the band, back then.
According to Aly Sumon, the leader and main-vocal of Pentagon, the band likes working on percussion-based 'Latin calypso' sound. The new musical arrangement made for "Bheshe Esho" music video perfectly reflects calypso ,as well as the band's signature sound.
"This Latin-dance-ballad was penned by Saood Bin Masood. The story of this song focuses on an imaginary female dancer," said Sumon, who tuned the song.
This family-oriented band is also going to release four new singles with music videos this year, he added.
Pentagon was formed in 1993. Along with five singles, the band has two albums-- Sei Ami (2002) and Eight o'clock (2009). Some of their popular numbers are "Bristy", "Tomay", "Sondha Akashey", "Fire Ay" and "Your Honour".
The current lineup of the band includes Aly Sumon on main-vocal and acoustic guitar, Morshed Khan on bass guitar, Alif Alauddin on vocal and percussion, Sheikh Monirul Alam Tipu on percussion, Kazi Faisal Ahmed on electric guitar, Nafius Salam Yani on guitar, Mridul on drummers and Joy Goswami on keyboard.