Education in the 7th Plan
Education in the 7th Plan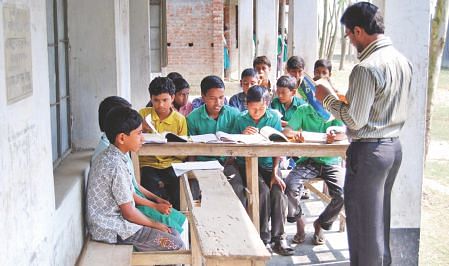 THE Planning Commission is preparing the Seventh Five Year Plan (2016-2020). The Sixth Plan, to be completed this year, and the Seventh Plan are seen as the instruments for realising Vision 2021 and the goals of the Perspective Plan 2010-2021 for Bangladesh. Attaining the status of medium income country is also targeted for 2021.
A concept note prepared by the General Economics Division (GED) of the Planning Commission indicates that the Plan would review progress during the Sixth Plan and suggest a strategy for strengthening education and training during the Seventh Plan, and emphasises ways to ensure quality in education at all levels. It would also promote vocational training and skill development to accelerate growth, reduce poverty, create opportunities for greater female labour force participation; and improve equity in public education spending.
A relevant question at this point is the role of the Planning Commission and the planning exercise in achieving the goals of development. GED explains that in the market economy of Bangladesh "the focus of Five Year Plan has also shifted … from investment to strategic and indicative planning process. The objectives of the Plan is to ensure that the public investments are private sector responsive and are used for removing infrastructural bottlenecks for attracting
private investment in the economy." (Terms of Reference for background on Education and Training Strategy for the 7th Plan.)
GED also asserts that "the plans are now more focussed on eradicating poverty and hunger in quickest possible time by adopting pro-poor economic policies and to ensure justice to the marginalised/disadvantage group of people" (ibid.).
How the Plan's objectives of making public investments responsive to private sector, on the one hand, and promoting pro-poor economic policies and justice to marginalised groups, on the other, can be reconciled is clearly an issue. This is an especially pertinent question for the education sector with its public good character and the dominant public sector responsibility in the sector.
Priorities emphasised in the strategic directions for the Sixth Plan included: extending compulsory primary education to grade 8, eliminating adult illiteracy, removing education gap between the rich and the poor, creating a new generation equipped with skills and scientific knowledge, and overall improvement in quality of education. (Sixth Five Year Plan Part 1, p. 117) Little progress during the plan period has been made in respect of the first two clearly specified priorities on compulsory education up to grade 8 and elimination of illiteracy. The other priorities of general nature, with no specific targets, were also not areas of stellar success.
Another strategic priority was to empower local government "as the engine of delivering services and carrying out development activities" (ibid.). No qualitative change in development budgets and activities reflecting this strategy can be noted in the development budgets and activities in the Sixth Plan period.
The new Plan can be an opportunity to articulate goals and objectives for education and skills development in the light of Education Policy, National Skills Development Policy, aspirations for a middle income country and the global development and EFA agenda (SDG 2030 and EFA 2030).
The Plan needs to identify structural and operational constraints for education and skills development and indicate what should be done to overcome these obstacles. The structural weaknesses will require a sustained and longer term effort, yet must be pursued with a sense of urgency. More immediate steps need to be taken on operational issues, but still designed within a framework of structural reforms.   
Major structural issues which, on the basis of recent studies and policy advocacy of education researchers and stakeholders, have come to the fore include:
 Very low level of public resources for education by international comparison, lack of criteria and benchmarks for resource allocation (and proportional reduction of education allocations as share of GDP and total government budget in recent years;
Extremely centralised governance and management structures for the large educational system of the country;
Insufficient numbers of teachers of required quality standards and inability of system to attract and retain capable people in the teaching profession; Supply-driven skills development with low quality and relevance, and minimal attention to apprenticeship and needs of the informal economy (though it accounts for over 80% of employment); Unacceptably low quality of degree colleges (with three quarters of tertiary enrolment in these colleges, which also are the suppliers of primary and secondary teachers -- creating a vicious cycle in education);
School education divided under two ministries (unlike anywhere else in the world), creating problems of curriculum continuity, student assessment and teacher preparation and supervision.
Operational issues include:
 Dysfunctional learning assessment with too many public examinations which do not measure competency and distort teaching-learning;
Criminalisation of student bodies in tertiary education vitiating academic atmosphere; Curriculum burden and weak continuity and articulation through grades; Geographical, ethnic, and language-based access deficits; Seriously inadequate opportunities for children with disabilities; Proliferation of private universities without essential quality control; and
 Slow and fragmented approach to Education Policy 2010 implementation.
The role and responsibility of the public sector and the state in education as a crucial public service cannot be underestimated. While private and non-government providers will have to make their contribution, it must be within a policy and regulatory framework of the state. Can the Planning Commission do its job by engaging only in "indicative planning," whatever that means?
If the government recognises the need to prioritise and guide educational development to serve national development aspirations, the planning function has to be strengthened in appropriate ways. A panel of education experts with insight and interest in the interface of education and national development should be brought into the process of crafting the Plan. The Plan has to be used as the basis for budgets in the two education ministries.
The Seventh Plan comes at a critical juncture for shaping development priorities and strategies to move into the rank of middle-income countries and adapt SDG2030 and EFA2030 agenda for Bangladesh. Education and skills part of the Plan has a key role in this effort.  
The writer is Professor Emeritus at BRAC University.