Editorial
When the home calls, Covid-19 is moot
Are we prepared for a possible third wave?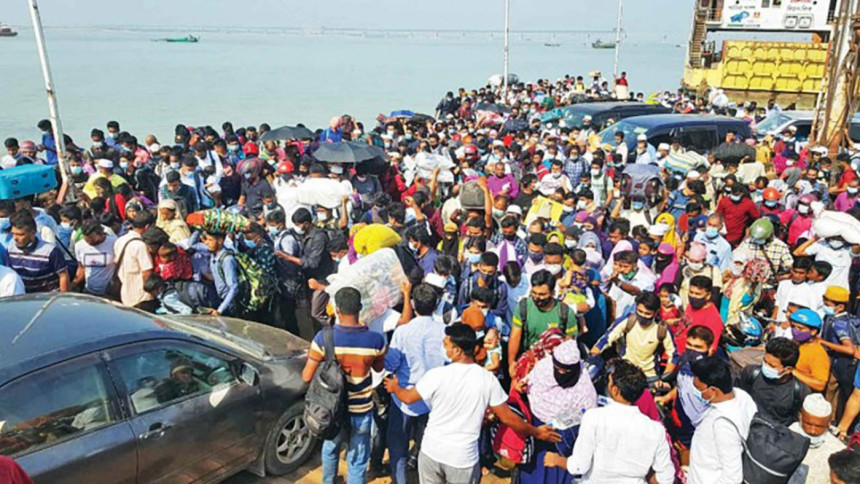 Since Friday, it has been dismaying to see thousands of people having to resort to any means possible to get to their hometowns before Eid, just as the second wave of Covid-19 has slowly started to see a dip in the country. No warnings (be it from the Prime Minister herself) or restrictions, nor the heat or lack of regular transportation, are able to stop people from trying to get to their home districts.
From jumping onto trucks, crossing the Padma on trawlers/small boats, renting private transportation for more money than they could afford to walking long distances, people are doing it all to be with their loved ones for Eid. In all this, it has been impossible to maintain any measure of physical distancing, as thousands thronged to the capital's bus terminals, and microbuses packed with 10 to 12 people left for the southern and northern districts. Adding another layer of despair, transport workers were seen taking advantage of the situation and charging extra fare.
Meanwhile, the shopping centres of the city have also remained crowded from morning until after Iftar, as people continued shopping for Eid while disregarding any need for maintaining health guidelines as basic as physical distancing.
On April 25, this daily reported Road Transport and Bridges Minister Obaidul Quader saying that "the government will be forced to impose strict lockdown again if people do not follow health guidelines once public transport services are resumed." Transport services within the cities resumed last Thursday, and so far, we have witness slight to no maintenance of "health guidelines" at malls, streets, ferry and bus terminals, and anywhere else ahead of Eid.
As the first case of the Indian Covid-19 variant was detected in Bangladesh, we are also dreading what to expect in the near future, in the very likely case that we see another devastating surge in the number of infections following this pre-Eid fiasco.
While we understand the need to keep the shopping centres open so that businesses do not suffer financially, we wonder if this reopening of malls and resuming of public transport could not have been planned better. We wonder if more foresight, and wider and stricter deployment of law enforcement personnel across the city, could not have helped the government control these crowds better and helped ensure people's safety from the virus. We also wonder if during any future surges, our citizens will again have to face the horrific lack of oxygen supply and ICU beds that they saw only weeks ago. We would urge the government to make the safety of people from Covid-19 their priority in all areas, to employ as much manpower and resources as possible to monitor the situation, and to be prepared to tackle a possible surge.